Establishing a marketing budget is an often overlooked, but important objective for small and mid-sized businesses. The key question to ask is, "How much should you spend?" Like all good questions, the easy answer is, "It depends." Those of you who are just starting out may need to allocate significantly more marketing spend to brand the business and secure a customer base. Individuals who have been in business for two or more years may need to spend less on brand awareness and more on customer retention and channels for online marketing in Houston.
Your marketing budget as a percentage of your revenue
Think of tailoring your marketing budget to your revenue or projected revenue. As you develop your Texas marketing strategy, make sure it does not exceed a set percentage. Your marketing budget should cover the expenses to have a website or online presence, advertise both online and offline, create content like videos and blog posts, social media and search engine optimization. Also, look for free and low-cost methods to engage new audiences and establish partnerships. Donating your products or services to a local charity is a great way to get some "free" press.
It may be helpful to establish an hourly rate for your time to help you evaluate if it makes more sense to handle individual marketing channels, like social media marketing, yourself or pay for someone to manage it for you. Be realistic and don't under-estimate your time. Saving money by controlling something yourself doesn't save anything if you don't have the time to manage it yourself effectively.
If you're looking for someone to tell you the exact percentage that makes sense for your business to spend on marketing, then you're reading the wrong article. Opinions from top marketing firms and business associations vary on this, recommending anywhere from 1-20%. The U.S. Small Business Administration recommends spending 7-8% of gross revenue, assuming that your profit margins are in the 10-12% range. Obviously, if your margins are lower than 10-12%, then a smaller percentage would make more sense and vice versa.  The chart below, from Forbes, provides a little insight into how marketing spend varies within different business sectors: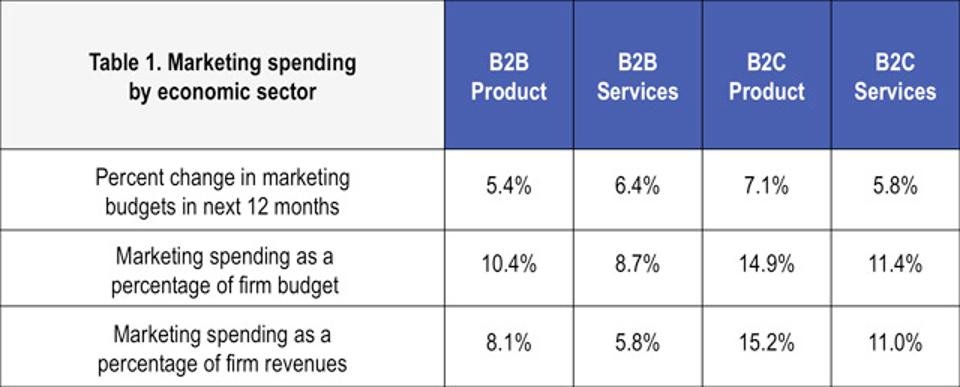 Ultimately, only you can determine what percentage makes sense for your business. What's often more complicated than setting your budget is ensuring that you stay within budget and that your marketing spend is efficient and effective.
What kind of ROI should you expect?
Almost every business owner will want an idea of what they can expect to receive for their investment in their marketing, and if increasing their marketing spend will improve their bottom line.
It's a question that every business owner should ask, but one with a complicated answer. Every marketer on the planet wishes that the return on marketing investments were black and white, but they are too often gray areas. For example, awareness campaigns are notoriously hard to value. What is the value, in terms of dollars and cents, of increased brand awareness? Marketing is a process, not a task. Campaigns are built on past efforts, and future efforts will be constructed on your present activities. Don't abandon well-laid plans just because you don't see an immediate return. Evaluate marketing strategies and budgets at a macro level, not a micro level.
Having said that, don't engage in marketing efforts without plans for how you will measure success. Success cannot always be defined in terms of spend and return, but make every effort to measure your campaigns, to the best of your ability, none the less. Again, let's take a brand awareness campaign as an example. Closing the loop between this kind of campaign and revenue is virtually impossible. Instead, look to marketing campaign metrics that speak to whether you are successful in creating more brand awareness, like ad impressions.
So, what kind of returns can you expect? Only you can decide. The business owners that we work with that are the most successful in budgeting their marketing spend often approach their ROI by establishing business goals to reach. They then determine what they are willing to carve out for marketing to achieve their goals. If they meet their business goals, their marketing spend is most often justified. Of course, all campaigns should be measured separately to find what is working and not working, but regarding overall marketing ROI, business goals are a great metric to use.
Track your progress
If you're getting more involved with your marketing, then you need to make a new best friend – data. Tracking what you spend your marketing budget on and how well those investments are performing is essential to ensuring you are on the right path and data is the key. We occasionally hear from business owners statements like "I'll know if our marketing is working." Maybe, but maybe not.
Business can seem to come in bursts and waves. If you're not carefully tracking, you may attribute success or failure to the wrong catalyst. As much as possible you should try and tie your marketing to data systems that allow you to measure success on a campaign level. Most small and mid-sized businesses find that Google Analytics is a free, and frankly invaluable, resource. You should also monitor the spending of your key customers and how well new leads generate income. And don't be afraid to ask for feedback from happy and unhappy customers alike. Great insights can be gleaned from simple conversations.
Use marketing planning to grow smart, not fast
Growing your business is important, but it also requires planning. Growth that happens too quickly can leave you without adequate inventory, staff, or processes to meet your customers' needs. Consider creating a plan in advance for times when you anticipate growth. For example, use seasonal downtime to create a plan for the busy season. Include tasks like creating ads, purchasing ad space or time, and hiring staff for the busy season. If you have a particularly busy weekend, like the July 4th holiday, take your new seasonal plan for a test drive. This test-run gives you a chance to revise your marketing budget for both the season and the year.
As you work toward your goals, know that planning a marketing budget isn't a one-step process. Don't be afraid to take risks and make some mistakes. Developing a new marketing strategy can be a way to attract unique partners and even introduce your business to a new customer base.