It isn't news that B2B manufacturing marketing is difficult. After all, your manufacturing marketing strategy has to bridge the gap between you, distributors, wholesalers, and users in an effective and cost-efficient way.
Targeting the right decision makers at the right time is a complex task that B2B marketing strategies need to address. Fortunately for you, there are ways to target a highly qualified audience with very granular messaging. How exactly?
Digital marketing for manufacturing companies.
How to Market a Manufacturing Company
Whether you're relying on a marketing department in a manufacturing company or a marketing agency for the manufacturing industry, your whole marketing plan starts with a brand identity. Positioning your business is easier after you engage in research and discovery about your history, process, people, and differentiation.
Searching for the right digital marketing agency for manufacturers? Schedule a free consultation with MARION today to learn how we can help grow your B2B marketing operations!
Being in the manufacturing industry can look very different depending on your product, but can actually be boiled down into five main groups. Use this table to identify which main group and industry sub-group your operation belongs to.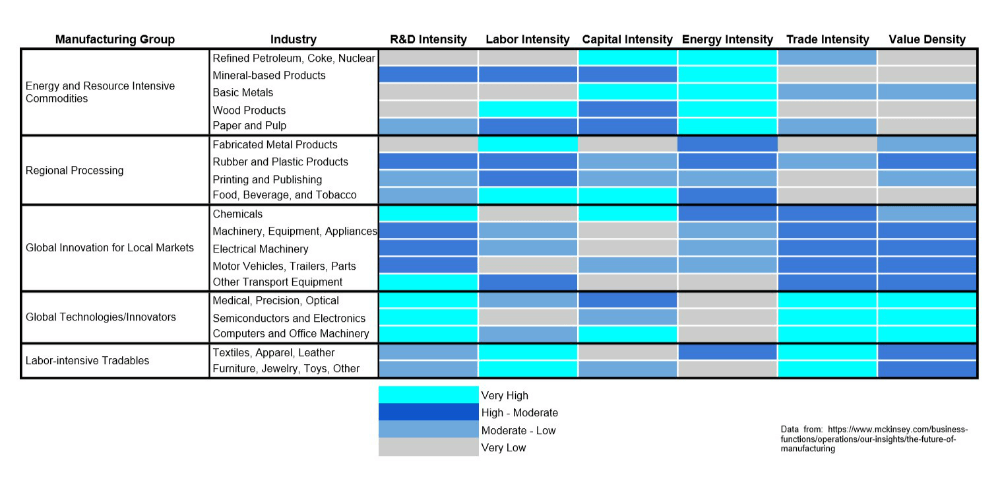 Data pulled from McKinsey
Once you've developed your brand identity and decided how to position your company in the minds of your distributors and users, you can begin to set marketing goals. In many cases, your goals will involve financial targets that are closely tied to your mission statement. Then, figure out which strategies you'll target to achieve those goals.
The rest of this article will cover the five digital marketing channels that are highly effective for manufacturer growth.
Digital Marketing for Manufacturers
The most complicated part of marketing for the manufacturing industry is presenting the right message to decision makers. Internet marketing for manufacturing companies helps to effectively target B2B decision makers with little budget waste.
These five manufacturing marketing strategies can each be used to grow your market share in a cost-efficient manner.
Look at each of the strategies, and decide on which method will best help you realize your goals.
1. Content Marketing for Manufacturers

In a 2018 survey of manufacturing marketers, 86% of respondents said they were using content marketing. Fortunately for you, only 22% of those manufacturing content marketers considered their organization to be "sophisticated" or "mature" at this skill. This Content Marketing Institute data indicates that you still have time to catch up if you aren't leveraging the power of content marketing yet.
Content marketing can take many different forms. Whether you're distributing content through email marketing, social media marketing, or organic search, you can attract the right users by creating valuable content assets for your end users.
For example, a midstream pump manufacturer can use content marketing in Houston to write a blog post about the physics behind torque-speed curves to help midstream users determine how to select the right pump for their next application.
The key to successful content marketing for manufacturers is identifying the pain points of your target audience, then building content assets that can ease that pain. If an industrial user isn't sure how to choose between you and your competitors, put together a comprehensive list of performance factors for your product. If a heavy equipment user is struggling to choose between you and your closest competitor, write a detailed comparison piece to highlight the areas in which you come out on top.
By creating free value-added content for your potential customers, you can position your brand as an authority in your industry.
Contact MARION for help with manufacturing content marketing in Austin or Houston today!
2. SEO for Manufacturing Companies

Manufacturing SEO is the practice of optimizing your website so that you show up at the top of search engine results when users are searching for the products you offer. For example, if you're a chemical manufacturer, you want your surfactant web page to show up when a potential customer Googles "surfactant suppliers."
According to a recent study, organic search helps to generate nearly 53% of B2B revenue. This means that manufacturing search engine optimization can be the key to meeting and exceeding your marketing growth goals.
Keep in mind that an SEO-friendly web design is paramount to ranking well in search results. If your website looks like it's from the 2000s, users may hit the back button and visit your competitor's site instead. It's like showing up to a business meeting or interview in sweatpants. Doing some competitor research, customer interviews, and user testing will help you develop the best manufacturing website design possible.
Aside from design, the content on your website is highly important to your SEO for manufacturing. Like we mentioned in the first section, by creating content that addresses the pain points of your target users, you can rank highly in the search results and generate more revenue today.
If you're interested in trusting your organic growth to an SEO agency in Austin or Houston, contact MARION today to schedule a free consultation!
3. PPC in Manufacturing Industries

Over the past decade, several types of digital marketing campaigns have improved the scalability of manufacturing advertising. Before the internet, manufacturing outfits had to rely on direct mail, cold calls, and costly trade shows to generate new opportunities. While there are benefits to relationship-based selling once the ice has been broken, gaining that initial exposure is difficult.
Today, pay-per-click advertising for manufacturers allows you to target psychographically. You can serve an ad that targets a potential customer's exact need for mere dollars. This flies in the face of trade events where the barrier to entry can be tens of thousands of dollars.
For example, a powder coating manufacturer can run pay-per-click ads that appear when a search engine user looks for "high temperature powder coating." When an interested potential customer clicks on your ad, it will cost you around $2. Depending on the size of your average sale, the profit margin on PPC for manufacturers can be massive.
If you're interested in running pay-per-click in Houston or Austin, contact the strategists at MARION today to set up a free consultation.
4. Social Media for Manufacturers

"My potential customers aren't on social media."
Without fail, we hear this from industrial and manufacturing businesses about once per month. As of 2023, there are:
Without a doubt, your target customers are on social media. Whether or not they are in the mindset to buy while browsing social media is a different story. When it comes to social media marketing for manufacturing, the most relevant platform for a high return on marketing investment is LinkedIn.
LinkedIn
50% of Americans with a college degree use LinkedIn. This makes using LinkedIn for B2B marketing a no-brainer. Not only is LinkedIn a great place to post organic updates that your connections can see in their timeline, but its ad targeting capabilities grow more and more advanced each year.
Effective advertising on social media depends on the audience that you're targeting. LinkedIn allows you to target by:
Job Function
Job Title
Job Seniority
Years of experience
Company Name
Company Industry
Company Size
Schools
Degrees
Fields of Study
Skills
Groups
Age
Gender
Location
Once you've refined your LinkedIn ad targeting options to reach the right decision makers, you can begin generating a return on your manufacturing social media marketing efforts.
If you're interested in exploring social media marketing in Houston or Austin, contact MARION to set up a free consultation with one of our strategists today!
5. Marketing Automation for Manufacturing
Manufacturing outfits are moving to robotic process automation in an attempt to optimize costs and production. Doesn't it make sense that your OEM digital marketing approach makes use of automation too?
Digital marketing for industrial companies becomes dramatically easier when paired with the right marketing automation platform. Automation allows you to seamlessly track leads, identify which marketing messages are most effective, and score which marketing materials have the best impact on your bottom line. By identifying which manufacturing marketing materials have the highest conversion impact, you can focus your efforts for compounding returns and overall business growth.
The strategy behind marketing and manufacturing automation will largely depend on the platform you choose. While our team generally recommends using HubSpot, we can work with several different automation platforms to help you reach your goals.
How to Choose a B2B Manufacturing Marketing Agency

Now that you've been exposed to several marketing ideas for manufacturing companies, you can choose the strategy or strategies that best match your manufacturing marketing goals. Depending on whether you're interested in mostly branding, SEO, web design, or outsourced marketing, the following resources will help guide you through the process of choosing a marketing partner:
The general process for choosing a marketing agency will follow the same steps.
Determine if the agency understands your business.
Analyze the team and their past success. Do they have a portfolio or case studies?
Do you get along with your future point of contact? This will affect the success of your partnership more than you know.
Does the agency seem to have a curious spirit?
Can the agency adapt to different circumstances?
Are you able to effectively communicate with the agency?
MARION Makes Digital Marketing for Manufacturers Easy
MARION has been serving local manufacturers for nearly 40 years. Check out our portfolio and case studies today for examples of our work. Our local team of marketing strategists understands the Energy, Chemical, Industrial Equipment (etc.) spaces from experience.
Contact us today to set up a free consultation, and discover if we're a good fit for your goals!