An effective industrial website needs to quickly convey what products and services your company provides without overwhelming the visitor. In today's marketplace, you can't slide by with a 90's themed industrial website that isn't mobile friendly.
Your industrial website design needs to engage buyers, whether they've just discovered your company or they're an existing customer browsing your complete line of capabilities. Truth is, the best manufacturing websites incorporate great website design and SEO (search engine optimization) so that they cater to repeat buyers and new sales prospects alike.
4 Best Manufacturing Website Designs in 2019
Learn how to stand apart from competitors with these four different elements your manufacturing website can utilize.
1. Strong Imagery
A bold image can set your website apart from the rest of the cookie-cutter industrial websites. Set the tone of your dynamic company by using pictures with big impact that also represent your brand. Effective use of imagery will grab attention immediately and evoke the desired emotions.
Example: Graco
Graco manufactures and markets equipment that handles fluid and powder materials. Their intentional use of this high-quality, dynamic picture of paint is a highly effective way of using strong imagery to convey their company's message through web design. It makes sense and is beautiful and interesting to look at. It certainly distinguishes itself from other equipment manufacturers, just by using this striking image.

2. Catchy Hero Message
Let's face it- a lot of industrial jargon is boring. Even an industry expert can find your website snooze-inducing. A catchy hero message makes visitors want to read more. It's usually the first thing that their eye is drawn to. Keep it short and sweet, but make sure it encapsulates your company's essence. You want to confidently declare what your company does in a captivating way.
Conveying an inspiring message in just a few words is a tricky feat. Think about what your company is most proud to provide to your customers and how you blow your competitors out of the water. Make sure you brainstorm with your team to come up with the perfect message. Your hero message will likely be used across all mediums of your manufacturing content strategy.
The right hero message will pop out from the other contenders. For more guidance, get help from an industrial internet marketing agency in Austin or Houston today!
Example: Titan Systems
The message "Engineered Solutions. Delivered." draws the reader in and is intriguing enough to make you click to learn more. The hero message works because it's so effective in its conciseness. It tells you what the company does, and the "delivered" in red is a nice touch for emphasis.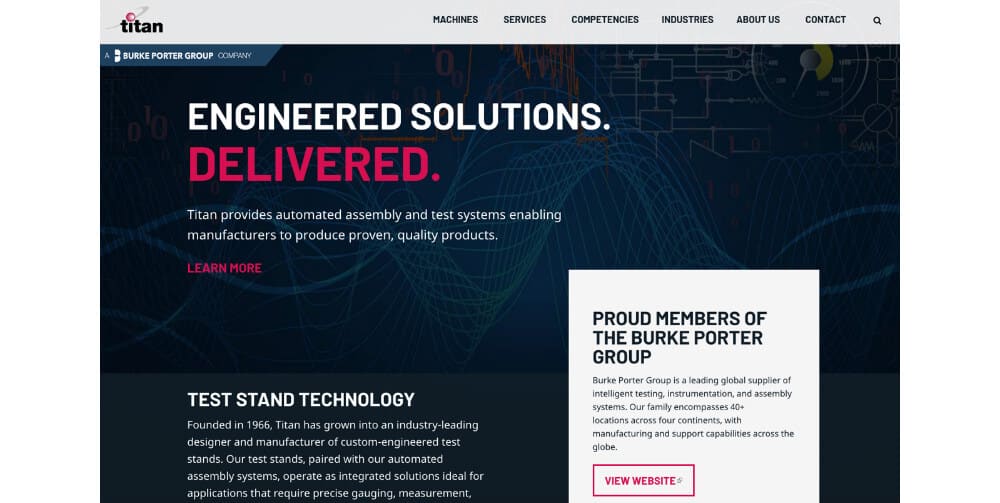 3. Clean Look & Easy Navigation
Some of the top manufacturing websites feature a clean design with easy-to-use navigation. This is crucial because, with the sheer number of products, your website can get bogged down in technical details. It's easy for many industrial sites to look chaotic and cluttered in an attempt to jam as much information into one place as possible.
An easy-to-use website is a critical piece of digital marketing for manufacturers. You want visitors to get the information they need as quickly and clearly as possible before they give up and leave. A clean user experience also benefits your SEO for manufacturing.
Make sure you counter this common mistake by not cramming a list of all your products on the home page. Focus on bold yet simple design elements such as negative space, a definitive marketing color scheme, read more buttons (that lead to other pages), and much more.
Manufacturing web design does not need to look like a disorganized mess. For help from an effective web design company in Austin, check out MARION today.
Example: Oxiteno
Oxiteno's web design has a clean look that is both aesthetically pleasing and reflects who they are as a company. The organic lines draw your eye to the most crucial information while the navigation bars neatly display where you can find more information about different topics. There are no distractions that might overwhelm a first-time visitor. This is a perfect example of how your industrial web design can be simple but not boring. (Full disclosure: MARION works with Oxiteno)
4. E-commerce
In order to get ahead in today's digital landscape, your manufacturing business should consider implementing E-commerce features into your website. According to Accenture, 86% of B2B companies based in the United States with over $500 million in annual revenue have implemented E-commerce solutions.
Gone are the days where people have time to sit through lengthy sales calls or spend hours perusing hundreds of products. Making it easy for your customers to research, place orders, view invoices, and more on their own time can help your business drive sales and save you time and effort in the long run. At the very least, this can provide some income to your business with minimal hassle due to the faster and self-sufficient sales process. Automating even certain parts can assist your real-life staff members to focus their energies on other leads that need their attention.
Example: Protolabs
Protolabs has a very convenient customer portal where clients can request and manage quotes, change orders, determine material storage, and much more. Faster checkout and convenient reordering can make a huge difference in differentiating yourself from your competitors and gaining customer loyalty.

Offering your customers pain-free solutions where you can is always a slam dunk.
Contact MARION for the Best Industrial Web Design
Website design for manufacturing companies is no longer a luxury, it's a necessity. MARION's custom website design services in Houston can help your company put it's best foot forward and improve your chance of attracting and closing new business.
Check out our web design portfolio for examples of sites that we've created for customers like you! Our marketing agency in Houston has been serving the industrial and manufacturing industry for nearly 40 years.
Contact us today to schedule a consultation to learn how we can help you!