As a small business owner or marketing manager, having to balance operations, marketing and sales, and customer service leaves you with a packed schedule. Establishing a marketing budget for your small business is one thing, but being responsible for potentially thousands of advertising dollars can be a lofty task.
You can put your advertising dollars to work by maximizing the odds that your potential customers convert every time they encounter your ads. Learn how to make a high-converting landing page to realize the best return on your marketing spend.
What Is a Landing Page on a Website?
Unlike other pages on your site, landing pages are standalone pages; in other words, you will not find them in the navigation menu, nor are they linked to any other page on your site. They are specifically designed for marketing campaigns.
For example, if someone clicks on your Facebook ad or a PPC ad, they would be directed to the landing page, rather than an existing page on your site.
Purpose of a Landing Page
Landing pages are created with a specific goal and call-to-action in mind, in the hopes of maximizing the number of conversions you can capture from your digital marketing campaigns. While other pages on your site may have several different goals, the sole purpose of a landing page is to drive conversions.
The singular purpose of landing pages makes them invaluable tools in your B2C or B2B marketing strategy toolkit.
Schedule a free consultation today to learn how MARION can incorporate landing page optimization into your comprehensive outsourced marketing services.

Why Create a Landing Page Anyway?
With an ad, you typically offer an incentive or a value proposition that entices people to click on the ad. However, you are unlikely to feature this prominently on your general-purpose website, or if you do, your website contains so much additional information that it may get lost in the sea of information. This is where your landing page comes into play.
A landing page enables you to mirror and elaborate on the message featured in your ads without having to make any form of changes to your website. It narrows the visitors' focus on the message.
Splash Page vs. Landing Page
There are many similarities between a splash page and a landing page, but the main way in which a splash page differs from a landing page is that a splash page is not a standalone page. It's not even a page at all, despite what the name may imply.
Instead, a splash page is a large screen that appears when visitors first enter a site. While the goal of both a splash page and a landing page is to drive more conversions on your site, splash pages are intended to convert more visitors to the site as a whole and are not necessarily catered to any specific digital campaign.
Do Landing Pages Work?
The short answer is yes, landing pages do work.
Landing pages are more effective than the typical page on your website because they are specifically designed with only one goal in mind: conversions. The best converting landing pages have content and information that is incredibly relevant to the ads that you are running, and the lack of extraneous information keeps the visitors' focus on the page, helping to drive them further down the marketing funnel towards the conversion.

Elements of a Good Landing Page
Making a good landing page can seem overwhelming, but the following six elements of an effective page will eliminate some of your confusion.
1. Headlines That Match Intent of Source
One of the very first things visitors notice when they land on your page is the landing page headline. First and foremost, your headline needs to align with the ad the user clicked on to find your landing page.
Then, in very few words, your headline needs to be interesting and eye-catching, telling visitors exactly what they can get from your company. Once you have grabbed their attention and given them an idea of what your product or service is with your headline, you can use your sub-headline to further convince them to take the desired action.
Should a Landing Page Have Navigation?
Landing pages are more limited than a regular page on your site, including where navigation is concerned. Unlike the other pages on your site, you would not include a full navigation menu on the landing page, as the lack of navigation focuses your visitor's attention on the content on the page.
For that reason, some design experts advise you to limit the use of navigation as much as possible; potentially even limiting it down to simply including your logo that links to your home page.
At MARION, we've experienced mixed results from eliminating page navigation. Easily accessible navigation is a major part of what makes a good website. Ultimately, you'll want to test this out on your landing pages to see which method gets the best results with your unique audience.
2. Compelling Content
The key to a high-converting landing page is compelling content. In a concise manner, communicate the benefits of what you have to offer and how it will meet the needs of your landing page visitor. You know what you have to offer, so communicate that to your visitors as well. If you featured a special or incentive in your ads, be sure to elaborate on those offers on the landing page.
Your digital content strategy should ultimately depend on your offer. When PPC advertising is concerned, the better you can match your landing page content with the information found on your PPC ads and the keywords you use in your campaigns, the better your campaign and your landing page will perform.
3. Call-to-Action
As with any digital ads, a call-to-action is critical to driving conversions. That rule does not exclude landing pages. Your landing page should prominently display your call-to-action, telling visitors exactly what they need to do to get in contact with you.
As with your headlines and content, your call-to-action must be compelling and persuasive. The design, color, and placement of your CTA are all factors that need to be taken into account in order to create high-converting landing pages.
4. Supporting High-Quality Images and Videos
Images and videos are an eye-catching and persuasive way to provide context and give visitors an even more clear idea of what it is you can do for them. Showing, in addition to telling them, is key for effective landing pages. Keep in mind that your images must be high-quality and relevant.
If you're interested in customized graphic design in Houston, Austin, or DFW, MARION can help created supporting images that will resonate with your audience.
5. High-Visibility Form
Having a high-visibility form on your website is what makes a great landing page truly effective. Your landing page form is one of the most critical elements to include as it simplifies the conversion process, thereby making it easier to convince visitors to convert.
6. Continuous Testing
As with virtually everything else in digital marketing, continuously A/B testing your landing page is the key to ensuring that your landing page is maximizing the number of conversions it could potentially capture. It allows you to see what elements do or do not work and make any necessary changes.

Process for Creating Landing Pages that Convert
The process for creating landing pages that convert can vary depending on your requirements for your page. For the most part though, you'll want to start by creating a wireframe that outlines the page structure and layout.
If you choose to work with a professional designer, they will then be able to use your wireframe to come up with a clean, organized design with minimal elements and contents that is sure to convert. A developer can then use the design to code the website and get it to look and function as it should.
For the best odds of choosing a web designer that brings your visualizations to life, research some selection criteria that will help you identify the right fit.
How Long Does It Take to Create a Landing Page?
As with the process for creating landing pages, the time it takes to create a website landing page depends on several different factors: Is it a custom landing page, or a templated one? There are many benefits of custom web design, but completely custom landing pages take longer to create than a templated one.
The bigger the scope of the landing page, the more elements added to it, and the more complex the design, the longer it will take to create. Are you attempting to create it yourself or are you going through an agency? If you do go through an agency, the time it takes would depend on the agency's process, their workload, and the speed of the individuals working on the landing page.
3 Examples of Landing Pages that Convert
Before learning how to create a converting landing page on your own, look at the following three examples of landing pages that convert. These companies have clearly been using a thoughtful landing page development process to hone their pages into what they are today.
1. Later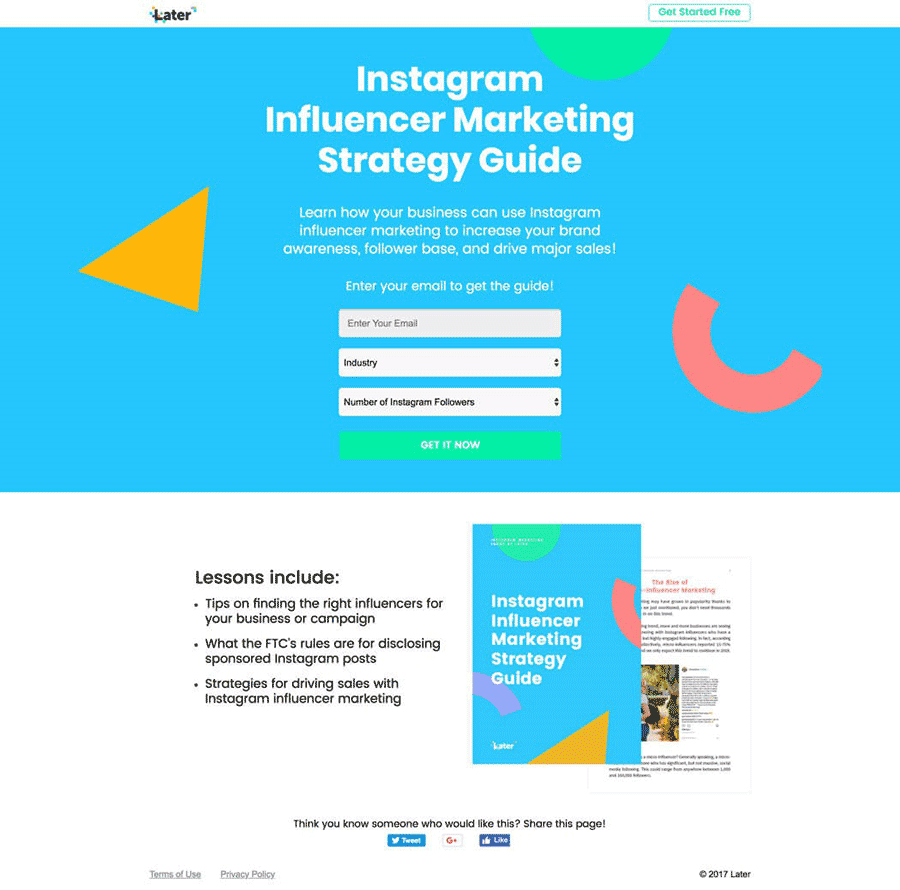 Source: Later
Later has does an excellent job creating an effective landing page that is sure to convert. At a glance, you can see exactly what the page is about, what you can expect to gain from it, and how you can convert via the form. The content is concise and straight to the point, giving you all the pertinent information.
The call-to-action "Get It Now" is also compelling and sure to get people to convert. If you look closely, you'll also notice that there is no navigation menu. They utilize high quality images that gives you a clear idea of what you will get once you convert. While we can't know if they are conducting A/B tests, they have included all the elements of a persuasive landing page.
2. Uber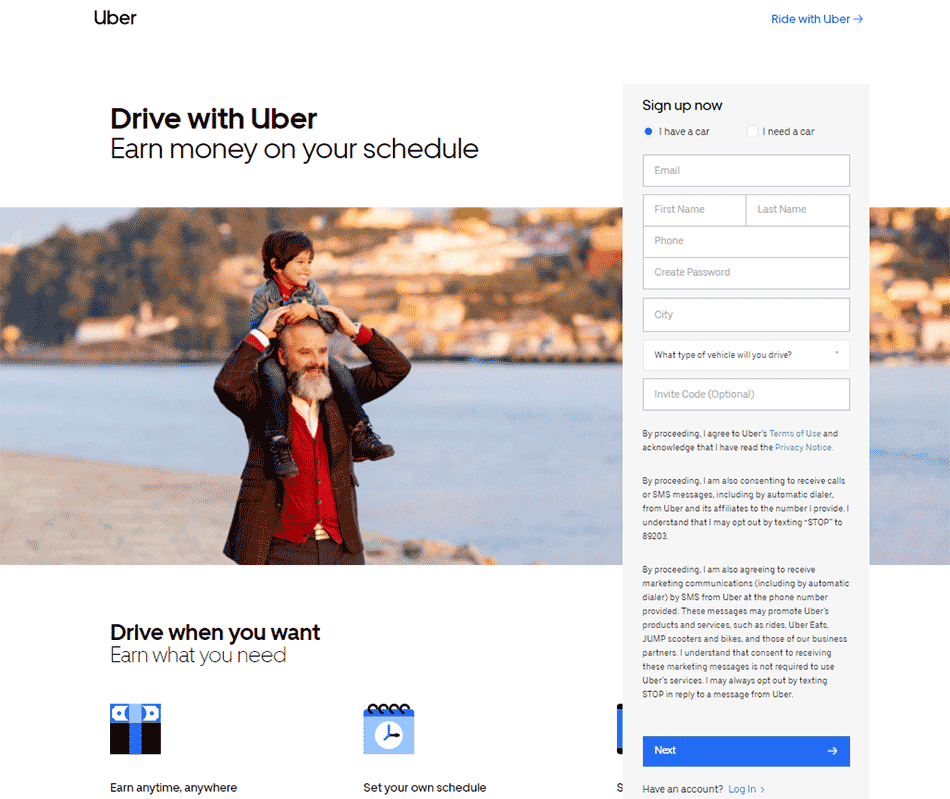 Source: Uber
Though Uber's landing page does not have as much content as the previous example, the content they do have is concise and to the point. You know exactly what the page is about, what you can expect to gain from signing up, and you can see immediately how to sign up.
3. Paycor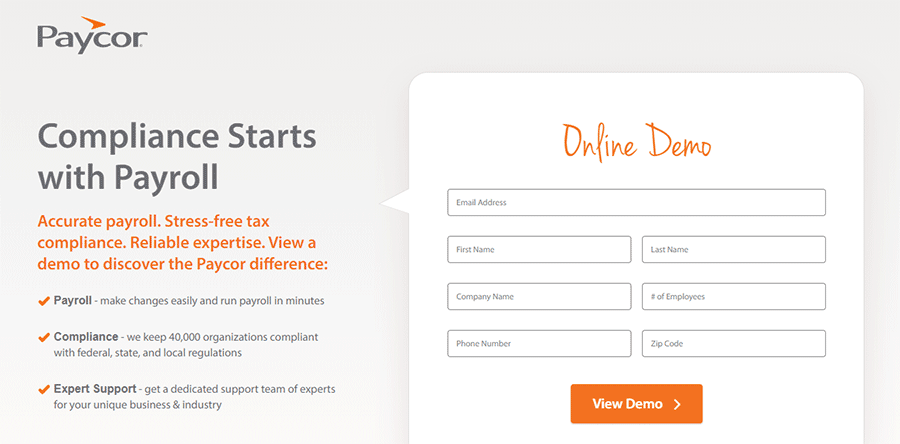 Source: Paycor
So, what makes a great landing page? Paycor definitely has the answer. This landing page is linked to a search ad, and their heading and subheading closely align the intent of the original search.
Right off the bat, they make their content compelling with a clear landing page value proposition. Their service is the solution to a common pain point of small business owners – compliance.
Their demo call to action is clear, and there is a highly-visible form near the top of the page. As a bonus, there is no top navigation to lead users away from the main CTA.
To improve one aspect of this landing page according to best practices, Paycor may benefit from adding supporting imagery or video.
MARION's Web Design Team Can Help You Craft Effective Landing Pages
It's clear that your business is a success, but growth has become a priority and landing page design is not your expertise. MARION has been around for nearly 40 years, and our Austin, DFW, and Houston web design capabilities have evolved to suit the needs of your business.
Schedule a free consultation today to learn more about how our web design services can amplify the effectiveness of your ad budget.