Now that the digital age is in full swing, traditional B2B marketing strategies and tactics are no longer the most viable choice for your brand. Constantly evolving technology requires an approach that's more fluid in nature. If you're not able to meet the expectations of your audience, your digital campaign is destined for failure.
What Is a Digital Marketing Campaign?
A digital marketing campaign is an online effort put forth by an organization to drive conversions, revenue, traffic, or engagement to achieve a specific marketing goal, such as building an email list or selling a product or service. During an online marketing campaign, one or more digital channels are utilized to reach a targeted audience.
Most campaigns are composed of three stages – Planning, development, and management. With your goals outlined, your messaging and voice developed, and campaign properly managed, you will set your digital marketing campaign on the path to success.
Struggling to produce real digital marketing results? Learn how to run an online marketing campaign when you download this free eBook today!
4 Types of Online Marketing Campaigns for B2B
When targeting other businesses, the focus of your internet marketing campaign should be to establish yourself as an authority in your industry and build in-depth relationships.
Let's look at the most effective types of online campaigns for B2B, and some corresponding digital marketing campaign examples.
1. Social Media

Imagine yourself on a stage surrounded by millions of people at any given time, but there are thousands of stages just like yours vying for the attention of the masses. How do you earn the crowd's attention? That's social media marketing in a nutshell – Constantly competing for the attention of your audience.
It takes nuance to get a social media campaign just right, but you'll have to master it if you intend on staying competitive. For B2B marketing, Instagram and LinkedIn are the primary social media platforms to target. However, old warhorses like Facebook and Twitter still have plenty of value to offer.
Here are a few tips on the type of content you should post for a B2B-focused social media page:
Testimonials
Industry news
Educational material from your company (links to your blog)
Solutions to pain points
Relevant curated content for social media that provides value
It's also important to consider advertising through social media to supplement your organic reach. Now take a look at this example of a digital marketing campaign that leverages social media.
Huawei Showcases Its Mastery Over Twitter
Huawei, the world's largest manufacturer of telecommunications equipment, showcases what it means to provide value with nearly every post on its Twitter page. Huawei offers endless resources on technology trends and quotes from leaders in the industry.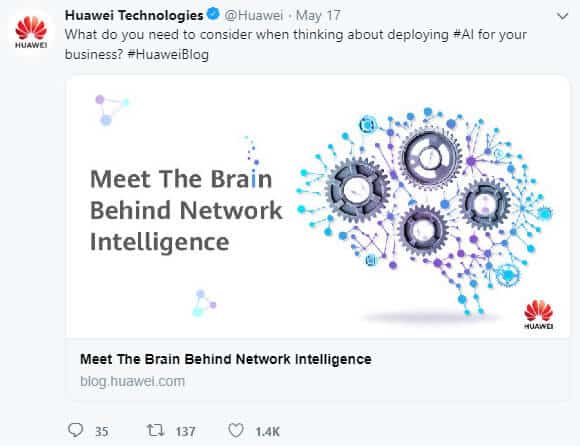 From its Twitter page alone, it's easy to see that Huawei stands out from its competition with its consistent flow of relevant and highly informative content.
If you need help improving your social media marketing in Houston, reach out to the marketing strategists at MARION today!
2. PPC Campaigns
Your marketing budget should always include room for a healthy PPC (Pay Per Click) campaign. No digital media campaign would be complete without one, and with the right targeting and the right budget, you can get fantastic results. After years of providing PPC in Houston, we've identified the following insights.

Many digital ad campaigns nowadays provide top-tier segmentation, allowing you to accurately reach your target audience with pinpoint accuracy. Google Ads and Facebook are prime examples of advertising platforms that excel due to in-depth segmentation features.
Another benefit of PPC is that you'll have access to analytics, which will enable you to see what works in your digital advertising campaigns and what doesn't. When utilized correctly, a PPC campaign can be one of the most effective tools in your kit for raising brand awareness and getting leads for your business.
Pay-per-click is a very targeted strategy to include in internet marketing for manufacturing and industrial companies. We frequently see industrial firms opt for PPC instead of social media because of the platform's high commercial intent.
Need help gaining real exposure for your brand? Ask a MARION marketing strategist about our Austin PPC services.
Porsche Automates Every Aspect of its Facebook Ad
Porsche shows everyone how it's done with this fully automated PPC-optimized ad.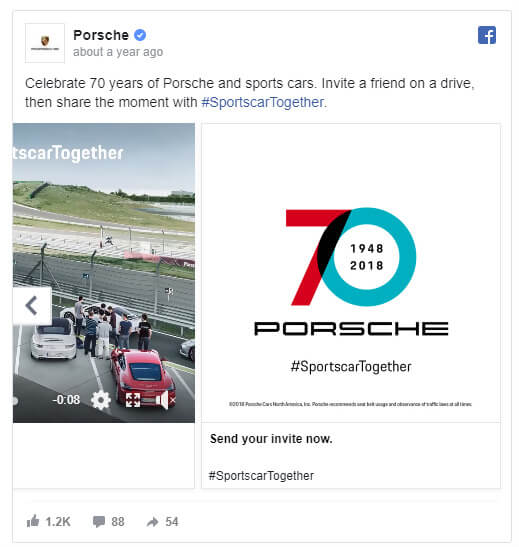 Porche's ad is completely interactive, featuring a carousel feature and chatbot. For your own B2B digital marketing endeavors, remember that customer interaction is key to drawing attention and holding interest.
To get your digital ad campaigns rocking and rolling, work with the MARION marketing agency in Houston.
3. Podcasts
While video ads are popular with many marketers for their visual appeal, you'll find that podcasts can be just as attractive, especially in the B2B world. For the past few years, podcasts have been exploding in popularity.
CEOs and business owners often find podcasts to be useful because they can be consumed while multitasking. For example, you can listen to a podcast while commuting to work or eating lunch.

That makes podcasting a prime target for B2B digital marketing. Guest starring on the best business podcasts in your industry or paying for an advertising spot are great ways to approach this strategy.
Learning Podcast Marketing from the Masters
The podcast Good Copy, Bad Copy: the B2B Copywriting Podcast has a highly informative blog post highlighting everything they've learned about podcasting for B2B audiences. While much of the post discusses the do's and don'ts of podcasting, you'll get a unique perspective of what it means to incorporate a podcast into your B2B digital marketing campaign.
4. Advocate Marketing
Likely one of the most effective types of digital marketing campaigns you can employ, advocate marketing involves leveraging your existing networks to generate new leads. Advocate marketing is effective because people are more likely to listen to people they trust.

If, for example, your business partner suggests a specific product to improve your digital marketing, you'll be more inclined to give the service a try.
Docu-Sign Uses Advocate Marketing to Influence Millions in its Pipeline
Docu-Sign implements advocate marketing beautifully by using advocate marketing software platform Influitive to influence more than $3 million in their pipeline. The moral of the story is never to underestimate the power of advocacy – it could generate your business millions.
The Importance of Online B2B Marketing Campaigns
If you're nervous about diving headfirst into the marketing abyss, don't be! This infographic outlines exactly why your business needs to overhaul its approach to B2B integrated marketing campaigns today!

Implementing the Best Digital Marketing Campaigns for Your Business
Is your business leveraging the best online marketing campaigns? Are they working? Do they require tweaking?  No matter what strategy you implement, focus on utilizing analytics to see what works and what doesn't, and gradually tweak your campaigns until you start seeing results.
Creating a flawless B2B campaign takes expertise. Contact MARION today so our experts can show you how to run a digital marketing campaign the right way.