Why a certain piece of content was posted to a social an account is probably one of the most frequent questions any social media manager must face. It's typically asked by the business owner who is relatively new to the idea of social media marketing for generating business.
The question usually centers around links, videos, and other content that their business didn't produce, yet somehow it ended up as a post on their social media pages.
This type of content is referred to as curated content.
What is Curated Content?
"Content Curation is the act of discovering, gathering, and presenting digital content that surrounds specific subject matter."
Notice how this definition of curated content doesn't mention anything about creating content? That's because curated content isn't something that you create! It's sharing articles, stories, photos, videos, and other mediums of content that is relevant to your target audiences interest.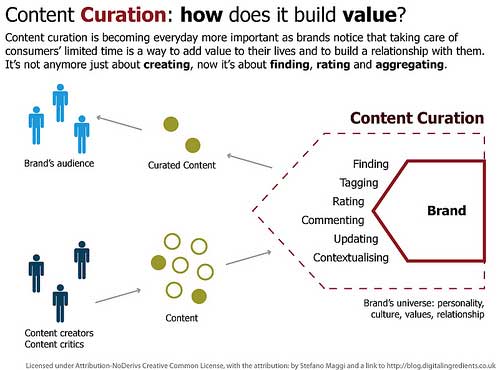 Why Does My Business Need Curated Content?
Have you ever been on a date where the person on the other side of the table couldn't stop talking about themselves the whole time? The reason you never called that person back is the same reason why your social media strategy needs curated content.
Sure, you might have a genuine list of followers, but if you are not generating new content and you are just recycling the same content over and over by just adding a new spin on words, that conversation will also get stale. Content curation is recommended by most marketing and ad agencies due to it's effectiveness for brand development.
Brand Authority
By incorporating curated content into your social media strategy, you are providing your social media audience with alternative views and resources which can boost your business's credibility and improve your business branding.
Additionally, it's a time and cost-efficient way to keep your social media pages running since many businesses are too busy to publish their own content on a regular basis that would meet the ideal requirements for their social media strategy. Leave creating a content calendar to the experts so you can focus on growing your business.
Social SEO
Similar to how business blogging and back-linking strategies are effective for increasing the web traffic your company generates from search engines, curated posts can also be an effective way to help with your social media visibility. People can search certain keywords and terms within each social media platform. Curated posts can even help meld your marketing efforts together by generating SEO social signals.
By having a continuous output of industry related terms within your social media material you are increasing your odds of being discovered by people who are actively looking for those specific keywords but may not have turned to Google just yet.
Here's an example: You own a local plant company in Austin. You post a news article you found about a new exotic species of flower that was recently discovered in Austin, Texas. Two things may happen.
One of your customers and followers are amazed at the story, so they share it on their page to show their friends. Out of curiosity, one of their friends starts looking through your company's page. 2 months later, when they need plants, they remember you and become your customer.
Lucy keeps Facebook open all day long. She's been interested in finding exotic plants near her in Austin. Without opening a new window, she curiously looks on Facebook for exotic plants while checking off the Austin location marker. She stumbles across the post and calls your company shortly after to inquire about exotic plants.
An example of this type of search on Facebook would look something like this.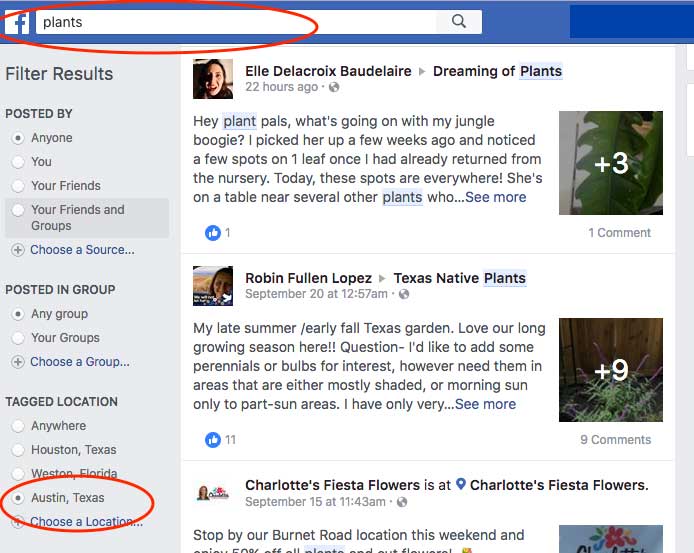 Increase Engagement Ratings
Another great reason to mix curated content with your created content is to spike up your engagement rates.
Does it seem like everything you post is only getting liked by the same 2-3 people each time? It's probably because your content doesn't have enough variety to keep your audience engaged. According to research conducted by Convince & Convert
"Social marketing posts that link to external sites get 33% more clicks than posts that link to company-owned sites."
A great example of this is from our client Houston Plans & Permits, who uses curated content as a part of their social media strategy on a regular basis.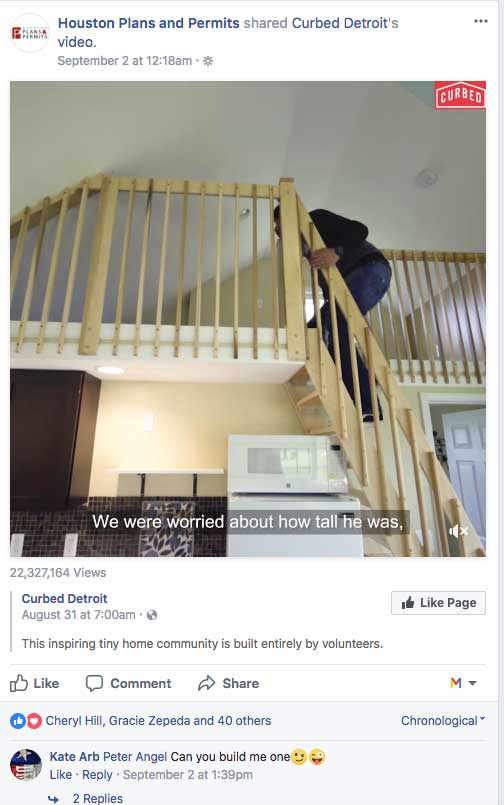 By sharing this post they found on building tiny homes, they sparked engagements from their target audience which has increased their overall engagement rates for all of their future posts as well.
At this point, you might be asking, what's the big deal about engagement rates anyways?
Having higher engagement rates on Facebook means, next time they want to boost a post, they will end up paying less money to reach more people. Who doesn't love an advertising discount?
How Often Should I Be Posting Curated Content?
How often you post curated content is directly related to how often you post in general. Many social media managers typically follow the social media rule of thirds, which would mean one out of every three posts should share ideas from other thought leaders in your industry or feature some other form of curated content.
How To Find Curated Content?
There are several social listening tools available on the internet to help find relevant content in your industry. Some of these methods include doing manual searches for topics in Google, using programs such as BuzzSumo, or building your own content listening tools by using RSS feeds.
With RSS feeds you can combine all the blog channels from your favorite websites into one stream, and view them on a regular basis to create almost an industry newspaper unique to yourself. Paper.li and Feedly.com are great tools for creating custom content RSS feeds.
Pro-tip: If your blog articles get featured on these RSS feeds, or on Buzzsumo's keyword radar, you're going to greatly increase the exposure of your website content, which is another reason why your website should be full of great content!
What To Do vs. What Not To Do
Using curated content isn't a free-for-all. You still want to keep it relevant to your business, and your target audience.
If you're a cardiologist, you might post an article you found on the web explaining how eating too much sugar will negatively affect your overall health.
On the contrary, you don't want to post a list of the newest movies to hit the theaters this week because this is not relevant to your industry. (It might seem obvious, but you wouldn't believe how many people actually do this.)
Think of it as becoming a thought leader in your industry, and sharing a piece of your knowledge with your audience. You want to share just enough to keep them intrigued without knowing all the secrets of your trade.
The Takeaway
While the ideal solution is to be able to create a constant flow of captivating content for your audience, it's not always practical especially for small to mid-sized businesses who may not have the budget for their online small business marketing in Texas.
Combining curated content in your social media marketing strategy with created content will help you reach your brand awareness goals, while also allowing you to tweak the social media algorithms to gain a higher engagement rate from your audience. Don't hesitate to use MARION's professional services for social media marketing in Houston to maximize audience engagement.
By keeping your followers constantly interested in your industry, you'll gain their trust and take one step closer to earning their business.