A successful social media campaign isn't easily defined. Usually, high rates of engagement and "going viral" are good indications of an effective social media marketing campaign. However, the most memorable and award-winning social media campaigns are set apart because of their creativity and innovation.
10 Best Social Media Campaigns
When executed well, these types of digital marketing campaigns can connect with channel users on a personal level and help drive signficant change! Let's explore some effective social media campaign examples that pushed boundaries and reinvented the process.

Do you need to improve the return on your marketing investment? Download this free eBook about how to run an online marketing campaign today!
1. Disney #ShareYourEars Campaign
At the end of 2018, Disney wrapped up its third consecutive year partnering with Make-A-Wish for their #ShareYourEars social media campaign. For every photo of a person wearing Mickey Mouse ears with the hashtag #ShareYourEars, Disney pledged to donate $5 per post with a maximum of $1 million matched.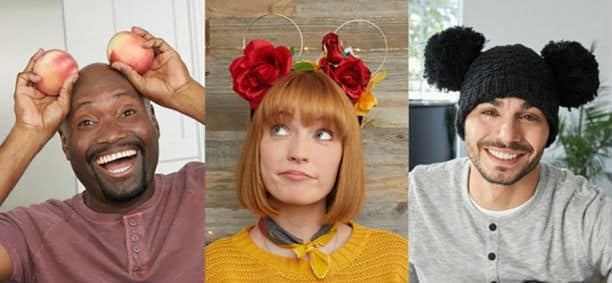 Why It Worked: Back in 1981, the first official Wish was granted to Frank "Bopsy" Salazar and part of his wish was to visit Disneyland. In fact, a third of all Make-A-Wish requests are granted by Disney. This modern campaign reinforces their partnership and is a sweet reference to the roots of their history together.
This successful social marketing campaign was a fun, visual, and easy way to create goodwill. Disney spurred this on by doubling the amount of money donated- bringing it to a total of $3 million raised. Anyone could take a picture and post it to Twitter, Facebook, and Instagram easily.
By utilizing people's desire to raise money for a good cause and giving them a set incentive, participants created a bevy of user-generated content and was a massive success in bringing attention to the campaign.

2. Taco Bell Jewelry Influencer Campaign
Back in 2013 when influencer marketing wasn't as ubiquitous as it is now, Taco Bell was ahead of the curve by sending jewelry and handwritten notes to minor models and actresses known for their internet presence. They also included a gift card and an invitation to visit their test kitchens.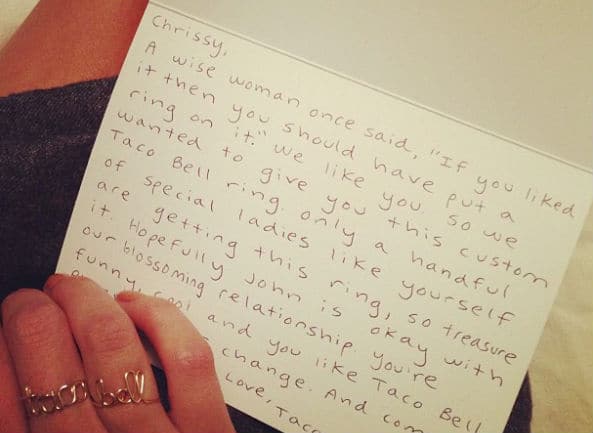 Why It Worked: By using tongue-in-cheek humor and a set of "Instagrammable" objects, Taco Bell spread the word through the influencing power of Internet-famous females. Recipients included Chrissy Teigen, Jessica Lu, Acacia Brinley, Leah Cecil (Miss California 2012), Kristen Storms, and Alexa Losey. The personalized letters to each woman crafted a cheeky persona to Taco Bell's brand.
The main conversations surrounding this stunt were sparked by the highly coveted gold rings (that spelled out "Taco Bell" in cursive). These rings ended up being so popular Taco Bell began selling them in limited quantities. It's also birthed countless copycats on sites like Etsy, making this campaign a lasting success.
This is a great example of how to advertise effectively on social media, even if it's not through paid ads through a popular platform.
3. Always #LikeAGirl Campaign
Always (the feminine hygiene product brand) launched the #LikeAGirl campaign with a video that challenged female stereotypes with the purpose of empowering young girls. The film showcased how the phrase "like a girl" has come to have a negative or weak connotation. They showed confident young girls redefining the phrase into a meaningful and powerful statement instead of an insult.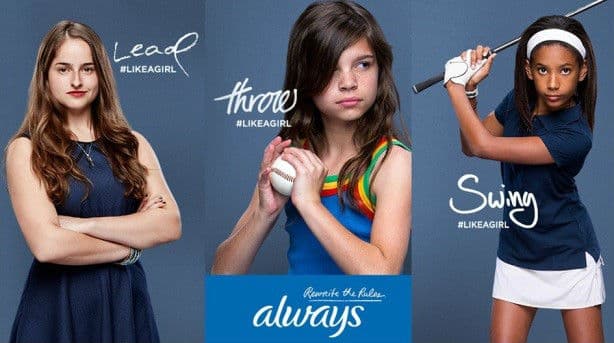 Why It Worked: The video encouraged viewers to participate in what it meant to do things like a girl. Social media was flooded with anecdotes, personal achievements, and encouragement to adolescent girls.
The video has amassed over 66 million views on YouTube and has won several awards. According to Design and Art Direction, 76% of viewers stated they no longer saw the phrase with a negative connotation. 2 out of 3 men who watched the short film said "they'd now think twice before using "like a girl" as an insult.
By facilitating such a strong emotional connection with a large base of their consumers and beyond, Always created a viral hashtag that inspired everyone to lift up young women.
4. Spotify Wrapped
In 2017, Spotify unveiled a quirky-looking site that gave personalized statistics garnered from your listening data. Giving a much-needed update to their Year in Music campaign, Spotify used the same visuals as their data-driven billboards.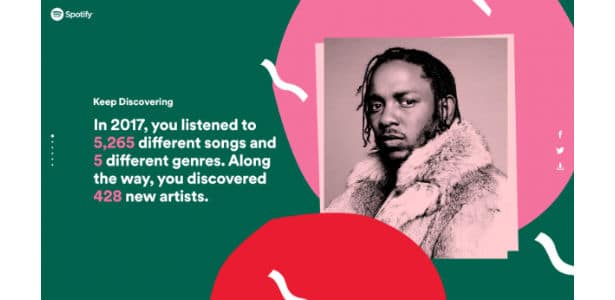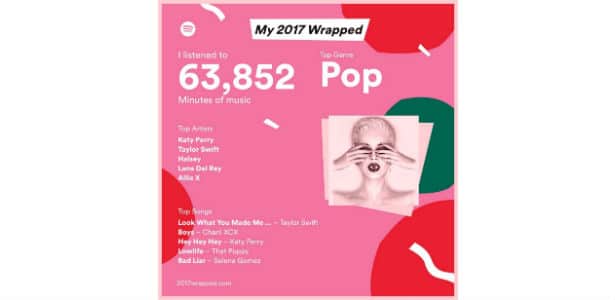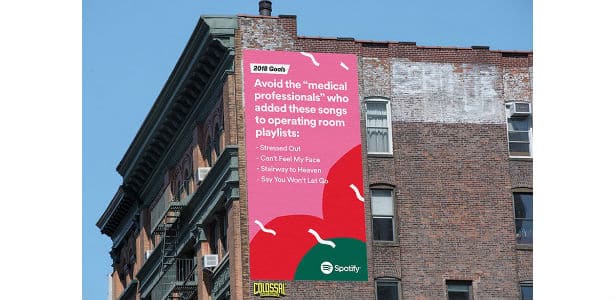 In 2018, Premium users were given the chance to have their personal Wrapped statistics broadcasted on digital billboards at landmarks like Times Square and Piccadilly Circus.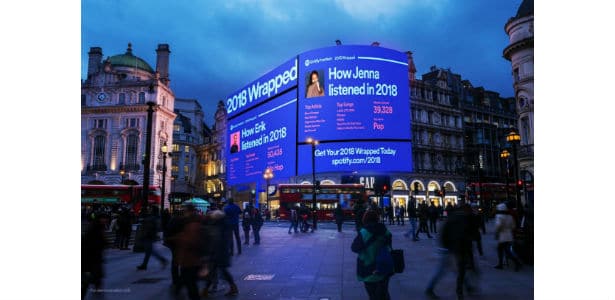 Why It Worked: Having personalized numbers over pleasing graphics made screenshotting these statistics and posting them on social media a no-brainer. By compiling listening data and presenting them to users visually, Spotify started a viral conversation at the end of every year (and kicked off the next with some free advertising). Showing your friends your listening habits is a unique way to show your personality and Spotify recognized that.
5. KFC's Twitter Herbs and Spices
Sometime before October 2017, KFC unfollowed everyone except 6 people named Herb and the 5 Spice Girls.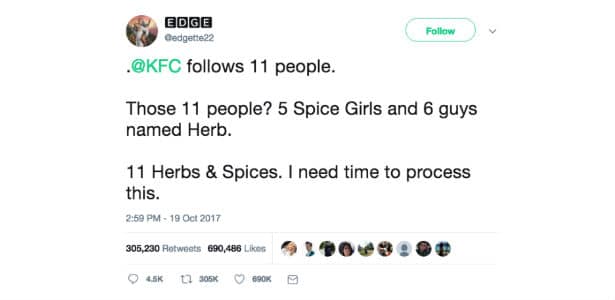 After this Easter egg joke about their famous recipe was discovered, the tweet went viral and was shared hundreds of thousands of times. KFC rewarded the man behind the tweet with a custom painting and 52 gift cards.
Why It Worked: KFC's sneaky gag paid off by sparking an organic conversation through the discovery of their hidden joke. They attempted to continue the viral discussion by commissioning a whimsical painting of Colonel Sanders and the Twitter user behind the revelation. This social strategy was genius in its playfulness and simplicity. KFC came off as a lighthearted brand that likes to have fun with its customers.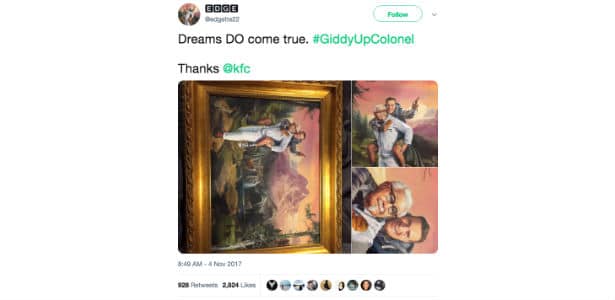 6. Apple #ShotOniPhone Campaign
Apple's #ShotOniPhone campaign is one of the most successful social media campaigns ever. Following a successful billboard campaign featuring photos shot on- you guessed it- iPhones, Apple encouraged social media users to share their own photos with a chance for their work to appear on a billboard. Over the past couple of years, that hashtag has taken off and Apple's official Instagram is dedicated exclusively to pictures #ShotoniPhone.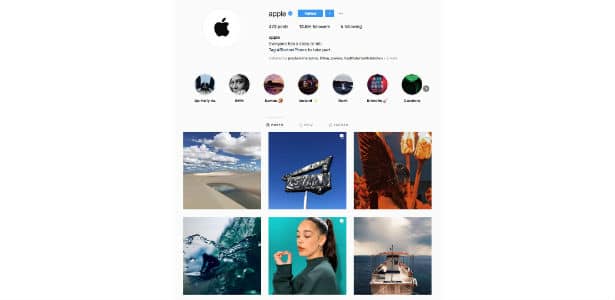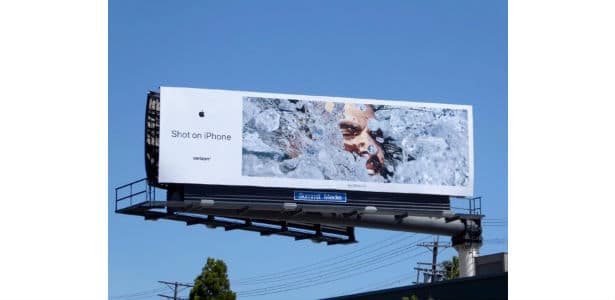 Why It Worked: With one of the biggest pools of consumers under their belt, Apple leveraged user-generated content to celebrate their technology in creative and visual ways. Artists tend to use the hashtag to showcase their creative skills without the use of expensive or excessive equipment. In return, Apple gets to show off how easy it is to create high-quality content with their product. The hashtag #ShotoniPhone has over 6.5 million entries on Instagram alone.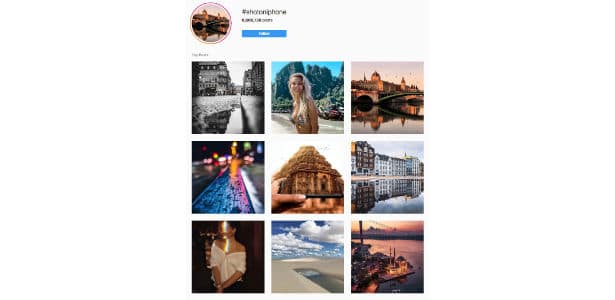 People with iPhones could easily submit their pictures on social media, making this a simple and authentic ongoing campaign that shows no signs of slowing down (for as long as iPhones are popular, at least).
7. Airbnb: We Are Here Facebook Live Campaign
When Airbnb first launched "Experiences" on their brand-new Trips platform in 2016, they decided to give users a first-hand look by live-streaming various Experiences over the course of 24 hours. The twist was each experience was filmed on a helmet-mounted camera, making viewers feel more like they were actually there. They showcased Venezuelan cooking in Miami, ocean activism in Cape Town, surfing in Los Angeles, performance art in Paris, street dancing in Seoul, and more.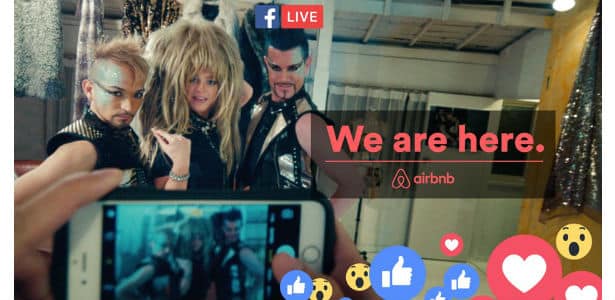 Why It Worked: Airbnb expertly included consumers in real-time and gave as good as a first-hand experience as they could. Anyone with an internet connection could view the Experiences and imagine themselves being there. The authentic nature of live streaming and on-the-ground Experiences was a natural fit. It was also a newer form of social media interaction, which was an exciting risk for Airbnb that paid off.
This is a great example of why your business needs social media marketing to grow in a meaningful and engaging way!
8. OfficeMax Elf Yourself
OfficeMax launched a website in 2006 called Elf Yourself where people could upload pictures of themselves to generate videos of dancing elves.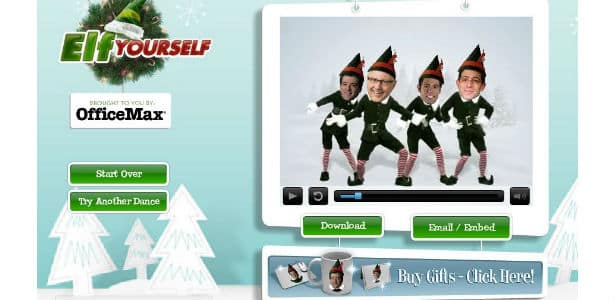 When this marketing campaign first launched, Facebook had just opened to the public. The "viral" nature of Elf Yourself spread through email. Now, Elf Yourself has a Facebook AR filter and is shared countless times on various social platforms each year they relaunch the site.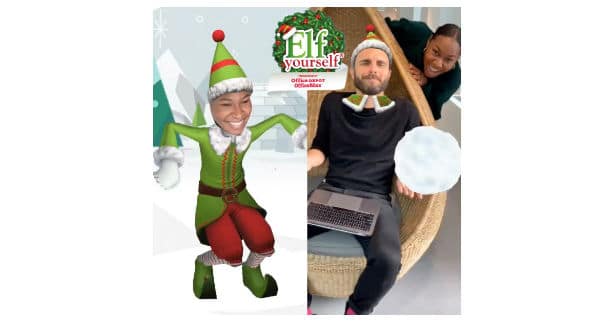 The longevity of this campaign is a testament to how effective the Elf Yourself campaign is and how adaptable OfficeMax has proven themselves.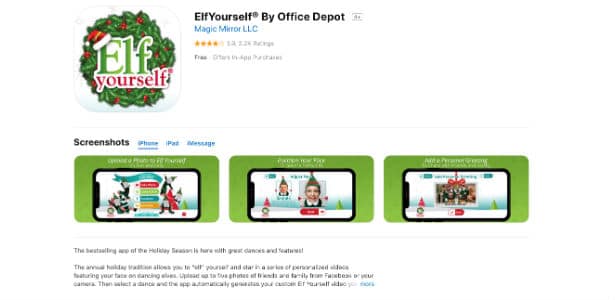 Why It Worked: People enjoy humor and personalized content, and OfficeMax was pioneering corporate viral content with this idea. Back when it first launched, the website was gaining 200 hits per second with 8 elves created per second. Now, OfficeMax/Office Depot (merged in 2013) is constantly adapting with mobile apps and social media filters that offer easy ways to share your elves with others. Sometimes they offer coupons of up to 25% off after you share a post. This annual holiday delight has no signs of disappearing anytime soon.
9. Lonely Whale Foundation #StopSucking Campaign
The Lonely Whale Foundation launched a social media campaign challenging people to #StopSucking and cease their use of single-use plastic straws. Straws are one of the biggest polluters of oceans and other waterways. After this campaign launched, it quickly became viral thanks to celebrities like Adrian Grenier (the co-founder), Ellen Pompeo, Russell Wilson, and Emmanuelle Chiriqui. Because of these efforts, Seattle has banned plastic straws and the state of California has banned restaurants from automatically giving patrons plastic straws. Starbucks has officially banned single-use plastic straws partially due to direct efforts from the Lonely Whale Foundation.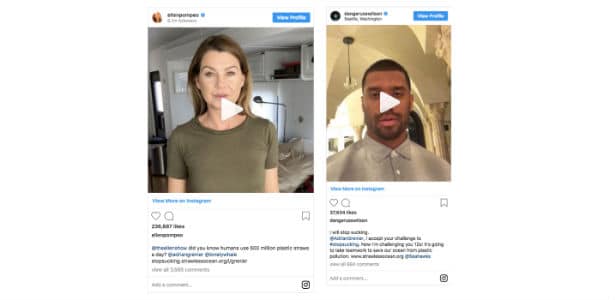 Lonely Whale
Why It Worked: The playful humor behind the hashtag #StopSucking made a serious issue eye-catching and shareable. Lonely Whale harnessed star power and the desire to do good in order to build a conversation and draw attention to the cause with a challenge.
They offered instructions on two ways to complete the challenge, which encouraged people to participate and bring others in. Before you posted, you could generate a Challenge Code URL to track your challenge post's influence.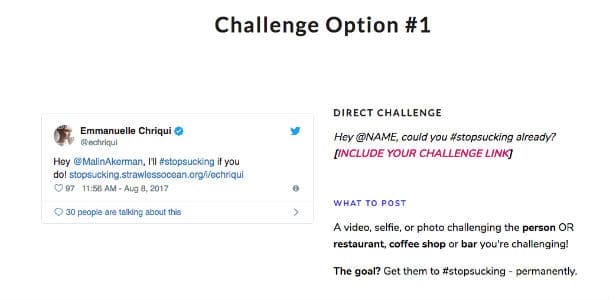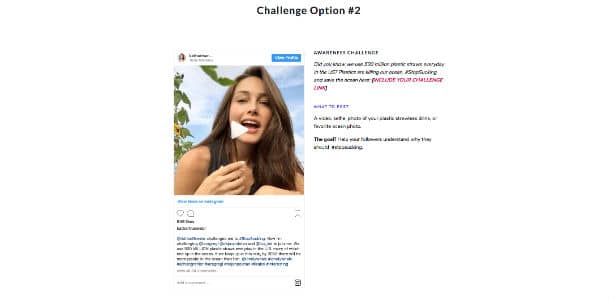 Strawless Ocean
Even by using purely organic content, this campaign reached over 74 million people across Twitter, Facebook, and Instagram- far beyond the non-profit bubble.
10. #StraightOuttaCompton Movie Campaign
In 2015, Beats by Dr. Dre and Universal Pictures created a website called StraightOuttaSomewhere.com to promote the biographical drama Straight Outta Compton (based on rap group N.W.A.). Visitors could create their own #StraightOutta memes and input any place and picture. This quickly made the hashtag go viral as people shared their creative and personal posts with the website soon reaping over 10.8 million visits.
Why It Worked: #StraightOuttaCompton became the number one topic on Twitter, Facebook, and Instagram within 24 hours due to its highly customizable and shareable format. Several celebrities wanting to curate content for social media joined in, including Serena Williams, Bette Midler, Ryan Reynolds, LeBron James, Ava DuVernay, and Jennifer Lopez. This helped boost the meme's popularity even further. Even Oxford University joined in on the fun.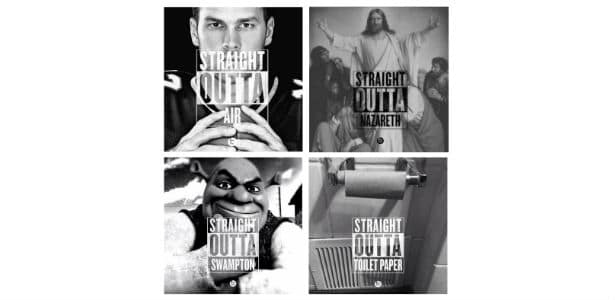 Posts ranged from clever to hilarious to personal, and there was something new yet recognizable in each one through utilizing N.W.A.'s iconic logo. By using user-generated content, the organic reach for this film reached heights that would have been unachievable without this effective social media campaign.
Contact MARION for Help Building Innovative Social Media Campaigns Today!
You're interested in building an innovative and effective social media marketing campaign for your brand, but where do you start?
MARION is a Houston-based marketing agency that offers social media marketing in Houston and Austin. Our experts can build creative campaigns that engage your audience and drive results.
Stop paying for "marketing" and start paying for results! Contact MARION today to schedule a consultation!