An effective business website is critical for a positive first impression – make sure it's well-designed and functional. Not only should it be attractive, but it should also be easy for people to find out more information about your business. Learning how to choose a web design company that builds high-performance sites is the first step toward making this happen.
If your website is difficult to use, you may lose a potential client or sale!
Should I Build My Own Website or Pay Someone?
When deciding whether to hire a web developer or do it yourself, you should consider what you're trying to accomplish. If you are a business owner who is strapped for time, you might not have enough hours in the day to learn how to build and optimize your own website. If productivity is your goal, hiring someone to make a website for you could allow you to spend your precious time on other tasks.
Pros and Cons of Doing It Yourself
Website builders are an inexpensive option for business owners to get their website up and running. They rely on visual editors so a beginner can easily edit and plan their website. However, they often are limited in their design and technological capabilities and you run the risk of looking too similar as other websites using the same builder. DIY website builders generally incur a recurring usage cost.
One of the main disadvantages of building your own website is that you likely aren't aware of best practices for user experience (UX) design or SEO-friendly web design. In the end, you've paid much less, but your DIY website is not effective at getting leads for your business.
Pros and Cons of Hiring a Web Design Company
Although a web design company will cost more initially, you ultimately get what you pay for. Hiring a web development company means hiring a team of experienced professionals who specialize in necessary elements critical for your online presence. You can avoid spending your valuable time and money building an underperforming website from scratch.
Schedule a free consultation with MARION today to see how the custom website design services at our Houston, DFW, and Austin SEO agency can help serve all of your digital marketing needs.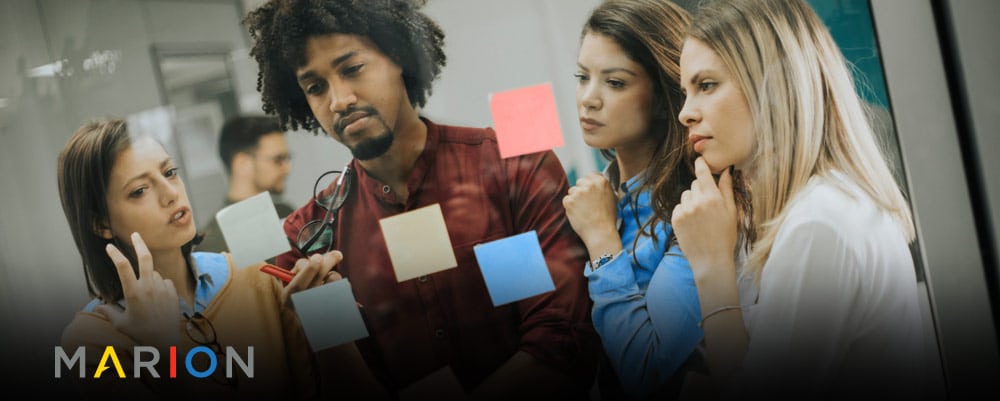 5 Steps – How to Choose a Web Design Company
Choosing a web design company can feel overwhelming if you don't know where to start. In this article, we'll discuss how to find a good web design company for your needs.
1. Look at the Websites They Have Built
One of the best tips in choosing a web designer is to consider what you are looking for in a website and comparing how their previous experience aligns with your intended goals. By looking at their portfolio, you can evaluate if their style and design approach fits your own.

2. Visit the Company's Own Website
When choosing a web design agency, check out their own client-facing website. You wouldn't hire someone to make your website if their own website doesn't look professional and up-to-date. Ask yourself – does this company walk their talk?
3. Talk to the Web Design Agency About Their Process
When hiring a web development company, it's important to understand how their process works so both parties can maximize productivity. The initial stages of your website design project will probably take weeks, while overall website services may continue indefinitely. This professional relationship will be long-term, so make sure it's a good fit.
For example, at MARION, we can provide one-time marketing projects or ongoing outsourced marketing services in Houston, Austin, and DFW.
4. Verify That Your Budget Works with Their Pricing
Before jumping in, you should discuss with the agency your goals and the allotted budget. Most agencies don't have their pricing on display since every project has its unique requirements. Having a budget and hammering out these details ahead of time can save you a lot of money on professional web design services.
As a point of reference, the average cost for websites we build at MARION is between $5,000 and $15,000. Some of our clients have more aggressive growth goals, requirements for advanced customization, and complex needs that drive their level of investment to more than $15,000. However, the cost is always tied to value-added; paying more for a website from MARION means that it becomes an even greater revenue-generating tool for your company.
5. Schedule a Meeting with the Web Design Agency
The best way to find out all the answers you need is to schedule a meeting and bring questions to ask the web development company you're considering. A meeting is great for both parties to find out if you're a good match for each other's businesses.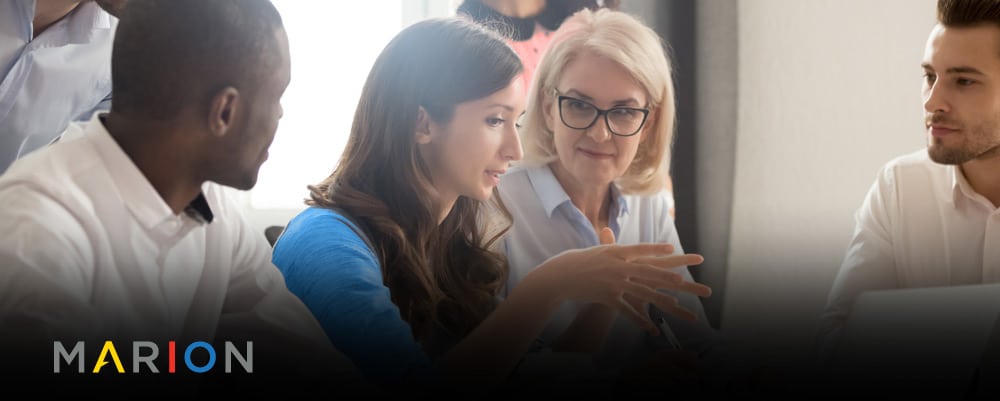 5 Questions to Ask a Web Design Agency
Once the meeting is scheduled, here are the best questions you should ask to gauge if you should trust a web design company with your valued business!
1. Can I Meet Your Web Design Team?
The people you meet with to discuss the questions with may not be the same people who will be working on your website. You may want to ask if you can meet the people you'll be interacting with the most once your project has begun.
Efficient web design companies are generally hesitant to pull their designers away from important work for sales meetings. So, understand that you may not meet the whole team until after an agreement is in place.
2. What Is Your Web Design Process?
A good web development company will walk you through their design process step by step in an easy-to-understand manner. They'll explain what you should do on your end (such as creating a design brief for their graphic designers), iterations that may be required, and how they'll work to achieve your goals.
3. How Do You Incorporate User Experience into a Website Design?
User experience is a big factor in a website's success – most people will leave if your web design is not intuitive, easy-to-use, and fast. A good web designer will have up-to-date strategies on incorporating user experience into your website's design.
4. Have You Designed a Site for My Industry or Goals Before?
When deciding between professional web design companies, you should look at how much experience they have. Have they worked with all kinds of clients before? Do they have experience with your industry? Do they know what to do in a wide range of situations? These are all good questions to ask to gauge if they're fit for the project.
At MARION, we find that our content marketing in Houston, Austin, and DFW benefits from the years of experience our team has in common regional industries. Having previous experience writing high-performing copy for your industry enhances the quality of your new website.
5. How Is Ongoing Website Maintenance Managed?
Over time, a website may need changes and ongoing maintenance. A design firm could give you guidelines on how to make these changes on your own, or they could be responsible for making updates. It will most often be a combination of the two, so clarify what their rates will be or how this process will work in your case.
MARION Has Been Providing Professional Web Design Services for Years
If you need a new website or an overhaul of your existing website, you can trust MARION to get the results you want. Our inbound marketing agency works with you every step of the way to develop a strategy and design that captures your vision. Our dedicated team of web designers will work towards your goals while you focus on other aspects of your business.
Schedule a free consultation today to learn more about our web design in Austin, Houston, DFW, and Greater Texas!