Your website will most likely serve as your business's first impression for potential customers. But, advice can range dramatically from one person to another about what makes a great website–one that engages and attracts buyers, and builds confidence in your brand.
Before you can create a great website, it's important to know what the typical customer will be interested in learning when visiting your site. If you're a local business, it may just be that they need directions, prices, or contact information. If you offer services, your site's visitors might be most interested in making an appointment or reading testimonials from satisfied customers.
Like it or not, in our digital world, having a great website is essential if you're looking to grow your business. If you're interested in learning how to make a great website, we're here to help. Keep reading for some basic tips for creating your own website, or, for those who already have a strong online presence, we'll help you apply effective website design concepts to your existing site.
What Makes a Great Website?
As you spend time on the web, you may not have stopped to think about what actually makes a good website. What components cause you to buy from one company's site versus another? The elements used to create a good website likely affect visitors on a subliminal level. The best designs minimize distractions, are easy to navigate, and clearly communicate your story.
What Makes a Good Business Website?
For businesses, a good website design depends on both the information provided, as well as, aesthetics. The characteristics of a great business website have far more to do with what will turn your site visitors into paying customers than anything else.
As you're evaluating what would make a good website design for your business, make a list of the things your customers are most likely to want when they visit your site. What do you want potential customers to know and how do you want them to feel about your business when they visit your website? Organize and present that information clearly to help build confidence in visitors. For best results, reach out to a top marketing agency like MARION for help.

3 Characteristics of a Great Website
First, whether designing a new website or updating and existing one, it's important to consider what your customers will see. Branding is important, and a great website will consistently reinforce it. Studies show that 94 percent of first impressions of a website are design-related.
Want to take your website to the next level, but you're on a budget? Download this free eBook with 24 website must haves that will help improve your site today!
In addition to a simple, attractive design, it's important that your website design match other existing branding. Maybe you need to update or create branding guidelines for your business. A branding agency like MARION can help with that, too.
1. Your Website Reflects Your Business/Brand
One of the top principles of great web design is that you should update your site's look and feel to current standards. An outdated design gives a bad impression. And, if your website is behind the times, your customers will get the impression that your products and services are, too.
2. Your Website Is Expandable If You Offer New Products/Services
Next, your website should allow for easy expansion allowing for additional products and services. As you're researching how to format your website, notice that navigation and menu structure is vital to clearly presenting products and service to site visitors. Your sitemap needs to match the long-term goals of your business. What makes a great business website is not only that it's great today, but that it can also expand as your business grows.
3. Your Website Is Easy to Use and Navigate
Then, make sure your website is easy to use and navigate. Potential customers should be able to easily find the information they need. An easy-to-use menu is fundamental to good web design. Creating a successful website is often something as simple as customers being able to quickly find product information, how to book an appointment, and contact information.
The top custom website design firms in Houston can help design an aesthetic and functional business website. Check out MARION's work to see some B2B web design examples.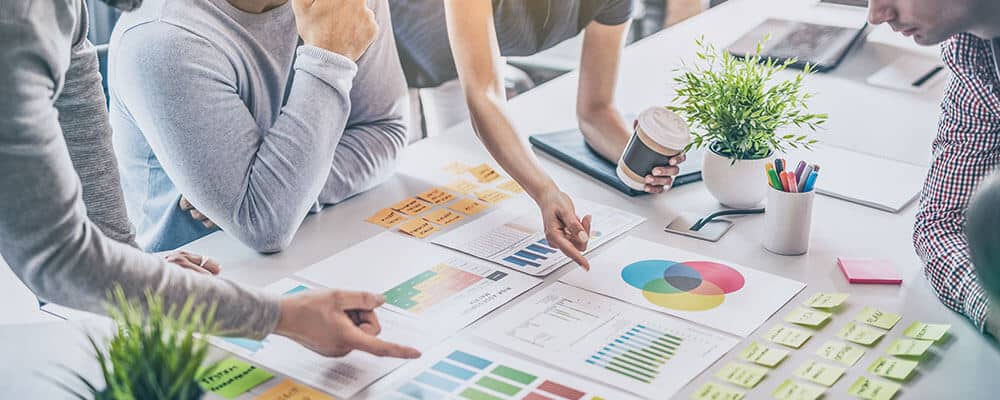 How to Make a Good Website
When it's time to get started on design, it's important to know the basics of how to make a great website. It can help to look at other business websites and evaluate what makes a great website and what doesn't. Here are a couple of things to help get you started.
Incorporate a Good Logo, Graphics, and Consistent Branding
Consistency is key when creating a great website. Effective website design also means making sure the overall impression customers get matches your brand. Start with your logo if you already have one, and choose fonts, colors, and graphics that reinforce your brand. If you're a law firm, the characteristics of a great website may mean simplicity and formality, whereas a day care may use fun colors and more playful fonts. If you're hiring someone else to do your graphic design, make sure you understand the important pieces of writing a design brief for graphic designers.
If you don't already have a logo, MARION can provide professional logo creation services. Like all things design, you get what you pay for. Don't be afraid to invest in the future of your company by establishing an elegant logo that captures the essence of your brand.
Provide Your Company Information in the Expected Places
Customers must be able to easily find the information they need. This includes your location, contact information, and description of your products. A great website design makes that information easily accessible.
Company information is often found on an About Us page, as well as at the bottom of every page. Working with a firm like MARION that provides professional web design in Austin can help you ensure your site is as customer friendly as possible.
Make Sure Your Contact Information Is Consistent (Consistent NAP)
Make sure that contact information is up-to-date at all times. Name, address, and phone number (NAP), is an important part of SEO, and one of the most vital features of great website design. Failure to keep this information current may prevent customers from contacting you, and may also negatively affect your ranking in search results.
Build Your Site to Be Responsive
At this point, responsive web design is more than just a trend, it's vital, and among the very basic features of what makes a website successful. As one of the most popular website design features, responsive web design simply means your pages automatically scale to fit the size of the screen, whether it's being viewed from a smartphone, tablet, laptop or desktop computer. Because mobile internet usage took the lead over desktop computers in 2018 with 63 percent of internet visits, this is one of the most important aspects of making a great website.

Optimize Your Website for SEO
If your pages don't rank, customers won't be able to find you. Optimizing your pages is a major component of what makes a successful website. Here is an SEO checklist for new websites that will help you implement a high-performing SEO website design.

Fast Web Page Load Speed Is Critical
Search engines want to make the browsing experience as pleasant as possible for consumers. Part of what makes a great website is fast page load speed. If your site loads too slowly, you'll be penalized. If your graphics or videos are too large to load or begin streaming quickly, your design could be negatively affecting your company's bottom line.
Optimize Your Website for CRO
The ability to assess conversion rates is another factor that can make a website great. Build in ways to regularly test how many of your visitors turn into paying customers. This may include A/B testing and setting up analytics to monitor how customers interact with your site. Continued CRO is a great way to get leads for your business over time.

Add Testimonials and Testimonial Videos from Customers
Effective website design means making sure visitors get what they need. If possible, include written or video reviews of your products and services on your website. Up to 70 percent of consumers check reviews before buying a product.
Text testimonials are better for your SEO efforts than using video reviews only. If you choose to use video, include a transcript to get the most out of your SEO efforts.

Secure Your Site with SSL and Firewall Protection
No features of good website design matter if your site isn't secure. Not only are there big HTTP vs. HTTPS SEO differences, but it will drive away customers who get security alerts from their browser or virus protection software. If you aren't sure how to get the proper security certification for your site, you can work with an experienced web developer to make sure your site is safe.
If you're ready to create a good website for your business, trust an experienced design team. We can get you started by going through your business objectives, helping you learn more about your target audience, and creating a site that gets results. Get in touch with MARION about our web design services today.