Multivariate testing helps businesses to make the most of each and every one of their website's visitors by improving conversion rates by testing different web elements. In this article, we break down how to use digital marketing testing techniques to boost conversions and improve your digital strategy. 
What Is Multivariate Testing in Digital Marketing?
Multivariate testing is a technique used in digital marketing for testing different variables on a webpage to find the most effective combination. Elements such as images, copy, font or color can all be tested concurrently on audiences to determine which combination yields the highest results, such as click through rate or open rate.
In addition to web pages, multivariate testing is often used for other marketing channels such as PPC ads, social media marketing, email marketing and more. Regardless of the type of digital marketing campaign, the ultimate goal of multivariate testing is to help determine which variation is most successful out of all of the possible combinations.

Multivariate vs. A/B Testing in Digital Marketing
Multivariate testing and A/B testing are very similar. The only difference lies in the fact that multivariate tests involve testing the effects of changing more than one variable on your site, whereas an A/B test strictly tests the effect of changing only one variable. It's common for both techniques to be used in UX design and web design strategies.
A/B testing, also referred to as split testing, is an approach to website optimization in which live traffic is used to simultaneously test two versions of a page to determine which version performs the best. In this method, site visitors are randomly sent to either version A or version B of a page, and their interactions are simultaneously tracked. A marketer will quickly be able to decide which version is most effective by seeing which page achieved the highest conversion rates.
Multivariate testing uses all these same core mechanisms, but compares several variables at once, therefore revealing more valuable information about how certain elements interact with one another. Data from each combination is compared to determine the most successful design, as well as reveal which components have the greatest impact on a visitor's interaction.
Time and Traffic Requirements
The biggest difference between multivariate and A/B testing is the amount of traffic and time required to see results. Since you are only testing two versions with the A/B method, you'll need a smaller amount of visitors before you start seeing results.
Meanwhile, the multivariate tactic needs several different versions to be tested, requiring a much larger number of visitors before obtaining accurate results. If you have a minimal amount of traffic, this system can take quite a while. However, if you've spent time building an online presence and your website has a high number of visitors per day, multivariate testing will be a quick and easy process.
A major benefit of multivariate testing on your website is that a winning variation could improve your marketing KPIs by leaps and bounds, while A/B testing usually delivers marginal improvements. This means that multivariate testing marketing elements on your site can accelerate your timeline for meeting marketing goals and objectives.

How Does Multivariate Web Testing Work?
In multivariate testing, web analytics are used to determine the best combination of elements to maximize results. Here are the steps you should take when using multivariate testing for your business:
1. Determine Potential Pitfalls & Areas for Improvement on Your Website
Take an unbiased look at your site as if you were a potential customer. Go through the buyer's journey and make notes of bad UX design examples, potential pitfalls and/or potential areas for improvement. Identify any problems that a visitor may come across when browsing your site.
2. Formulate a Hypothesis
With the notes you took in step one, think of ways in which you can solve the problems. For example, are visitors potentially deterred from submitting a form because the form isn't visible enough? Maybe it's placed below the fold and needs to be moved higher up the page, or maybe it doesn't stand out enough, so visitors tend to gloss over it without taking any notice.
You can then hypothesize that moving the form up the page, and/or making it stand out more from the content would increase form submissions on the page. 
3. Create Variations
Once you know what different elements you need to test and what changes you need to make to test out your hypothesis, you can then create the different variables to test. Consider changing the text, location, size, font, color, images and other elements to make your call-to-action more noticeable and enticing.

If you're not an expert at making website edits, don't worry! Our experienced digital team offers Dallas, Houston, and Austin web design help to Texas businesses.
4. Determine Your Sample Size
It's almost time to start driving traffic to your pages, but first you need to determine your sample size. How many visitors will each page need to generate before you can draw conclusions about your tests' findings?
5. Test Your Tools
Test everything on your site before you start running tests, just to be on the safe side. Ensure that all links are correct, CTA buttons are working properly as well as any other important aspect of your campaign.
6. Start Driving Traffic
Now that you've completed your variations and know exactly how much traffic you need, it's time to start running traffic to them. A downside to multivariate tests is the massive amount of traffic needed before seeing results, so you'll have to be patient.
If you're located in Texas, partnering with a Dallas, Houston, or Austin SEO agency can help build a strategy that attracts plenty of relevant users to your website.
7. Analyze and Learn from Your Results
Each of your tests can be used to learn something valuable about your pages and visitors. You can use this information to make changes and even for future tests.
3 Examples of Multivariate Experimental Design
When using multivariate testing, you can change several different design elements such as headlines, clickable links, and image placement. There's no limit to the number of variations you can run. Let's look at some examples of multivariate experimenting in digital marketing.
1. Example of Multivariate Testing Email Marketing
In multivariate testing, marketing specialists can experiment with different elements of their email marketing strategy in order to see which method gets the most attention from their audience. You can test several variables such as subject line, from name, content, phrasing, send time and more.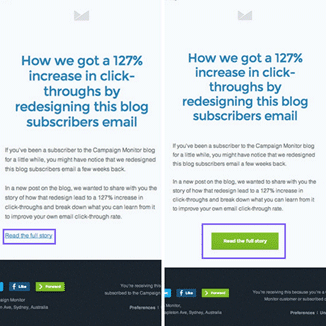 Source: Campaign Monitor
In the above email, Campaign Monitor tested which call to action readers preferred: link text or a button. After testing these two variations, results showed that there was a 28% increase in click-throughs on the email with a button CTA.
Here are a few ideas to consider for multivariate testing in your email marketing campaigns:
Are subscribers more responsive to emails with your company name in the subject line?
Will including images increase engagement?
Are your subscribers more likely to click linked text or a linked image?
Will newsletters with colored text increase click rate?
If you want help with professional web design in Houston, Austin, or Dallas/Fort Worth, our experienced team is ready to assist your Texas-based business!
2. Example of Multivariate Landing Page Testing
Multivariate testing allows you to develop high-converting landing pages by experimenting with the performance of different variables. Never underestimate the importance of landing pages—they're what turns a visitor into a prospect and a prospect into a conversion.
With multivariate testing, a website's landing page will be split into several slightly different versions to be randomly assigned to your site's visitors. Each version's success will be tracked, ultimately showing you the best way to run your site.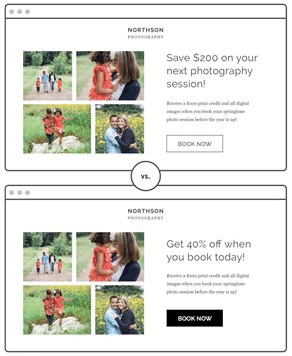 Source: Leadpages
Your landing page copywriting is key to persuading your audience to take action. Consider testing different lengths and tones and sentiments.
In this example, both landing pages' headlines present the same offer while using unique language. The only way to know which one is better is by testing it.
3. Example of Digital Content Testing on Social Media
When testing your digital content strategy on social media channels, the goal is to determine which combinations are well-received by your audience. Consider these key metrics for social media marketing when running multivariate tests:
Engagement: Which version results in more likes, comments, shares, or clicks?
Impressions: Which version reaches the largest number of people?
Traffic: Which version drives the most visitors to your site?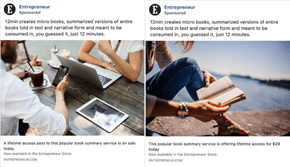 Source: Sprout Social
In this example, Entrepreneur is testing both the title copy and featured image. Note that the caption, subtext and link all remain the same. The goal of a test like this is to understand which combination will get the most clicks.
Here are a few other multivariable testing ideas worth trying:
GIFs vs. static images
Use the same content with different audiences
Change the tone of voice
Experiment with different CTA buttons
Incorporating videos vs. images
While testing content changes on your website, keep in mind that your page copy has an effect on maintaining an SEO-friendly website design. If you're based in East Texas, an Austin, Dallas, or Houston SEO company can help reconcile your verbiage changes with your ongoing strategy.
MARION Can Help Your Business Create High-Performance Digital Marketing Assets
Multivariate testing can be a powerful optimization method, regardless of your business. It's a sure-fire way to drive traffic to your website and improve customer experience. Not quite ready to take on multivariate testing on your own? We're here to help! MARION is a Texas-based digital marketing agency that offers traditional and internet marketing services.