Did you know that approximately 51% of traffic to all websites is from organic search? Further, more than 40% of business revenue is generated by organic search traffic to B2B websites. This data from BrightEdge highlights exactly why organic search is critical to the success of your business.
So how do you improve your website ranking and capture a larger share of this high-quality traffic? Start by compiling a list of SEO stats and site analysis for your business website.
What Is Website Analysis in SEO?
An SEO site analysis is way to identify how a given website can improve its chance of ranking in search engines like Bing and Google. Your SEO analysis report lays out what your site is currently doing right, and where it falls short of your SEO competitors.
What Does an SEO Analysis Report Include?
A website SEO analysis might include items like:
Your top organic competitors
An audit of your current backlink profile to identify strong or at-risk links to your site, and your domain authority
An audit of your competitors' links to identify link-building opportunities
Keyword rankings that include monthly search volume, ranking difficulty estimates, cost-per-click (CPC) estimates
Technical SEO data about average page load times and broken internal/external links
On-page SEO data about titles, headings, image alt text, meta descriptions, and more
Site structure and information architecture
Mobile usability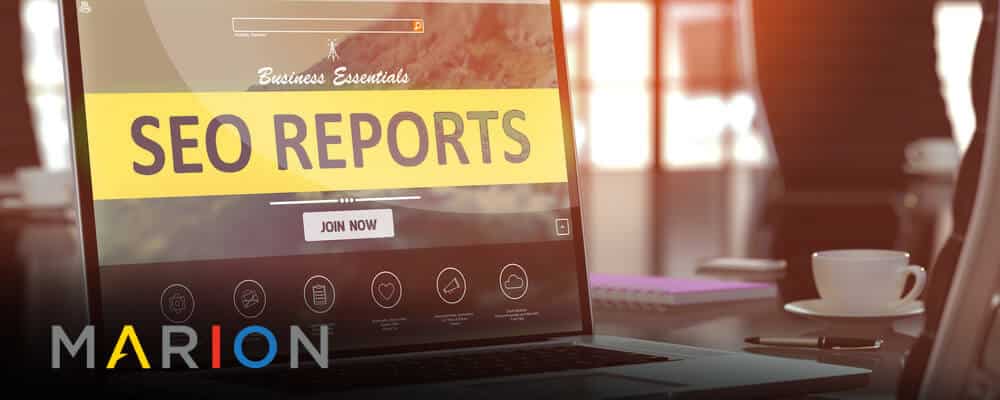 While this may seem overwhelming, these are all common components of an SEO optimization report. For help from an ethical SEO company in Houston or Austin, contact an expert at MARION today.
How to Do an SEO Evaluation
Even after researching what all the above means, it can be difficult to conduct your own search engine optimization analysis. The following four steps will help you develop a better big-picture understanding of evaluating your website.
1. Collect Search Analytics to Find Your Baseline
Before improving your SEO, you need to understand where you're at. How many visitors come to your site on an average day, and how do they find you? Is most of your traffic from people searching for your brand, or is it from people who searched for a solution to their problem and found you? How long do users stay on your website, and how many pages do they visit?
The most important data about your website can be gathered using Google Analytics and Google Search console. To start collecting this data, follow this guide for getting started with Analytics, and this guide for getting your website on Search Console.
I recommend adding Analytics to your site first because you can use your Google Analytics account to verify in Search Console that you own your website.
Identify the baseline for your website by collecting data for at least a month using these two tools. You can uncover current ranking data and search terms that people use to find your site, as well as metrics like the number of visitors and new visitors, time on page, and pages per session across your website.
2. Identify Competitors
Nobody knows your business better than you (in most cases). Owners and marketing managers will usually have an in-depth understanding of the unique value their business offers, and their ideal customer.
This advanced knowledge is a great start in identifying your competitors. However, there might be a big gap between your perceived competition and your competition in organic search.
You can identify your competitors in organic search by doing a search for your core business offerings. For example, if you operate a firm that provides business law services to clients nationwide, you might do a search for "business attorneys." Then analyze the competitors that show up in both the map results and the standard results (the 10 blue links). These competitors may be located all over the country.
There will be a marked difference in organic competitors if you only offer business law services to clients in your locality or region. For a firm located in Austin that only serves the surrounding area, you would do a search for "Austin business attorneys," to discover your competitors.
There are two main types of organic competitors in the search engine results pages (SERPs) today: true competitors and pay-to-play competitors. Using our Austin law firm example, a true competitor would be another business law practice in Houston that ranks #2, and a pay-to-play competitor would be a legal directory that compiled their own "top list" of Austin law firms and ranks #1.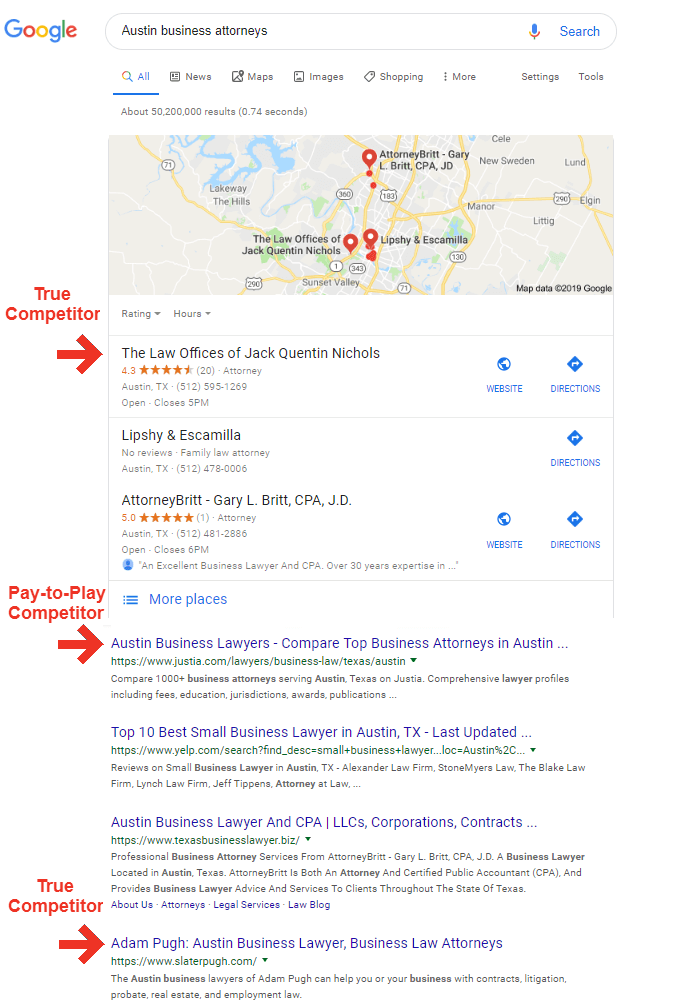 You're competing with both organizations for a share of search traffic, but you can always work with the pay-to-play website for additional traffic if you have the advertising budget. An additional approach is to leverage professional Austin law firm SEO services to improve your search engine optimization.
3. Analyze Competitor Sites for Qualifying Dimensions
After identifying your top organic competitors, you can begin your SEO marketing analysis by collecting details such as:
URLs
Meta Descriptions
Titles and Headings
Inbound Links
Broken Links (Internal and External)
Image Optimization
Content Analysis
While most of these items can be analyzed manually, it could take tens of hours to collect and record this data. Fortunately, there are SEO tools available that you can use to compile data for your SEO competitors.
Common Tools for SEO Site Analysis
Google Search Console (FREE)
Google Analytics (FREE)
Screaming Frog (~$14 per month – limited FREE version available)
SEMrush ($99.95 per month for lowest tier)
MOZ ($99 per month for lowest tier – yearly discounts available)
Ahrefs ($99 per month for lowest tier – yearly discounts available)
There is a lot of overlap between SEMrush, MOZ, and Ahrefs. SEMrush is great for opportunity keyword research and onsite SEO analysis, Moz is great for backlink research and domain authority, and Ahrefs is a good hybrid of both.
If you need to minimize your marketing spend, I recommend using Search Console, Analytics, Screaming Frog, and SEMrush, for a yearly total of about $1,368.
Get a Free SEO Analysis Here
MARION has provided a free SEO site analysis tool here. Just enter your domain, email, and phone number, and we'll send a brief search engine optimization report to your inbox.
If you need expert help resolving the issues in your SEO report, contact the experts at our SEO company in Austin and Houston today. We're happy to help.
4. Use Data to Develop Your SEO Strategy
Now that you have an SEO site analysis report using data from the tools above, you can develop an SEO strategy. Your short term strategy should work toward filling in your weaknesses, while your long term strategy should focus on pursuing opportunities that your competitors haven't tackled yet.
Let's consider some short and long term B2B marketing strategy examples to give you a better idea.
Short Term SEO Strategy
Your website SEO evaluation has uncovered that:
All your pages are using H2 tags where there should be H1 tags
Your site has 30 broken internal links
50 of your images are over 100kb
All your pages include what is considered "thin content"
Your strategy for the coming month should focus on cleaning up the broken links, changing the main headings into H1 tags, and resizing and compressing your oversized images. Having your technical SEO in order is the first step toward developing a high-performing website.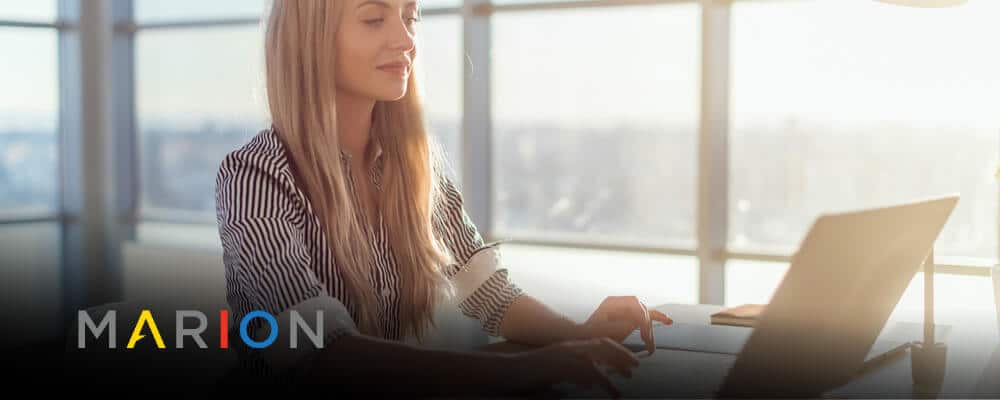 For months two, three, and four you need to prioritize rewriting or expanding on your existing page content to fully address the needs of your website visitors. Do your product/service pages include all the important aspects of your business offering? Are your blog posts comprehensive enough to answer all searcher questions around the topic at hand?
Long Term SEO Strategy
Your short term plan covered some of the qualifying dimensions of SEO, but your long term plan should address the determining dimensions. Long term priorities should include inbound links and content analysis on a proactive basis.
Your SEO performance analysis should have identified where your organic competitors get their backlinks, so start by targeting those outlets in your link-building campaigns. However, once you've built a similar backlink profile, start to set yourself apart by targeting other relevant websites and news sources that your competitors haven't approached yet.
Although you've addressed some of the major shortcomings of your content during months one through five, it's now time to go above and beyond the competition. Start exploring video and audio content to include on your main pages, and create a content calendar that will help establish your brand as an authority in your industry.
Start considering the relationship between your SEO and web design as well. Many times, updating your website design to be more conversion-oriented can help users and result in a faster, more efficient site.
Trust MARION with Your Digital Marketing Needs
MARION has been serving Texas businesses since before search engines became popular. We've grown with the industry, and we now have experts on staff who can do a full SEO evaluation and build a powerful strategy for digital growth.
Contact us today to schedule a consultation with a member of our digital marketing agency!