We work with many law firms and one of the biggest challenges for any new or established law firm is generating a steady stream of website traffic.
While there are countless ways that you can address this need, it should almost go without saying that focusing on your search engine optimization is time and money well spent.
If you're wondering how important it is for your website to show up in relevant search results, let's just look at the facts.
96% of people use a search engine while seeking legal advice.
74% of consumers will visit a law firm website to take action while seeking legal advice.
These consumer statistics from The National Law Review make one thing obvious – your law firm needs to be visible online.
Simply creating a website won't cut it in today's digital landscape. With 96% of people using search engines to seek out legal advice, your firm's task is to cut through the noise and rank highly enough to be found when potential customers raise their hand for legal help.
Focusing on SEO for your law firm websites is your ticket to the top of the search results. Unlike a lot of other posts out there on SEO for law firms, I'm not going to claim that domination of the search results is as simple as following a few steps. After all, you're an expert in legal matters, not attorney search engine marketing.


Outsourcing SEO for Law Firm Websites
You're a legal expert, not an SEO expert. When you break it down financially, an hour of time spent doing billable work for a client is more valuable to you than doing an hour of SEO. Fortunately, you don't have to pick one or the other.
When you use MARION Marketing's SEO Services, we build your organic website presence, so you can stay client focused. Contact us for more information on how our search engine optimization services can grow your bottom line.

This post will cover techniques for improving where your website is showing up in search engines, but if you're wondering why your site doesn't show up in search engines at all, you may want to address some bigger issues before diving into this post.
In this post, we will walk you through the most critical components of your law firm's SEO marketing, including keyword selection, mobile-friendliness, site structure, technical SEO, local SEO strategies, content creation, and more.
You may decide that there are more profits to be had by using a reputable SEO service than doing it yourself.  If so, make sure you know what to look for in a reputable SEO company.  We have years of experience working with law firms to grow their digital presence and their bottom line, so reach out to us with any questions that you may have.
Organic Traffic Doesn't Have to Come from Google
One of the first SEO tips that many lawyers may or may not be aware of is that organic traffic doesn't have to come from Google.
I'll demonstrate my point with an example. If you own a general practice law firm in Houston, your SEO marketing efforts might focus on ranking for, "Houston lawyer."
Take a look at the organic search engine results page (SERP) for this keyword. Don't consider the ads and local results at the top of the page for now, but instead focus on the, "10 blue links."

As it turns out, six of the ten organic results are listings pages from sites like findlaw.com, justia.com, and avvo.com. Only four of the "10 blue links" are actual law firm websites in the Houston area. The low ratio is because of the sizeable margins on law firm services, and the profitability of selling leads in this industry.
Disadvantages of Purchasing Leads from Listings Sites
For a firm hoping to invest in SEO services, niche business listings sites add an extra layer of competition to the mix.
On top of having to outrank the other lawyers that offer competitive services, you must outrank listings websites that want to outperform you in the organic search arena. Their goal is to collect consistent lead revenues from firms like yours.
The business listings players often have more marketing dollars, and a stronger SEO presence backing them. They use this technique in an attempt to force you to purchase leads on a recurring basis instead of relying on the powerful lead generation tool that you already own – your website.
Advantages of Purchasing Leads from Listings Sites
On the bright side, professional listings websites provide an opportunity to source more business at a fraction of the price that you'd pay to show up in Google searches using Google AdWords.
For example, at the time of writing this article, the suggested AdWords CPC (cost-per-click) bid for the keyword, "Houston attorney," is $22.05. What this means is that every time someone clicks on your advertisement in Google, you'll pay an estimated $22.
If you don't have an optimized ad landing page that converts well, you could quickly blow through thousands of advertising dollars with no new customers to show for it. The value of SEO services could easily outweigh the value of purchase leads in this case.
A site like avvo.com might offer leads at a much lower rate. Additionally, because of the qualifying information on the Avvo website, a purchased lead could end up being higher quality.
Rank for Keywords on All Levels of the Inbound Funnel
One of the main components of your SEO will be identifying keyword groups at each level of the inbound marketing funnel.
I've seen it time and time again – law firm websites are composed of a few pages detailing the services they offer, and little else. Unfortunately, that doesn't demonstrate to users or search engines that you are a subject matter expert.
Keep in mind that your law firm's search engine optimization plan should be mutually exclusive, and exhaustive.
For example, for a child protective services defense attorney in Fort Worth, Texas, writing three blog posts that focus on keywords related to, "CPS rights in Texas," would be ill-advised. Your three blog posts would be competing with one another.  Instead, create one longer page that is more thorough, and exhausts every relevant angle for the topic at hand.
Good search engine optimization for lawyers starts with creating a plan for identifying keyword groups related to your niche and then developing high-quality content for the top, middle, and bottom of your marketing funnel.
If you're not familiar with the "marketing funnel" I'm referring to, let me explain.
Top-of-Funnel Content for SEO
Top-of-funnel content is general and mostly information. The goal of top-of-funnel content is rarely to make a direct sale, but rather to provide value for a website visitor so that they come back to your site.
Top-of-funnel content also provides context to search engine algorithms to establish in which areas your firm specializes.
Middle-of-Funnel Content for SEO
Middle-of-funnel content will align with the next step of the buyer's journey. This content should speak to someone who is probably in the market for services related to the ones that you offer, but still needs more information about the details.
They might be interested in prices, how to shop around for a good or service, and reviews for goods or services that are convenient for their location.
Bottom-of-Funnel Content for SEO
Bottom-of-funnel content is for users who are ready to make a purchase. This content should probably include details about your product or service so that someone on your site knows exactly what they're about to buy.
Your bottom-of-funnel content will likely take the form of a product or services page that highlights features, pricing, FAQs, and the next steps required for a purchase.
Consider our previous example of the child protective services defense attorney in Fort Worth. You might create a blog post on the topic, "what are my CPS rights in Texas?"
You could include a form on your blog post page that offers a free eBook about "how to select a lawyer." At the end of the eBook, you could include a call to action that links to a page you created that goes over your experience as a "CPS defense attorney," and how to contact you.

Mobile-Friendliness
If you were to open your website on a mobile phone right now, would you have a hard time using it?
Out of all global online traffic, mobile online traffic accounted for 52.64% in 2017.
This stat from Statista makes it clear why your website should be mobile-friendly. Your law firm's search engine optimization is all about supplying when there is demand, or in other words, meeting people where they are. If people are searching from their mobile phones or tablets – meet them there.
This blog post probably isn't the first time you've heard about mobile-friendliness. Even Google says that the majority of your site visitors are probably using a mobile device.
In case you aren't clear on what mobile-friendliness means, it refers to having a site that fits the user's screen when they are on mobile devices.
In the past, web developers used to make separate versions of websites that fit certain screen sizes, but that method is outdated. Today, web developers use responsive design to achieve mobile-friendliness.
What Is Responsive Design?
Responsive design is a web design technique that uses one set of HTML (the content and structure of your site), but different CSS (the look and feel of your site) to visually style web pages to fit the device that a visitor is using. Responsive design creates a good user experience for anyone viewing your site, on any device.
Mobile-friendliness and responsive design became very critical to search engine optimization when Google announced that mobile-friendliness would be used as a ranking signal starting in April 2015.
To emphasize the importance of mobile user experience even more, Google announced on July 9th, 2018 that mobile site speed is now a ranking signal. Learn how to improve load time of a website to make sure your pages continue to rank.
You can use this tool from Google to test the mobile-friendliness of your site.
If you're finding that your site isn't mobile-friendly, reach out to us to learn more about our web design service and how we can work to make your site responsive.
Site Structure
As a lawyer, you know that how you say something can be even more important than what you say. The same is true for the SEO efforts of any attorney when it comes to your site structure.
The layout of your pages can tell your users (and search engines) a lot. Your site structure can help make your website more user-friendly and helpful than your competitors' sites.
A more helpful site aligns with Google's original mission statement to, "Organize the world's information and make it universally accessible and useful."
To explain how important site structure can be, I'll go over the three scenarios that different sized firms might experience and their corresponding SEO friendly website structures.
One Service – Use an Exact Match Domain
For a law firm that specializes in only one niche, an exact match domain (EMD) will facilitate the best SEO results.
Despite the fact that Google has made several attempts to eliminate the advantages that exact match domains provide, I've found that they still tend to rank more easily than a branded domain name.
For example, a lawyer that only focuses the Oil & Gas industry in Houston might opt for the domain name: houstonoilandgaslawfirms.com.
Do your keyword research before choosing an EMD to make sure that your keyword of interest is being searched enough to warrant using it in your domain name.
When search engines and users see your website name, it's abundantly clear that you are an expert in Houston oil and gas related legal issues. Any sub-pages on your site should be about your actual firm, or about particular components of Houston oil and gas litigation.
Because you only serve one location and offer one service, there is no confusion as to which area of expertise of your law firm. Your home page IS your specialty services page.
For example, your URLs might look something like this:
Your Domain: com/
Services Page URL: com/
Blog Post URL: com/private-equity-best-practices-energy-industry/
Multiple Services – Use a branded domain with sub-services
A firm with several services should use a branded domain, with sub-pages for each specialty you provide.
A branded domain is just the name of the law firm and not a specific keyword. A branded domain will keep your site from becoming inherently associated with one service over another.
Adding sub-pages for each specialty will help keep your related content in silos. For example, when you add blog content (and, yes, your SEO efforts should include business blogging), add it under the corresponding specialty page.
Let's pretend I own a law firm, and my branded domain is simply tonylawfirm.com. I have two specialties in green energy, and oil and gas.
Your Domain: com/
Services Page URL: com/green-energy-attorney/
Services Page URL: com/oil-gas-attorney/
Blog Post URL: com/green-energy-attorney/renewable-energy-incentives/
Blog Post URL: com/oil-gas-attorney/deepwater-oil-spillage-litigation/
Multiple Location – Use branded domain with sub-locations, then sub-services
For a practice with several locations, either throughout one state or across the country, your site structure should showcase your locations under a branded domain name. The first directory after your domain name should specify each location.
It's possible that you offer services for several specialties at each location. In that case, your URL structure under each location will look like the layout about one location and multiple services (from the previous section).
Pretend that my law firm has grown, and tonylawfirm.com now has two locations offering oil & gas, and green energy legal services at each location.
Your Domain: com/
Services Page URL: com/houston/green-energy-attorney/
Services Page URL: com/houston/oil-gas-attorney/
Services Page URL: com/cleveland/green-energy-attorney/
Services Page URL: com/cleveland/oil-gas-attorney/
Blog Post URL: Services Page URL: com/houston/green-energy-attorney/oil-spillage-litigaton/
Services Page URL: com/cleveland/oil-gas-attorney/how-fracking-works/
Your site structure will have a huge effect on the success of your search engine marketing, so don't rush through it. Doing it right the first time will make your law firm's SEO efforts more successful, and make your firm more profitable in the long run.
Technical SEO
Technical SEO refers to the web development-related aspects of SEO. Technical SEO is typically not an area that someone in the legal field excels at or an area in which they should excel.
Mastering the technical side of SEO is often time-consuming, and if done the first time correctly, will only require minimal monthly maintenance.
Because of the time-consuming upfront investment, it makes sense to outsource this matter to a legal SEO expert. That being said, it can be helpful to at least know what you don't know so that you can effectively shop around for the best SEO for lawyers.
Verify and Submit Sitemap
If you have only 30 seconds to understand what a book is about, I'm betting you'd read the synopsis and then scan through the table of contents.
Search engines also frequently scan the table of contents for your website, called a sitemap, to make sure they know what your site covers.
Instead of crawling through your site page by page to see if there are any additions, search engine bots use the sitemap to account for the layout of your content quickly.
Don't worry about the details of creating a sitemap – there are a lot of services out there that you can use to create one for free. If your site is built with WordPress, you can use the free version of the Yoast plugin to create and maintain your sitemap automatically.
Once you create your sitemap, you'll want to submit it to Google Search Console and Bing Webmaster Tools. Google Search Console is more important because of Google's market share, so we'll quickly go over how to do that.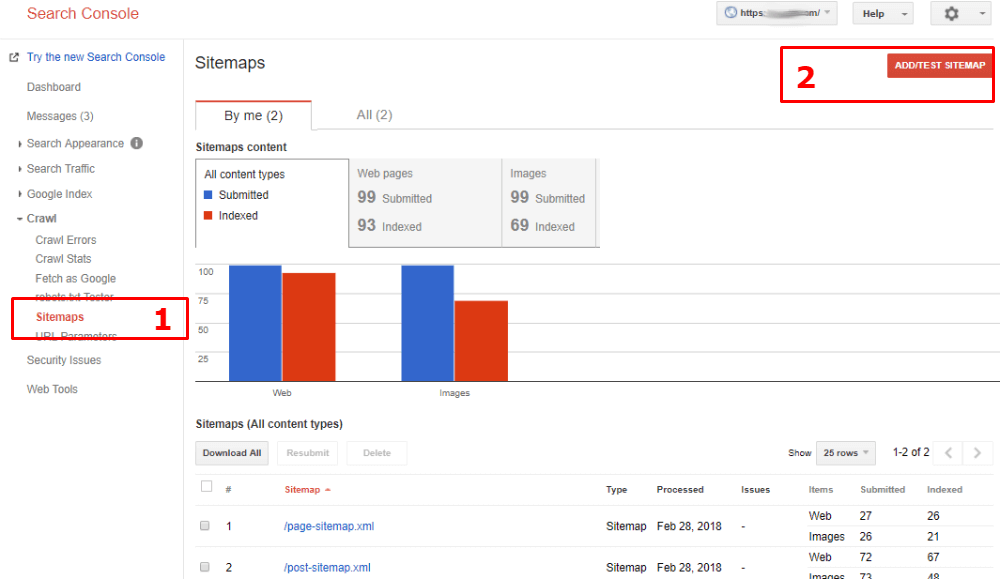 Go to your Google Search Console, and select the web property for your law firm's website.
Click "Sitemaps" in the left-hand navigation.
Click "Add/Test Sitemap" in the top right corner.
You will then be prompted to enter your sitemap's URL. If you're using the Yoast plugin, login to your WordPress account, and select "XML Sitemaps" from the left-hand navigation under Yoast SEO.
You will land on a page that contains your XML Sitemap link. Copy this link, navigate back to Search Console, paste it into the field asking for your XML sitemap link, and click submit.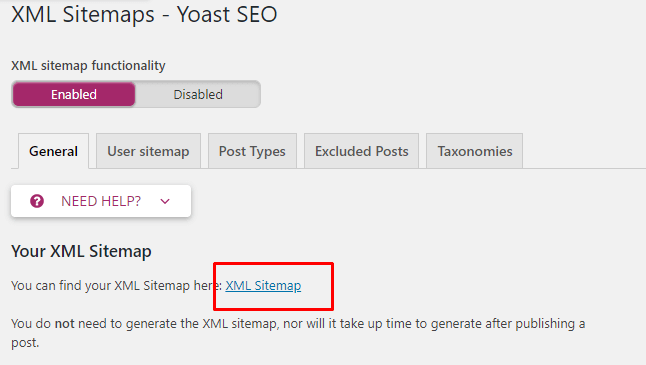 Submitting your sitemap to Google is a big step toward improving your law firm SEO.
Verify Robots.txt
Robots.txt is like the security checkpoint at the courthouse. Your robots.txt file contains directions about which internet bots can or cannot access your site.
Using a robots.txt file is a way to prevent malicious or spammy web crawlers from accessing your web pages, although some robots can ignore these instructions and access your site anyway.
To find your file, type in your domain and append /robots.txt to the URL. For example, if my site is https://www.tonylawfirm.com, then my robots.txt would be found at https://www.tonylawfirm.com/robots.txt.
If your site is built with WordPress, your robots directive should at least include the following:
User-agent: *
Disallow: /wp-admin/
Allow: /wp-admin/admin-ajax.php
For more specific instructions about how the code on robots.txt works, check out the MOZ article about managing your robots directive.
Check Site Speed
The speed of your site is important for several reasons.
Your website should be fast enough that it doesn't create a negative experience for your users.
Your site should be fast enough to ensure that your search engine marketing efforts aren't penalized.
Your site should not be too taxing for a mobile device on a 3G network to load.
With more and more visitors using mobile devices to conduct Google searches, your site needs to be accessible on mobile phones. Smartphones frequently use lower bandwidth connections than a device connected to WiFi. If the slower connection on 3G networks requires 10 seconds to load one of your pages, your website users will probably just visit a competitor's site that loads faster.
To test and troubleshoot your page load times, use the Google PageSpeed Insights tool. By entering your site's URL, you can see which technical aspects of your pages can be improved for faster load speeds and happier visitors.
When visitors are happy, Google is happy, and your firm's website will not be penalized for page speed issues.
Set Up SSL and HTTPS
Making sure your site is secure can add value for both users and your SEO performance. Having an SSL installed on your site should provide users with a green lock and the word "Secure" (depending on which browser you use) indicating that your site is safe to use.

In addition to creating an aspect of trust for your visitors, if your site has an SSL certificate and uses the HTTPS secure protocol, you can conduct financial transactions (like credit cards or PayPal exchanges) directly on your pages.
In addition to user-friendliness, Google announced in 2014 that the use of HTTPS encryption provides a small ranking boost for your site.
Contact your website hosting provider for more instruction on how to change HTTP to HTTPS encryption and make an immediate improvement to your lawyer SEO performance.
Local SEO
Local search engine optimization for lawyers is all about being found for potential clients in your area.
When it comes to legal services, your law firm's proximity to customers has a big effect on your bottom line. Search engines understand this facet of doing business and have implemented local SEO measures to reward firms that have a strong, locally-based web presence.
To see an example of local SEO for attorneys in action, consider our "Houston attorney" search query from earlier in this article.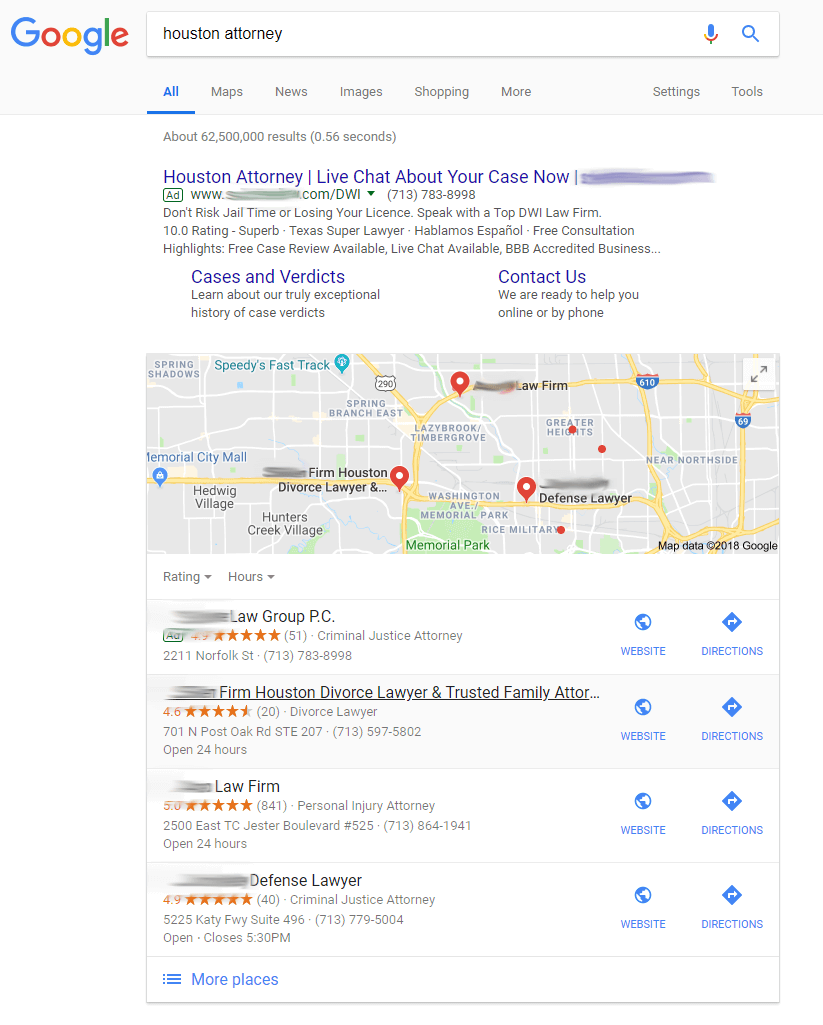 The local map is typically the first thing a search engine user sees when they conduct a local search. For this reason, search engine optimization for lawyers should include a strategy to gain visibility in the local business results, or map pack, for your locality. Here's how you make it happen.
GMB
Creating or verifying your firm's Google My Business (GMB) listing is the first step in capturing traffic from your local map pack. You can follow these detailed instructions from Google, but we'll go over the critical steps here. If you don't have a GMB listing, your first step will be to visit https://business.google.com/create and create it.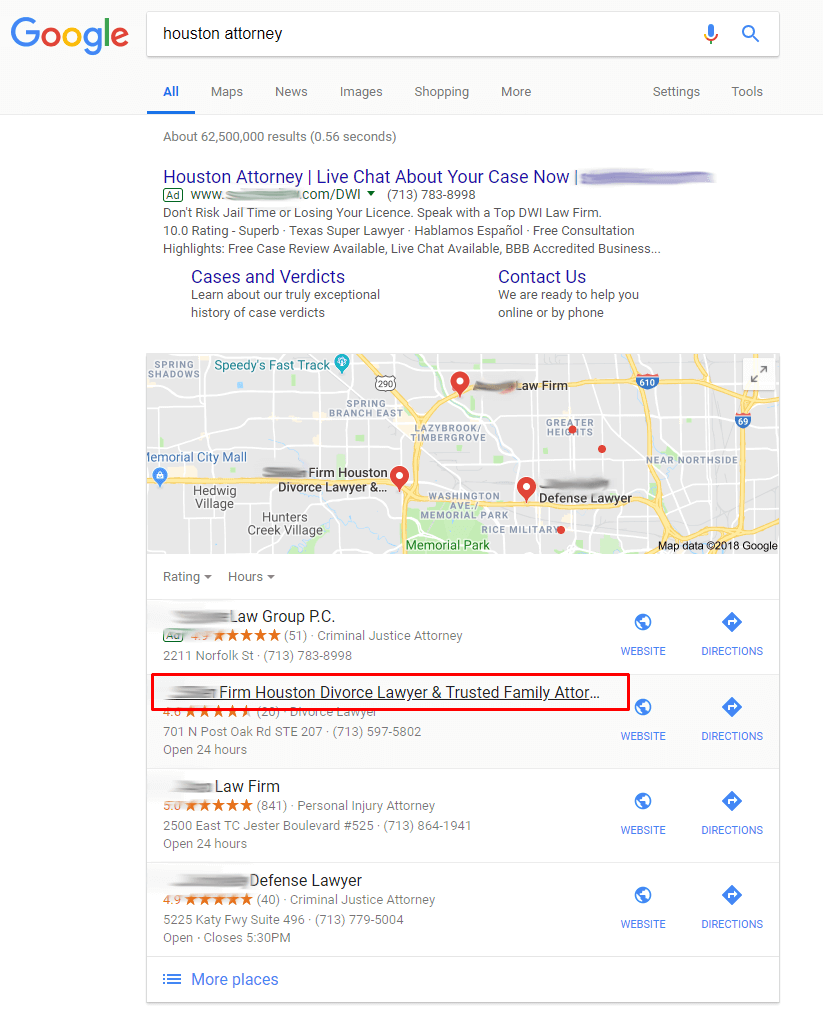 Verify
Unless you're a new business, there is a chance that your business already has a GMB listing, and you just need to verify it.
You can verify by having a postcard sent to your business's physical location in the mail. There are even certain periods of time where Google offers an expedited verification process so that businesses can gain control of their listing without sending a postcard.
These special verification periods allow local businesses to adjust holiday hours – making their search data more accurate and helpful for users.
You can't show up in the local map packs until your business is verified. Make sure to notify whoever internally manages your law firm's mail that you are expecting a postcard from Google, then finish the verification process as soon as possible.
Optimize
Once your GMB property is verified, you can begin the editing process.
Start by editing your business name, which will appear directly in the map pack, when you're listed. As you can see from the "Houston attorney" local map pack above, the business name with "Attorney," in it outranked the listings without that keyword.
Including keywords in your GMB business name will help your local map pack position, but it may also put you at risk if your registered business name or DBA isn't exactly what you've listed.
Competitors could easily report your listing for spamming and cause your GMB ranking to drop. See Google's business description guidelines for more on the topic of overly spammy law firm listings.
Be sure to enter a business description as part of the optimization of your GMB account. As of March 2018, Google has begun displaying these descriptions in your GMB listing once you click on it from the search results.
You can find more details about editing your GMB listing in this help article.
Reviews
The quality and number of reviews that you get for your GMB listing can have a very big impact on your local rankings. Any Austin law firm SEO expert or law firm SEO expert in Houston will tell you that getting recent 5 star reviews can help you nab the top of a local pack in a matter of days.
There are special guidelines on review spam. For instance, paying someone to leave you a positive review is against Google's guidelines.
Try to generate reviews by asking happy customers to leave a review on your GMB listing. Incentivizing reviews could get you penalized, so offering a quality product or service with consistently great customer support is the best way to influence this SEO factor.
Local SEO Directory Mangement
AVVO, Justia, Lawyers.com, and NOLO are examples of industry-specific legal SEO directories. Earlier in this article, we discussed how you could leverage paid traffic through these directories, but many times a free listing will be helpful too.
Look for locally specific, or niche directory websites that are relevant to your firm.
For instance, a statewide law services listing site can be both helpful for directly driving leads, and beneficial for your search engine marketing.
When adding listings to local directories, make sure you're using a consistent name, address, and phone number (NAP) for your business. This NAP should also be listed somewhere on your website and marked up with the appropriate schema.
Adding schema markup to your website is a technical SEO task that can be difficult to perform if you don't have any web development experience.
Social Media
Social media is helpful for just about every aspect of your digital marketing efforts. Even independent of your website, social media platforms can be great for building a highly engaged audience.
However, you don't own your social media platforms, and they could be taken away at any point due to factors that are out of your control. That's why you should always try to leverage the SEO-specific benefits that social media channels offer your site.
Most social media sites allow you to enter a website URL in your company's profile page. Using this option is a great way to connect your social audience to your website once you've demonstrated that you are a subject matter expert in your industry.
Like SEO, you want to meet your potential customers where they're at, and the popularity of social media is undeniable.
In addition to using social channels to drive organic traffic, you can also run social media ads locally. Advertising on social media won't necessarily help your search engine marketing efforts, but it will help drive relevant traffic to your site at a more predictable rate.
Content Creation
For lawyers who enjoy writing, it's tempting to turn your website into a collection of professional musings that you're positive will attract a crowd.
This type of, "If you build it, they will come," attitude is common, but you won't find strategic legal SEO service providers taking this approach.
There are plenty of tools that can help you determine what your target audience is searching for online. Once you collect that data, you can systematically address topics with the highest demand that are the most likely to generate leads.
A good starting point for creating web content that will improve your law firm's search engine optimization is to analyze the websites of your organics competitors.
There is an important distinction between your competitors and your organic competitors. The firm up the road with a 20-year-old, single page website may very well be your competitor, but if they operate mainly off a referral system and highly developed professional network – researching their website won't get you anywhere.
Conduct a Google search for some of the search terms that you'd like to rank for, then plug the resulting web pages into an online keyword research tool to see what topics their content covers.
Conducting this research will help you identify what your target audience is demanding before you start publishing your expert insights to your website.
Avoid Press releases
If you must publish a press release by paying an online PR company to syndicate your self-made news, you're probably wasting your money.
Do-it-yourself online press releases haven't had an impact on search engine optimization for lawyers in quite a few years. Further, self-produced online press releases are very rarely read and can be very expensive with little or no return.
If your firm has done something that is truly press worthy, have someone from Help a Reporter Out (HARO) vet your story and write up their own, genuine press release. News from a real journalist will be much more credible and impactful to your marketing efforts than a DIY press release marketing strategy.
Avoid Paying for Guest Blogs without traffic
Guest blogging is a common way to share your thought leadership and experiences with another company's already developed audience.
If you have a good relationship with a relevant website that is interested in publishing your content on their site, it could improve your credibility in the industry and even help you build backlinks to your website.
Unfortunately, if you must pay to have one of your guest blogs published on another site, make sure that any links are being "nofollowed."
Adding the nofollow HTML property to links is a way for you to identify to search engines that an exchange of money took place that ultimately allowed for the existence of the link.
When a link uses the nofollow property, it no longer contributes SEO value to its destination web page. Thus, if you are paying to publish a guest blog post on another site, make sure that site is relevant and could potentially refer qualified traffic to your site. In other words, if a paid guest blog isn't improving your law firm's SEO, then it better be generating quality traffic or leads for your firm.
Link Building
As I alluded to in the previous section, guest blogging is the essential link building strategy in your marketing toolbox. When you contribute your unique insights and expertise to another industry website, you can create link citations to specific pages that already live on your site.
Because of the guest blogging process for link building, it's important that you already have at least a small core of content assets on your site.
These can be standard HTML pages, PDFs, or landing pages for lead nurturing assets like eBooks or whitepapers. Housing this unique content on your site gives you plenty of backlink options while you're guest posting.
Outside of guest posting, many of the legal service directories from your local SEO efforts will include links back to your site. These links may or may not pass direct SEO value, but having several listings that refer users back to your site will generally benefit your law firm SEO marketing in addition to generating real leads.
Track Campaigns
Whether you plan to do it yourself or hire a reputable SEO company, you need to be able to measure the effectiveness of your campaigns.
Are your SEO efforts resulting in more traffic?
Which pages are the most popular?
When people visit your site, do they read multiple pages?
Are your marketing efforts generating more leads at the end of the day?
You can find the answer to most of these questions through free tools like Google Analytics, Google Search Console, or Bing Webmaster tools.
If you use WordPress, you can set Google Analytics up even if you aren't technically savvy. You can search the WP plugin directory for any Google Analytics plugin, create a free Google Analytics account, then copy and paste your JavaScript snippet into your plugin. Going through this process will allow you to track user activity on all your web pages.