As one of the highest ROI marketing channels, SEO—or Search Engine Optimization—can make or break your business. A solid online presence is the key to staying ahead of the competition and growing your bottom line. So, how much do SEO services cost? And is it even worth it for small business owners? This guide will tell you everything you need to know about current SEO rates and pricing.
Should I Pay for SEO Services?
Are you allocating around 8% of your revenues to marketing?
According to the SBA, small businesses should have a B2B marketing budget of around 7-8% of their yearly revenue. However, the Small Business Administration mentions that in specific industries, businesses may need to earmark up to 20% of their annual revenue during the early branding years.
A 2019 study from BrightEdge shows that an average of 53% of all web traffic comes from organic search.
If your marketing budget should be 8% of your yearly revenue, and half of your small business marketing results come from search engines, then shouldn't you invest 4% of your annual income in SEO?
Let's do some math. For a small business with approximately $5 million in yearly revenue, you could invest up to $16k per month to reach SBA budgeting benchmarks.
This begs several questions for small business owners…
How much does SEO cost?
Should I pay for SEO services or do it myself?
There's a good chance you started your business because you are an expert in your industry, not SEO. Read through the following considerations to better understand how much to spend on SEO and whether or not you can do it yourself.
What Kind of SEO Help Do You Need?
Depending on your industry, you may be generating several million in revenue without maintaining a staff of your own. You could be a solopreneur or leverage contractors when you need to execute outside your area of expertise.
Depending on your preferences and business goals, you have the following options for search engine optimization.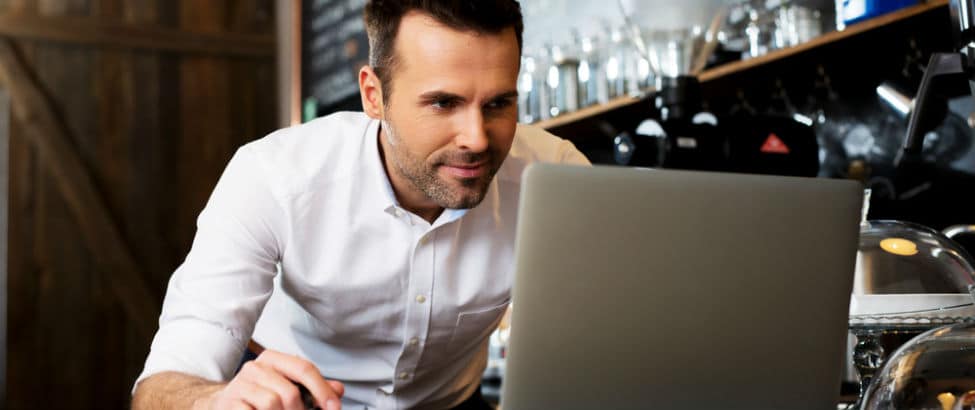 Optimize Your Own Site
The do-it-yourself approach to SEO is not for everyone, especially if you're strapped for time. Believe it or not, Google's algorithm goes through an average of 3,000 changes per year.
As a small business owner trying to manage customers, your business process, and even your own books, you likely don't have the bandwidth to keep up with Google's algorithm updates.
If you decide to take on this responsibility to cut the hard cost of SEO services, you'll need to learn the basics. You can leverage plenty of free online resources during your SEO training. However, doing your own SEO requires a larger investment of your time in return for lower search engine optimization costs incurred by external resources.
There's also a good chance that you'll recognize early in the game that you need to heavily edit or even redesign your website. However, while a bias for action generally gives you an edge in business, it can have the opposite effect in the realm of SEO. So make sure you learn how to redesign a website without losing SEO before you make any changes.
Hire an SEO Specialist
Your next option is to hire an SEO specialist. So if you're a small business owner wanting to keep your payroll taxes to a minimum, this option may not be for you. Hiring a W-2 employee will also require management on your part, so your time is still at risk of being invested in SEO. In addition, you will likely be limited to paying for an employee with a few years of experience since you won't be able to provide much direction for new marketing talent.
One of the advantages of hiring an in-house SEO expert is that you have more control over the process without becoming too involved. In addition, content creation and industry subtleties won't go overlooked because your employee has direct access to your insights and will become very familiar with your industry over time.
The most significant disadvantage is that hiring an in-house SEO specialist costs not only more time on your part but wages and payroll taxes too. How much is search engine optimization when you add up all the hidden costs of an employee? On the other hand, it may be less expensive to hire an agency with experience and specialized resources that a W-2 worker probably won't have access to.
Hire an SEO Company
Hiring an SEO company is the best option for a small business owner who values their time and wants to leverage SEO professionals' collective power and expertise. SEO services pricing will vary based on your business goals, and there is a minimal time investment required on your part. Learn how to advertise a small business locally.
How much do SEO services cost when you use an agency? You can take most of your time out of the cost equation and consider only the monthly SEO rates between agencies. Keep in mind that not all agencies will perform on the same level. In business, you get what you pay for—which is especially true for the value of SEO services.
For the highest quality SEO services in Texas, contact MARION today. We'll review your marketing needs and craft a unique strategy to grow your online presence and get leads for your business.
Project-based or Ongoing SEO Services
How much is SEO per month vs. as a project fee? Of course, there is a difference, but whether or not you should use ongoing monthly SEO services or project-based search engine optimization pricing will depend on your long-term goals.
Monthly Retainer for SEO
A monthly retainer makes the most sense for a business without SEO talent on payroll. Even for small businesses with a marketing manager or CMO, the internal marketing talent may not know enough about SEO to want to make optimizations themselves.
The monthly SEO retainer is especially relevant for growing small businesses that need all their online branding and marketing services handled by a third party. The monthly recurring fee model is designed for two things:
Maintenance for small companies with a smaller budget and little web development knowledge
Growth for small businesses with a larger budget and no internal SEO talent
Paying monthly SEO rates will not align with your goals if you only need your company's website "cleaned up" from a technical SEO standpoint.
SEO Project-based Pricing
Project-based pricing will make more sense for a small business with an internal marketing team but needs to establish a healthy search engine optimization foundation. The internal team may have experience with blogging and social media marketing campaigns but needs help formatting their site structure and website page templates to improve their inbound marketing results.
It may seem attractive to pay an SEO project fee and hope that you can just coast once your SEO support completes the job. However, your organic traffic will slowly dwindle without regularly publishing skillfully created and technically polished content. Content marketing services play a significant role in the success of your SEO, and project-based pricing will not help you achieve lasting success.
Hourly Consulting Pricing
Hourly SEO pricing makes the most sense for a do-it-yourself small business owner or a company with a small marketing team that lacks SEO experience. SEO consultants can help pinpoint technical website challenges while training you or your team to maintain your organic performance.
If you require substantial hourly consulting work, you may consider opting for monthly recurring SEO services to avoid reinventing the wheel.

How Much Do SEO Services Cost?
Let's go back over the disclaimers before you decide how much to spend on SEO.
What are your goals? The higher your growth goals, the higher your SEO spending should be.
You get what you pay for. If you want to pay low prices, you can expect low-quality results.
If you're paying for SEO only, your prices will be lower than for an all-encompassing digital package or a full-service marketing package.
The following ranges of SEO pricing are from a survey of over 400 respondents released in early 2016. The following ranges refer to the cost of monthly SEO services.
10%— less than $500
27%— $500 – $1,000
29%— $1,000 – $2,500
20%— $2,500 – $5,000
15%— $5,000 – $10,000
These costs for SEO services seem to align with the SBA's marketing budget benchmarks.
The next time you ask yourself if you should pay for SEO services, you'll be able to make an informed decision based on the above data. Of course, the amount you spend on SEO services will hinge on your business goals and the firm you choose to partner with.
Digital Only
Good fit for small to mid-sized businesses looking for an outsourced partner to manage their digital marketing efforts.
Full-Service
Marketing Department
Good fit for small to mid-sized businesses looking to fully outsource all marketing functions, including strategy and execution.
+ Graphic Design
Graphic design services needed to execute your digital marketing are included and additional creative services are available at a discounted rate.
Starting at $2,500 / mo
+ All Creative Services Included
All creative services required to execute your strategic marketing road map are included in addition to ad hoc design hours for unforeseen design needs.
Starting at$4,000 / mo
* Requires subscription to approved 3rd party email marketing and/or automation tool | ** 3rd party advertising costs not included
Contact MARION today for more information on how our creative marketing services can help grow your bottom line.