For digital marketers, strategists, and search engine optimization (SEO) professionals, prioritizing website redesign SEO seems like a no-brainer. However, many graphic designers, developers, or account managers may not fully understand the relationship between SEO and website redesigns.
Whether site redesign SEO is new to you, or you're a seasoned vet that just wants to make sure you've checked off all the boxes – this eight-step website redesign SEO strategy is for you.
Importance of SEO for Website Redesigns
It all boils down to profit. In most cases, a website redesign is a marketing investment intended to increase your revenue by means of increased rankings and traffic.
There's a good chance you're redesigning your website because you want it to be more appealing to your target audience. In theory, a more attractive website will generate more revenue (either through branding or business lead generation) and produce a return on your investment many times over.
However, your website has two main functions:
Attracting your target audience
Engaging and converting your target audience once they visit your site
Redesigning your website without considering SEO neglects the first function. Doing so is a quick way to squander years of your prior digital marketing investment. This can reduce your company's profit, and significantly lengthen the payback period for your website redesign.
How to Redesign a Website Without Losing SEO
When you redesign your website without losing SEO value, you're strengthening both of its main functions. Your site will do a better job at attracting potential customers AND helping them convert into paying customers.
The following site redesign SEO checklist will help you navigate the redesign process without losing your hard-earned rankings within major search engines.
1. Take Inventory of All Pages from Your Existing Website
Every page on your website is an asset when it comes to Search Engine Optimization. You can collect a list of your pages in several different ways:
Use a crawler
Use your sitemap
Use Google's index of your site
Use Google Search Console
Using a Crawler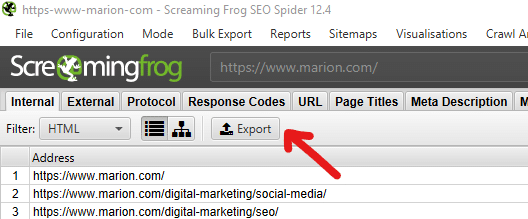 I lean heavily on Screaming Frog for crawling website pages. The tool costs around $165 per year and is great for more than just listing web pages. This tool provides a lot of value with minimal impact on your small business marketing budget. If your website has fewer than 500 pages, you can use Screaming Frog for free.
The Screaming Frog User Guide can help you get started if you've never used the tool. Beyond using Screaming Frog to take an inventory of your web pages, it can help find technical SEO elements like broken links, 404 pages, oversized images, missing HTML tags, missing or duplicate meta descriptions, and more.
Using Your Sitemap
If you're using a content management system (CMS), you may already be using an automatic sitemap generator to keep a running inventory of your pages. If you're not leveraging a CMS, you may already have a manually-compiled sitemap.
A common case would be a WordPress website using Yoast SEO to auto-generate a sitemap. You can get a mostly complete list of your web pages from your sitemap if this is the case. Keep in mind, a Yoast sitemap will only include up to 1000 URLs and won't include pages that you've labeled "noindex."
Using Google's Index
For smaller websites, doing a Google search for "site:yourwebsite.com" will return results for all your unique pages that Google knows about today. For larger sites, combing through pages of search results isn't very feasible. Additionally, Google may have excluded some of your pages if they identified them as duplicates or established that they weren't important enough to include in its results.
Using Google Search Console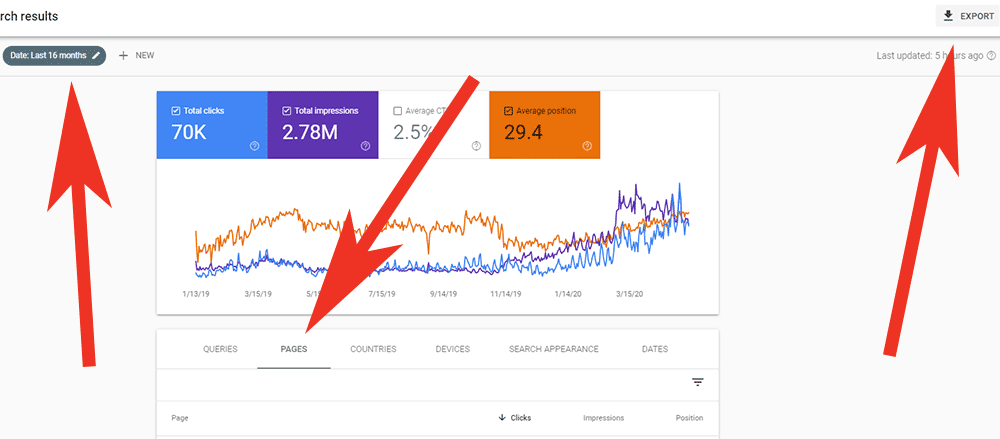 If you're familiar with using Google Search Console, you can find a mostly complete list of your pages there. After navigating to the Search Results report, you can extend the date range out to 16 months and filter by pages to see a list of all your URLs that Google identified in the past 1+ years. There's even an Export button in the top right that will generate a CSV list for you to use.
2. Implement Your Redesign on a Test Site or Staging Environment
Now that you've taken inventory of your existing website, you can begin redesigning a new version. To maintain your SEO during a website redesign, it's important that you make your design changes in a staging site (sometimes called a "dev site," or "test site").
The main reason for using a separate development environment during your redesign is to avoid having search engines crawl and index an incomplete version of your new site. You also don't want users to see web pages that are in the process of being overhauled.

To prevent search engines and users from discovering your work in progress, make sure you prevent your test site from being indexed. You can do this by:
Clicking "Discourage search engines from indexing this site" if you're using WordPress
Explicitly adding a "noindex" meta robots directive to each of your pages
Disallowing all robots from crawling your site via your robots.txt file.
3. Audit Your New Website
Now, if your website redesign only involved "reskinning" your existing pages, there won't be much new information to audit. For example, updating branding color schemes and spacing between HTML elements using CSS generally won't introduce new SEO issues that will hurt your performance.
If you've undergone a more extensive redesign, you'll want to do a complete website redesign SEO audit. We offer an in-depth guide for doing a website SEO analysis in a previous blog post. This will help you identify thin or duplicate content that can cause you to lose SEO rank in unexpected ways.
If you'd prefer professional Austin, DFW, or Houston SEO services instead of a DIY approach, contact MARION today.
Common Issues During a Redesign Audit
The biggest issues that arise during this stage are caused by combining pages, changing URLs, or eliminating pages.
Imagine you're a mid-sized manufacturer for B2B machinery and you have three different pages about calculating payback periods for your products. If you tell a web developer to combine those pages, they might simply copy and paste the content from two of the pages onto the third and call it a day.
In this scenario, the two pages that have been eliminated may have had valuable backlinks from third-party websites. You will lose the SEO value from those backlinks and confuse users that happen to click on those links and show up to a "Page Not Found" placeholder on your new website. To avoid this issue, you'll need to set up the appropriate 301 redirects (we cover this in the next section).
In the second scenario, imagine your most popular page (about machinery payback calculations) was located at https://www.yourwebsite.com/payback-calculation/. During your site redesign, a developer changed the URL to https://www.yourwebsite.com/payback-calculations/ (with an "s"). The SEO impact of changing URLs can be significant if not handled properly.
This situation would result in search engines needing several months to drop the old URL from their index, index your new URL, and rank your page from scratch. You would also forfeit all the backlinks from third-party sites that your old URL had earned over the years. Again, setting up the appropriate redirects (covered in the next section) will help you avoid losing SEO value during your redesign.
4. Set Up 301 Redirects
When you use a 301 redirect, it forwards an old URL to a new URL of your choosing. It also tells search engines that this is a permanent change, which is very important.
When you use a 301, you keep most of the SEO value attributed to the old page by transferring it to your new one. Therefore, setting up the right redirects is essential to your site redesign SEO. This will preserve website functionality and your previous link building investment.
For WordPress Websites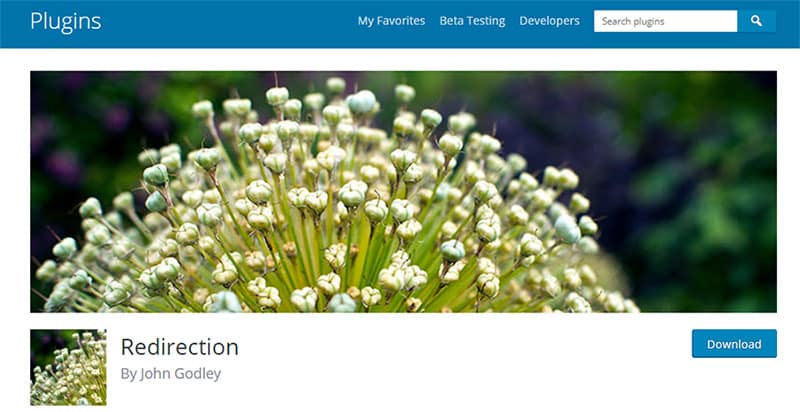 If you're using WordPress, implementing a 301 redirect is easy. I highly recommend a plugin called Redirection by John Godley. Download it through the plugin directory in your WordPress backend, and follow the easy instructions that the plugin author laid out.
For Other Websites
If you're using a different CMS for your website, it may already have a built-in redirect functionality for pages. Access the CMS's knowledge base or do a quick Google search to see if that's the case.
If your site is based on an Apache server, you (or your developer) can set up redirects within the .htaccess file.
Many domain name providers also allow you to implement redirects through their advanced DNS settings. If you choose this option, make sure you document that you've done this so you don't stump your team members in the future.
If all else fails, you can add meta refresh code to the header of a page. Here is an example:
  <meta http-equiv="Refresh" content="0; URL=https://example.com/">
If you're already familiar with SEO, there's a very good chance you already have an extensive list of 301 redirects in place. In this case, the SEO checklist for your website redesign should include removing any redirect chains.
A redirect chain is when URL A is forwarded to URL B. After this relationship has been forgotten (usually months or years later), someone may decide to forward URL B to URL C. This means that a poor website user trying to visit URL A would be forwarded down the line several times before reaching their destination.
Historically, each 301 redirect diminishes the SEO value that is passed each step of the way (though a Google spokesperson confirmed that an SEO factor called "PageRank" is not diluted in this transfer). Eliminating these redirect chains benefits users and can help you maintain as much SEO value as possible.

Every time you plan on redirecting a page, search your list of 301 redirects to make sure nothing is already being redirected to the page you plan to forward. If it is, update those redirects to forward directly to your new page destination.
In other words, if you want to redirect URL B to URL C, make sure you don't have anything redirecting to URL B. If you find that URL A is redirecting to URL B, then update that 301 redirect to go directly to URL C.
5. Activate Your Redesigned Website
Once you've put in the redesign work and your fresh website is ready for users to see, it's time to activate your design. The heavy lifting during this step will typically be done by developers, but you need to double-check that everything is working as planned.
For example, remember in step two when you prevented search engines from finding your site? Make sure this functionality has been removed when your redesigned site is activated. I've seen marketers (and even done it myself) launch a new website that included "noindex" directives on each page that caused the entire site to slowly disappear from search results.
You can't improve your SEO strategy if you don't have hard data backing up the decisions you make. You'll want to ensure that your tracking codes are set up and collecting data. This means Google Analytics, heat-mapping, social media pixels, etc.  
Download our 8-point website launch checklist to discover other major items that you'll want to consider after your site is launched. This can have a very positive impact on your SEO strategy during a website redesign.
6. Verify Robots.txt and Meta Robots
Your robots.txt file can include an explicit link to your redesigned website's sitemap. By including your new sitemap in the robots.txt file, you're making crawling and indexing as easy as possible for search engines.
Like we addressed in step five, make sure you're not accidentally preventing important pages from being indexed. On the flip side, if there are certain landing pages that you DO want to keep from being indexed, check those items now. If you have any canonical links implemented on your site for very similar pages, make sure those are appearing as planned too.
7. Set Up Google Search Console
If you're unfamiliar with Google Search Console (formerly Google Webmaster Tools), this easy guide from Google will help you get started.
In addition to including a link to your sitemap within your robots.txt file in step six, make sure you submit your sitemap URL to Search Console as well. This helps Google identify and crawl all the indexable pages on your redesigned site with ease.
8. Monitor SEO Ranking Changes
At this point, the work is done and you're ready to continually monitor new incoming data about rankings, conversions, and overall performance. Now that you've got access to your data, it's up to your marketing and executive teams to learn how to choose marketing KPIs that matter.
Keep in mind, a successfully implemented website redesign SEO plan will may not immediately improve any of your SEO results. That's fine! Your goal was to maintain the SEO value that your site had accumulated.
However, if your designers and user experience (UX) team succeed, your redesigned site will engage users more and result in more customer conversions. Longer dwell times and happier website users will slowly improve factors that have a direct positive impact on your search engine rankings, so be patient!
For top-quality DFW, Austin, or Houston web design, contact MARION for a consultation today.
MARION Can Guide Your SEO and Web Design Efforts for Higher Returns
For nearly 40 years, MARION has been providing marketing solutions for Texas-based businesses. Today, our digital marketing agency is staffed by experienced professionals with a passion for helping you succeed.
If you're in search of an SEO agency in Austin, Houston, or DFW, we can help. We have over a decade of experience helping our clients attract their ideal customers with a thoughtful SEO strategy.
Our Houston, DFW, and Austin website design services are capable of delivering brilliant, SEO-friendly web designs that are sure to delight your target audience.
Contact us today for a free consultation, and discover how MARION can help your business thrive, even in today's atmosphere.