As a small business owner or marketing manager, you do your best to operate on a lean budget. For that reason, it's not uncommon to experience sticker shock after the first few website design quotes you gather for your business.
You have the option to relegate your business website to a cost center role or build it into a powerful profit center and asset by choosing a good web designer. If you're ok with the former, then a DIY site might be right for you. However, if you're interested in creating a strong business asset, this article will help you establish some realistic web design budget parameters and get over your sticker shock.
So, how much does a website cost in each case? You'll discover the costs associated with DIY web design, professional website design, and ongoing website maintenance.
How Much Does It Cost to Build a Website Yourself?
A DIY website offers one main advantage: raw cost savings.
Building a house or car with your own two hands also costs less than buying one from an experienced professional… but that doesn't guarantee you'll get what you need. Regardless, if this is the route you've chosen, you can opt to use a template or attempt a custom web design.
There are significant differences between custom web design vs. website templates – one of which being the associated cost of each. MARION has been offering Houston, DFW, and Austin web design for almost as long as website design has existed, so we've got a few insightful notes on this topic.
The following sections highlight differences in the average cost of website design when you're using templates vs. creating a custom design.
Using a Template
Templates come in all shapes and sizes, and most CMS platforms and website builders have several free and premium templates that you can choose. Most templates, especially the premium ones, will be updated by the template author over time so that your website doesn't break.
The following popular website builders offer templates that can make website creation easier if you don't have HTML and CSS experience. The pricing reflects the lowest service tiers that give you access to web templates on each platform.
| | |
| --- | --- |
| WordPress.com | $4 per month |
| Squarespace | $12 per month |
| Wix | $14 per month |
| Shopify | $29 per month |
The main disadvantage of using a template is that your website might look oddly like several other popular websites with which your users are familiar. Using a website template is like showing up to a car show in a Honda Civic – it meets the minimum level of performance, but you will probably go unnoticed by your audience.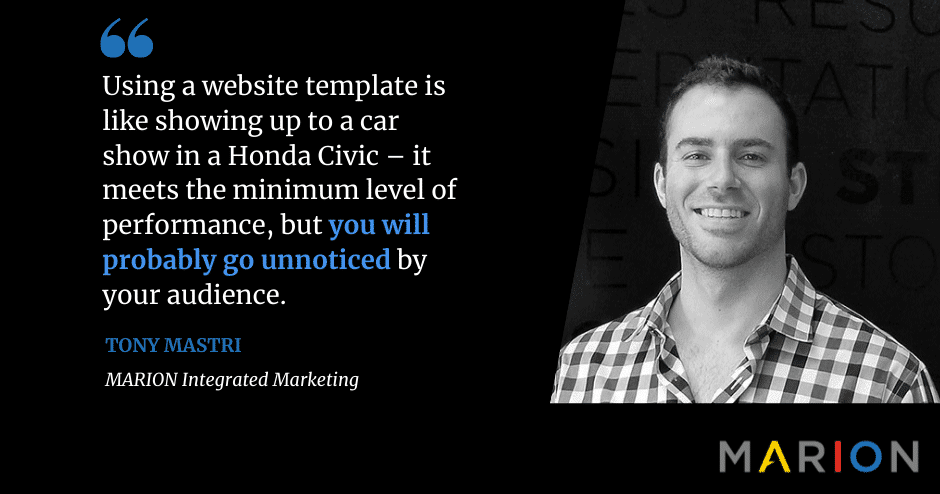 Custom Design
Custom design can be a great way to stand out from other websites. You can include custom features that highlight your unique product or service offering. The main downside to attempting a DIY custom web design is that you need to know HTML, CSS, and how to properly design and optimize a website. It can take years for professionals to thoroughly grasp all these elements.
However, if your goal is to simply take the first step toward creating an online presence, even if it's at the expense of your marketing growth, then a DIY site can still help you do so.
These popular website builders also offer HTML and CSS customization that lets you break the mold by creating your own layout. Unlike the "Template" section above, you're not limited to drag-and-drop website building at these price levels.
| | |
| --- | --- |
| WordPress.com | $8 per month |
| Wix | $14 per month* |
| Squarespace | $18 per month |
| Shopify | $29 per month* |
*If you compare pricing for the template and custom design sections above, you'll see that Wix and Shopify offer customizable website building rates.
How Much Does It Cost to Get a Website Made by Professionals?
Obviously, the cost of getting a website designed by a professional will be much higher than a DIY site. A professional web designer will generally know design and UX best practices, have some sort of optimization strategy, know HTML and CSS, and can create a custom website that perfectly suits the needs of your target audience.
In other words, a pro web designer isn't just creating a minimum viable website – they're creating a powerful marketing tool that will pay dividends for your business.
MARION Integrated Marketing offers web design in Houston, Austin, and DFW, so contact us to schedule a free consultation regarding your business website needs today!
So, how much does website design cost when you're having a professional do it?
The average cost of website design by professional designers is around $4,000, according to a recent survey by Folyo.me of over 200 freelance designers. This website cost estimate is for design only and does not include the coding of your website.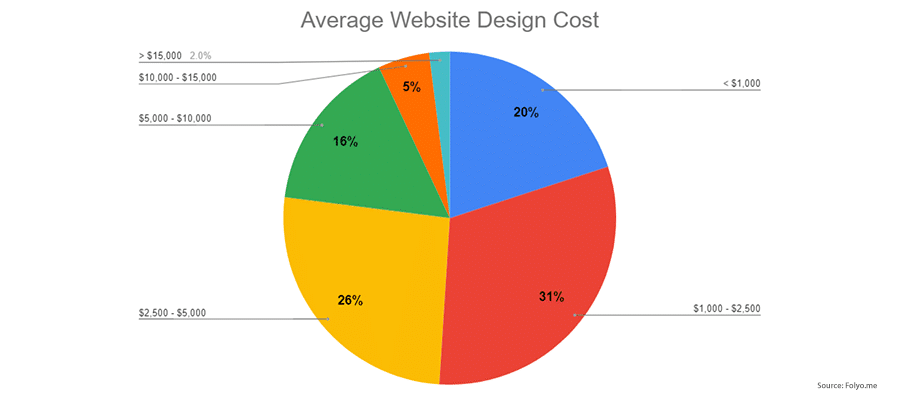 Another study of 400 freelancer profiles on UpWork shows the following website design and development costs depending on your unique needs.
| | |
| --- | --- |
| 10-page Informational Website | $200 – $1,500 |
| 10-page Informational Website with Custom Designs | $1,500 – $5,000 |
| 10-page Custom-designed Site with Custom Functions | $5,000 – $10,000 |
In our experience at MARION Integrated Marketing, three general price ranges exist for small to mid-sized business website design. We provide a high-level web design cost breakdown for what you get in each tier.
Less Than $1,000
Websites in the range generally don't include design insight or direction, development, or strategic input. This is just a bare-bones, possibly unbranded website that uses a very basic or free template. This represents the main difference between custom web design vs. website templates.
$1,000-$7,500
The web design cost for this price range includes some design insight, development and / or strategic input. This is a small, basic branded website that may use a configurable pre-built template or a custom designed template but does not include much strategic insight or advanced functionality like e-commerce or third-party integrations.
$7,500 and Up
At the bottom end of this range you will find smaller, but custom-designed websites that include custom interior and landing pages as well as more strategic insight regarding conversions process and optimization.
The web design rates in this range continue upward in price dependent on needs including extensive web design and/or custom development, e-commerce integrations, large scale third-party integrations, and large scale websites (100+ pages).

How Much Does It Cost to Maintain a Website?
Ongoing website maintenance costs are generally low. If you're building your own site and have the option to pick the lowest cost providers, you can significantly hedge these costs. You get what you pay for, so expect the functionality of these maintenance solutions to be limited.
If at any point you decide to upgrade your services or change platforms, it may require an entire website rebuild. Keep in mind that these ongoing costs do not include any layer of strategy or optimization, just as registering a business entity doesn't mean that you've purchased a profitable business.
The pricing below reflects some of the lowest pricing available at the time of this writing. The SSL quotes come from Comodo. Almost any web host offers .com domain names at around $10 per year. The web hosting price examples were pulled from bluehost, and Ecommerce functionality is based on the use of Shopify's monthly rates at their lowest service tier.
| | | | |
| --- | --- | --- | --- |
| Maintenance Item | Annual Fee | Website (DIY) | Ecommerce Website (DIY) |
| Domain Name Registration | $10 per year | X | X |
| SSL Certificate – Domain Validated (DV) | $7.27 per year | X | X |
| SSL Certificate – Organization Validated (OV) | $28.44 per year | X | X |
| SSL Certificate – Extended Validated (EV) | $74.99 per year | X | X |
| Web Hosting – Shared | $8.99 per year | X | X |
| Web Hosting – Dedicated | $124.99 per year | X | X |
| Ecommerce System | $360 per year | | X |
| Total | | $254.68 | $614.68 |
Instead of piecing each of these web maintenance factors together, you could bundle your web design budget, maintenance, and ongoing marketing together. MARION offers full-service outsourced marketing that includes the following marketing and design elements.
* Requires subscription to approved 3rd party email marketing and/or automation tool
** 3rd party advertising costs not included
MARION Can Help You Build a Website That Pays Dividends
MARION Integrated Marketing has been serving Texas businesses for nearly 40 years. We've been developing custom websites for almost as long as the market has existed for them. Check out MARION's website design portfolio to see what we've created for businesses like yours.
Contact our team today to schedule a free consultation to learn how we can help your business grow by generating digital leads.