It's no great secret that a good content marketing strategy will set you apart from the competition and entice your audience to stick around for future content.  From lead generation to customer engagement, creating relevant and useful content consistently can have amazing benefits for your business blog.  
If your business blog doesn't have a content strategy set in place, you're already behind the curve. And even if you've laid the ground work for an effective strategy, you'll still need a way to stay organized. That's where a content marketing calendar comes into play.
What is an editorial calendar?
A content calendar (or editorial calendar) is a schedule of content you plan to create and publish for your audience to consume through reading, watching or listening. A content marketing calendar will keep you on track and ensure your content continues to flow without interruption.
Often, you'll need a content calendar for two aspects of your business blog — blog posts and social media. With that being said, let's dive into creating editorial calendars for both.
Creating a blog editorial calendar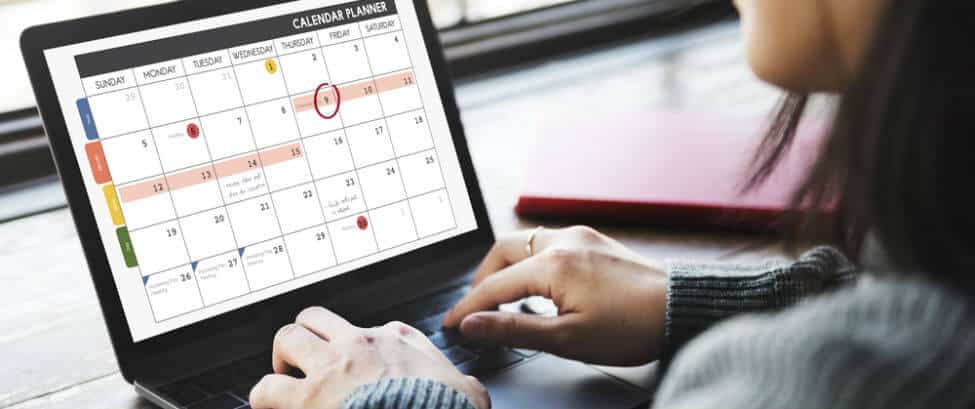 Your blog is often where you'll create the lion's share of your content. High-quality blog posts draw in your audience and keep them coming back for more. Let's examine the process of setting up your blog content calendar.
1. Brainstorm blog post ideas
One of the worst times to come up with a blog post idea is when you're pressed by a deadline. Therefore you should draft up your blog posts early. You should aim for ten blog posts every time you sit down for a brainstorming session. Don't hold yourself back during this process. Jot down anything and everything that comes to mind. You can tweak the details later.
2. Identify your audience
This one isn't hard to figure out. Your customer is your audience, plain and simple. Before you begin writing your first blog post you should know exactly who you're targeting. If you're targeting CEOs in the greater Houston area, your writing should be professional and business savvy to remain effective at business to business marketing in Houston, TX. If you're targeting young teens, using fun language and writing with a relaxed and humorous voice may be the way to go. Often your audience will determine your writing style for a particular post.
3. Determine your posting schedule
Figure out how often you should post to your blog. You can post as often as once a day or as little as once a month. The key here is to stay consistent. It's better to post once or twice a month on a consistent basis as opposed to randomly posting whenever you feel like it. There are plenty of examples out there of successful blogs that post only once or twice a month. However, they do so consistently month after month and provide immense value with each post.
4. Creating a content calendar

Knowing how to make a content calendar to keep you on track with your content marketing schedule is the most crucial step in the process. Now you have to find the right program to schedule your posts. There are many great programs out there that will allow you to build your blog editorial calendar easily.
Asana is one of the best project management websites out there. You can easily load up the calendar with your blog posts and get email notifications when the due dates approach. It even comes with an app so you can stay organized while you're on the go!
SEMrush has also recently created a new marketing calendar feature within their suite of SEO and content marketing tools. The marketing calendar allows you to share internal calendars with you team, create and track tasks for team members, and customize certain aspects of your calendar presentation. Any Houston SEO firm will tell you that SEMrush is a highly useful and widely used tool, so including their new calendar in your content marketing process is an easy decision.
Google calendar is also an excellent choice for creating any number of editorial calendars. Simply fill out the fields on the desired due dates and you'll be able to stay on track for all future blog posts. These are just three of many project management tools that you can repurpose for content calendar creation.
Creating a social media editorial calendar
Scheduling your blog posts is just one part of the equation. You'll also have to schedule your social media posts. The concepts between the two are very similar, but the process can slightly differ while creating an editorial calendar for social media.
1. Find what content resonates with your audience
When it comes to social media, your audience will let you know what they like and what they don't like by the amount of engagement you get on a particular post. Therefore, you should scour the popular social media accounts in your niche and find the blog posts that get the most likes and shares. From there you can model your own posts based on the most shared content on social media from comparable accounts.
2. Figure out how often you should post
There are so many social media platforms (i.e., Facebook, Twitter, Google+, etc.) out there it can be challenging to keep track of how often you can post on each one. Furthermore, the posting frequency of your social media campaigns is often influenced by your audience, your campaign, your business and much more.
Avoid spamming your social media accounts with endless posts. The fastest way to lose followers is to spam your accounts. Also, ensure that your posts are relevant to your audience. The more relevant and engaging your posts are, the more positively they will impact your social signals for SEO.
Learning how frequently you should plan to publish posts within your social media marketing content calendar can be difficult. Here are some rules of thumb for how often you should post:
Pinterest: 5-10 per day
Facebook: 3-10 times per week
LinkedIn: 2 – 5 per week
Google+: 3-10 times per week
Twitter: At least five times a days
3. Create or borrow content to share
The beauty of social media is that all parties involved benefit when you share someone else's work. For example, sharing an excellent blog post on how to grow your social media following doesn't only bring more awareness to the author of the original post, but it also allows you to meet your own content goals. Furthermore, your audience gets to read great, relevant content. Everyone wins. So don't be shy to share articles outside of your own site. Of course, don't forget to give credit if your borrowed content doesn't have a link.
4. Creating a social media calendar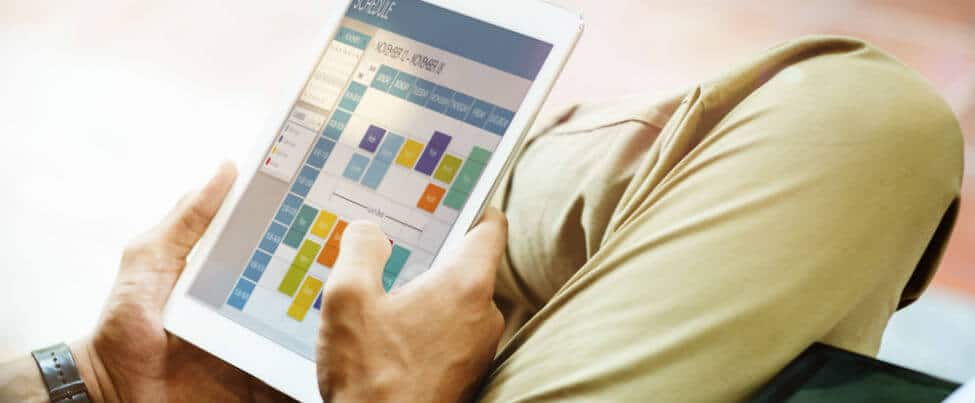 As mentioned earlier, SEMrush and Google calendar are excellent choices for organizing your blog content. However, one of the best tools for posting to social media is Hootsuite. Hootsuite is an all-in-one tool that allows you to post to all of your social media platforms, which can be very convenient if you don't want to go through having to post to all of your separate social media accounts individually.
Hootsuite supports Linkedin, Pinterest, Facebook, Instagram, Twitter, Google+, YouTube, and WordPress blogs. It's an excellent tool that allows you to pre-schedule posts in advance, eliminating the stress of having to post manually on a daily basis. Hootsuite is one among many social media scheduling tools out there, so do your research to find what best suits you.
Creating a content marketing calendar is essential for your business blog
If there's one takeaway you can glean from this article it's this — consistency is key. The devil is certainly in the details as you're planning out your content strategy, but posting on a consistent basis will be what truly keeps your readers coming back for more.
Looking to eliminate the hassle of marketing your own content? At Marion, our Houston marketing agency offers specialized content marketing services that help increase traffic to your blog and reach more prospects on through your social media marketing channels.
Interested in working with our top-rated team? Contact MARION today and let's meet your content marketing goals together.