Effective marketing for construction companies can be challenging and cumbersome if not done properly. There are several tactics you should use to increase awareness and generate qualified construction leads.
Is your construction business focused on commercial work and servicing other businesses?  Do you build retail establishments, restaurants, storefronts or office buildings?  Maybe you're dedicated to building high-end residential homes or home remodeling.
Regardless of what type of business you have, the strategies below will help to promote your brand, showcase your work, and ultimately generate new clients.
How to Market a Construction Company
For this post, our example construction company remodels and renovates existing homes.
Branding for Construction
It seems so cliché, but it is very true. Develop a company brand that people will understand quickly. While this isn't a necessity, it's important to clarify that if the name is abstract, people may initially struggle to understand if your company can do what they are looking for. I believe this also depends on where you service clients. If you provide a nationwide service and have a sizeable advertising budget, then an abstract business name and branding could work. Mainly because you have the service area, as well as the resources (time and money) to manage it and promote the new brand.
However, if you are smaller residential construction business, servicing a certain locality, then you may want to choose a name that closely mirrors your specializations. Service focused business name examples would be;
Houston Home Renovations
Kitchen's, Bathroom's & More
Katy Home Additions
These are all fictitious company names. The point is, include the core service in the company name when possible. Include it in the company tagline too, especially if it isn't in the main business name. You could try something like Jim's Construction – Home Renovations since 1990.
After the name and tagline are determined, choose colors. For the sake of consistent branding, use these same colors everywhere the brand is displayed. Use it offline (vehicle wraps, business cards, flyers, company clothing, yard signage) in places where potential clients will see it. Be sure to remain consistent with online advertising too. Use the same branding on the company website, social media, and email signatures.
Consistent use of the same look, feel, and imagery, plus providing a great product/service is how you develop a brand that people will remember and want to use again.
Digital Marketing for Construction Companies

Marketing the construction business online is a step that will grow the company. The challenge is making sure you're in the best position to capture new leads, regardless of where they may be in the buying cycle.
Consider our example home remodeling business, Jim's Construction. Potential clients for them could be starting the process and determining what the home renovations will be. That is called the top of the funnel. Others may have tried remodeling themselves, failed, and now they need help. Some will have a great idea of what they want, how much they would like to spend and a time frame when they want it done. All of these are qualified construction leads, but they are in different stages of the buying cycle.
The correct use of digital marketing can capture these leads wherever they may be in the sales process.
Construction Business Website Design
Digital marketing starts with a well-designed website. According to the latest mobile marketing statistics, device responsiveness and mobile friendliness aren't options; they are necessities. You need a fast website load time, and pages that are informative and provide a good user experience. It must leverage the branding previously discussed as well.
For a construction business website, one of the most important areas is the photo gallery. All users, regardless of where they are in the buying cycle, want to see images of what their home could look like.
Since most website visitors will see the photo gallery, the presentation of the images is extremely important. Yes, take beautiful final photos of the job. Everyone has those – it's practically industry standard. However, what most construction companies don't do is visually showcase the process by using images and video.
If the job takes eight weeks to complete, pictures should be taken 2-3 times per week. These images need to be added to the photo gallery with great detail. What products are being used?  Why were they chosen?  Use the images and descriptions as opportunities to answer potential questions from the website visitors.
SEO For Construction
Along with detailed images, you'll need informative and relevant content. Write content that solves problems, answers questions gives examples and showcases the expertise of the company.
Start a blog section of your website that can be used to publish articles that support the main services you provide. If one of the main services is kitchen remodeling, a good supporting blog article could be, "The benefits of remodeling your kitchen and bathroom at the same time."  As the name implies, this type of article would be written to encourage readers to do both at the same time.
One of the main benefits of blogging for marketing is improved business lead generation. Optimize your construction website for search engines. Make sure you follow best SEO practices when designing and developing your website. Before launch, use this 8 point website launch checklist.
PPC For Construction
If budget allows, consider a supporting pay per click campaign. This will allow you to strategically target certain areas of town with specific messaging and offers.
For example, if you have identified a wealthier area of the city that has lots of older homes that need remodeling, you can display ads to people in that area. Using Google Ads, you can select a zip code and compose ads that speak directly to those people and offer the services you have.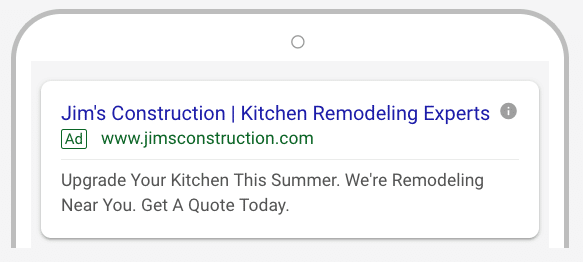 ***Tip***
Enable search ads for the zip code where your current construction job is. The ads will be displayed to people who are in the immediate area where you are working. If they can see your crew, professionalism and realize that you also service their area, you have a higher likelihood of closing the deal. Good news is…you're already in the area. This may reduce the need to transport equipment and labor across town.
Social Media Marketing For Construction
It's imperative that your construction business engages in social media marketing. At a minimum, set up profiles on Facebook, Twitter, Instagram & Pinterest. Use the consistent branding discussed earlier and create posts that showcase the business expertise, videos, images and latest construction jobs. In the comments of these posts, include descriptions about the products and services used. Make sure the social media profile is fully complete with the company biography, website links, and contact information.
***Tip***
Conduct a search on each platform for your services and follow who is talking about it. For example, search Twitter for the term "kitchen remodeling."  Follow every result that isn't a business that is in your locality. If they asked a question, business or not, answer it, then follow them. Repeat for the other social media platforms.
Email Marketing For Construction
Monthly email blasts and automated email campaigns are great ways to use email for construction lead generation. More importantly, email marketing makes it easier to target individuals who have worked with your company before. Perhaps, you installed new floors or renovated the restroom of a client six months ago. You could add their email address to an automated email series that sends a custom message every month.
Hey [first name] How is everything with your upgraded restroom?  We know you love it. Are you ready to upgrade that kitchen?  Right now, we have a 15% Off Special for previous clients. Blah, blah, blah – you get the point.
These types of emails prove to be highly effective at creating repeat business from previous clients.
Traditional Marketing For A Construction Business
Once you've completed the setup and application of digital marketing, you may want to consider a bit of traditional marketing also. The traditional marketing is used primarily for brand awareness and advertising support.
Billboards For Construction
Let's say you are doing a complete house remodel (floors, kitchen, bathrooms, bedrooms, etc..). You know this job will take 3-6 months. Consider a billboard ad in the zip code of your job that leverages your branding and services. You could be just as aggressive on this type of ad as the remarketing display ads mentioned earlier.
Commercials For Construction
Cable television providers like Comcast and AT&T offer packages that allow you to be very targeted about where your commercials are shown. Target channels like DIY, HGTV, and others where your target audience is likely watching. It's almost certain that, if someone is interested in remodeling their home, they are getting ideas from television. Use the audio from the TV commercial to create a radio commercial. Networks like iHeart Media allow your ads to target similar audiences on radio.
***Tip***
Upload your TV commercials to YouTube and sync your channel with Google Ads. Enable display remarketing ads that use the TV commercial. While in Google Ads, add "placements" on the websites where your ads are showing. This allows your YouTube commercial to be viewed on their website.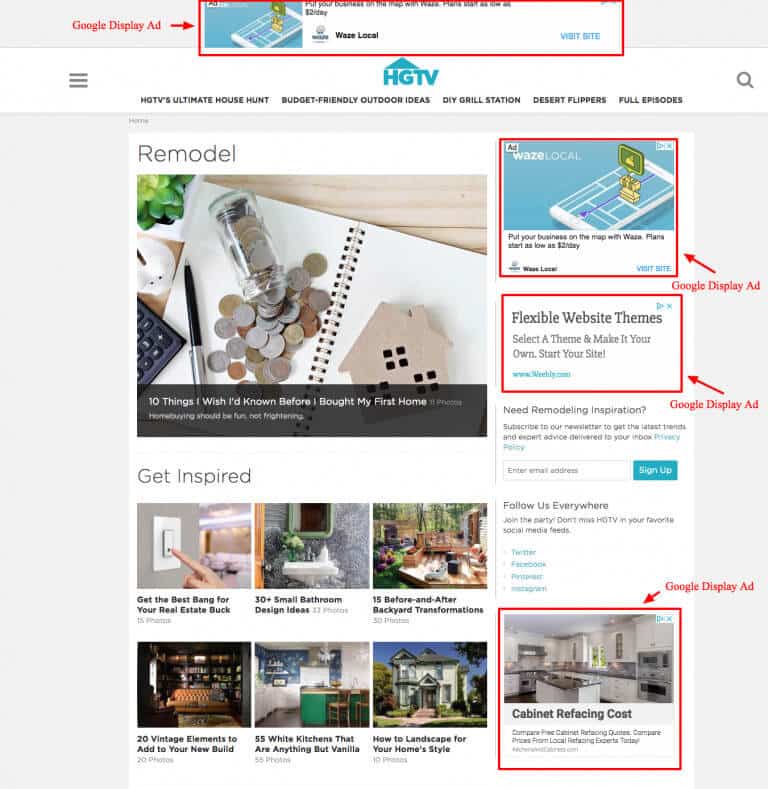 Printed Materials For Construction
Printed materials assist with branding and promotion. Design and print brochures that describe what the construction company specializes in. Leave these brochures at the construction site next to the branded yard sign. Leave flyers in the local supermarket. Donate to local schools and churches. In return, ask to leave your brochures on the campus and available to parents and teachers.
***Tip***
If you decide to take the donation approach to schools and churches, also request they add the graphics to their website, with a link to your website. This is a great link building tactic and will help your SEO tremendously.
In this post, we discussed digital and traditional marketing ideas for a construction business with a focus on home remodeling. The tips, strategies, and ideas mentioned could be used for home builders and commercial construction companies as well.
Good luck with marketing and growing your construction business.
Contact MARION to Improve Your Construction Marketing Today!
Our team at MARION has years of construction marketing experience in Texas. For help with turning your construction marketing ideas into reality, contact us today to schedule a consultation!