I spend hours doing SEO and PPC every day.   When done effectively, search engine marketing should generate great results. The challenge comes when a new client hands you a website to optimize, and you didn't design or have any input on the design or production.
This happens more than you probably realize.  Unfortunately, most web designers aren't great at digital marketing, and most marketing folks can't design a website.  Because of that, the new website SEO is lacking, and definitely not ready to be promoted.
By the way, one of the benefits of using a digital marketing or SEO agency is that your website designer and digital marketing specialist usually work within close proximity of each other.  If, and when your resources allow, you should consider working with a top marketing agency that houses all of the online marketing services you'll need.
This quick website launch checklist is for any business owner who is launching a new website or a redesigned one.
It is also for digital marketers who deal with the challenge of optimizing a website that you're unfamiliar with. As digital marketers, we know many SEO tasks can and should be completed during the build-out of the new website, even though they usually aren't.
We've had new clients come to us from other agencies, and the basics aren't even done! It makes you wonder what they were paying for.  Maybe that's you… hopefully not.
There are several things to be done when launching a new website that will put you and your website in the best position to be successful.
This is the short, eight-point launch checklist I use when preparing to optimize and send traffic to a website.  Depending on this size of the website, it should take a couple of hours (maybe less).
Website Launch Checklist
1. Check Webmaster Tools
First thing's first, make sure the website is registered with the search engines.  Google and Bing need to have you as the website owner so you can receive messages about links, errors or even manual penalties.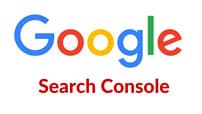 Using your Google account, visit the Google Search Console.  Register your website using one of the methods offered. Once registered, complete the configuration.  Add your target country and the preferred version of your domain (www or not). Most importantly, submit your sitemap.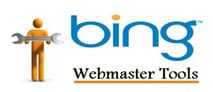 Go to Bing Webmaster Tools and register the website also.
Integrating Webmaster Tools with Your WordPress Website
If you're website is built on WordPress (and I recommend that is is), then I suggest the Yoast SEO plugin.
Within this plugin, you can add the meta data needed for Google Search Console and Bing Webmaster Tools registration.  The website sitemap needed to submit to both is also located there.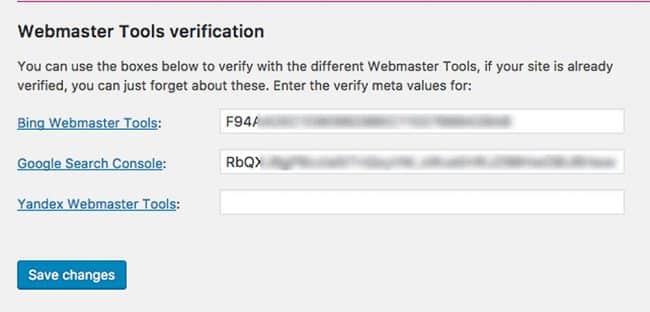 2. Check the Website Content
Check all of the content on the website.  Thoroughly read it and have someone else read it too.  You're looking for grammar errors and misspellings.
You're also looking for opportunities to weave in long-tail and secondary key phrases.  If you have pages that cover similar topics and have thin content, combine those pages and redirect the URL.
While going through each page, click on every link.  You should click every menu item, every social link, every internal link and every external link.  Click everything.  Be sure that your external links open up in a different window or tab.
3. Check Functionality
Check the functionality of the website.  The last thing you want to do is send traffic to a website that isn't functioning properly.
Make sure your cart works and people can checkout with ease.
Confirm that the contact forms are submitting, going to a conversion page and being received by the correct personnel.
Check that the email opt-in for your newsletter is working also.
Test the data that may be syncing with 3rd party add-ons like your CRM or any lead management tools being used.
Do you have any special features used by the website visitors like custom design tools?  Make sure they work! You'd be surprised…
Take your time and test everything.  The most common mistakes with website testing occur when you overlook something obvious because you're moving too fast or you make assumptions about whether something is working or not.
4. Check SEO Basics
You must complete a basic SEO check.  Frankly, your SEO person should go into a full website audit.  At the very least though, check and make sure all the pages have optimized page titles.
Those page titles should include the target key phrase for that page, city where you provide service and your company name (if you want to work on branding).
The tricky part is doing all of that in less than 60 characters.  For example, the title for this post will read;
Website Launch Checklist | Marion Marketing
Update the page meta description when you finish with the page title.  You want to get the target keyword in the meta description as well as the main call to action (when possible).
The meta description for this page will read:
The fastest 8 Point Website Launch Checklist. Confidently Launch Your Website Knowing You're Prepared for Ongoing Marketing.
**Pro Tip** Do you have active pay per click campaigns targeting the same phrases you are optimizing?  Do they perform well?  Use the best performing ad text as your meta description.
Break up long blocks of content with relevant keyword rich headers.  This helps in a few different ways.  The headers contribute to the page optimization.  They also give website visitors the ability to scan the page and determine if the content they are looking for is there.
Are you planning on doing paid search through Google Ads? If this page is also a landing page, make the page headers similar to the Ad Groups you have that will land on this page.  Watch your quality score rise.
Back to the SEO… verify that all images have been tagged correctly.   When possible, change the image file name to include the keyword.  That same keyword should be in the alt tag and the image title.
Lastly, confirm that the company contact information (Name, Address and Phone – NAP) is visible in the footer and on the contact page.  It must be consistent with what you have on Google My Business, Bing Places, Apple Maps, Yelp and Facebook.
By the way, if your NAP is consistent on those 5 places, your local ranking should rise (considering those profiles are claimed and completed).
5. Check Analytics
Tracking and monitoring website engagement is a must.  You must understand where the traffic comes from, what they did while on the site and more importantly, which traffic source converts the best.
Using the same Google account, go to Google Analytics and create an account for your website.  Next, add the tracking code to your theme.
To ensure that Analytics is setup properly, navigate to the "Real-Time" section of your Analytics account.  In another tab, window, or even on your mobile phone, visit your website and verify that you see the traffic on the real-time report.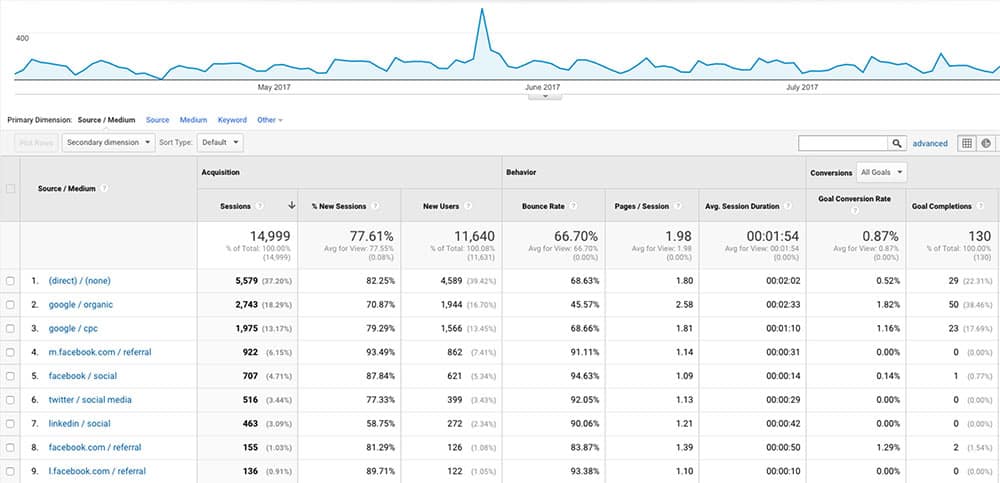 While setting up Analytics, create goals to monitor your website conversions.  You want to set goals that include phone calls, form submissions, email opt-ins, purchases, page visits and more.
At the very least, create a goal that measures the completion of the main call to actions on the website.
While you are still in Analytics, go ahead and enable the "Audiences".  This will require you to setup or link to an existing Google Ads account.  You may want to do some remarketing (recommended) later and enabling this during site launch gives you early opportunities to build the audience list you'll eventually target.
Since you're in the mood to add code to the website, go ahead and add a Facebook pixel too.  These pixels identify website visitors and add them to your custom audience.
Chances are very likely that you'll do some type of marketing on Facebook and having an audience already built and growing will help.
6.  Check Your Hosting and URL Structure
Make sure all of the URLs are search engine friendly and use the target keyword when possible.
Confirm that any pages or posts that have changed have been redirected to the new URL.  This step is so important.  I've seen a website's ranking plummet because they changed URLs with no redirects in place.
Also, get an SSL certificate and put your site on a secure server.  Google has confirmed that HTTPS is a ranking signal, and when it comes to Google SEO HTTPS vs. HTTP offers a subtle rankings boost.
Not only that, but consider your website visitors too.  You want them to be assured that the web experience is safe and secure.
7. Check the Browsers


This is probably one of the most missed steps…normally because the website should render the same, especially as of late with the various browser improvements.
Every now and then though, depending on what type of functionality is used on the website, it just may not render correctly.  Check Chrome, Safari, Firefox, Internet Explorer and Edge.  Check them on Android, IOS, Windows and Mac.
Website visitors will get to your site from various sources and devices.  You want to make sure the experience is the same.
8. Check the Google Test
Check the Google tests that they've made available.  Submit your URL to the Page Speed Test and do it again on the Mobile Friendly Test.
The goal is to try and pass the test.  You may not get the best score, and that can be okay sometimes… depending on what your website will be used for.
At the very least, you'll get a report on how Google sees your site and some recommendations on changes you can make to improve it.
You'll want to check the website security also.  Make sure you haven't been hacked and your website isn't blacklisted.  I prefer Sucuri for the check and having the plugin installed.  Scan your site for security issues.
If this is a new website, or a redesign, I'm confident that if you at least cover these eight basic website launch points, you'll be in good shape to proceed with marketing.
Till next time…