Founded in 2002, LinkedIn stands as one of the world's most-preferred social networks for many years, but even with a current user base of over 900 million, there exists a vast difference between the platform and others, such as Instagram and TikTok.
Most of its users are professionals looking to network with others, which makes LinkedIn a game-changer for those working to build a brand. Statistically speaking, over 90 percent of B2B marketers use LinkedIn to market their content, and nearly the same amount of people use it to generate quality leads for their business.
Read on to learn how to grow your network on LinkedIn and leverage the platform to engage with your audience and increase brand awareness.
What Is LinkedIn Networking and How Can It Help Your Brand?
LinkedIn is unlike any other social media network in that it is geared toward professionals. The platform's stated mission is to connect said individuals on a global scale to effectively increase productivity and success.
With that mission in mind, LinkedIn networking is what it sounds like — that is, using the platform to gain professional connections in your niche or industry. Like offline networking, you will usually connect with people on LinkedIn over mutual interests and by sharing knowledge and ideas with those who might benefit.
Networking on LinkedIn can help your brand in the following ways:
Casting brands in a professional light, thus further legitimizing your business
Enabling connections with qualified leads with interest in your niche
Increasing your reach by exposing your brand to millions of potential clients
Allowing you to position yourself as an expert in your sector
LinkedIn is a land of opportunity, so brands and creative marketing teams must leverage it well.
How to Use LinkedIn to Make Professional Connections and Grow Your Network
Making connections on LinkedIn is all about learning how to engage with other professionals. If you want to grow your network, the following section will show you how to create a viable strategy beyond simply completing your profile.


7 LinkedIn Networking Strategies for Building Your Brand
Learning how to network on LinkedIn doesn't have to be complex or daunting. Here are just a few of the most common ways that your brand can make its presence known on the site:
1. Give Your Audience Valuable Content
Quality content allows you to appeal to potential customers by letting them identify you as the go-to expert in your niche. You'll draw them in by consistently meeting their needs and motivating them to seek additional content.
2. Boost Employee Engagement
Your employees are already invested in the success of your business, so supplying greater visibility to posts by having your employees share them simultaneously will help alert common networks about trending topics and bring more attention to your corporate identity.
3. Use LinkedIn Groups to Build Relationships
Professional networking is all about creating mutually beneficial relationships, so when you join groups, you must do more than just read others' posts. Ensure you comment and contribute to the discussion at hand, as helping others helps you gain more exposure.
4. Keep Up with Latest Industry News
Understanding what's going on in your industry is critical. Not only will you be able to leverage new trends as they emerge, but you'll have tons of ideas and helpful content to share with others.
5. Expand Your Professional Contacts
LinkedIn works best when you are constantly making connections. Since your posts are never distributed to 100 percent of your network, you need at least 1,000 connections to truly raise your brand awareness.
6. Run LinkedIn Ad Campaigns
Paid advertising is only as limited as your budget, and LinkedIn ad campaigns allow you to target a specific demographic and have tighter control of your brand's narrative.
7. Publish a LinkedIn Article
Publishing LinkedIn articles gives you a chance to showcase your expertise and value to potential clients, who, in turn, will see your business as the go-to brand in your niche.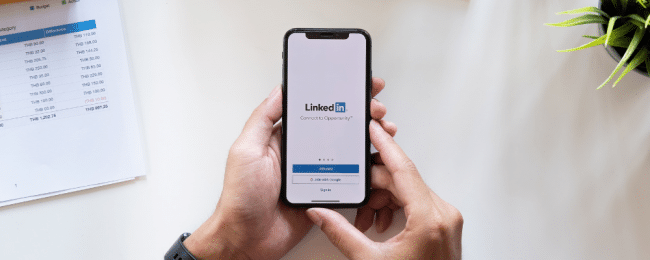 Networking Tips and Best Practices for LinkedIn Professionals
Some important LinkedIn networking tips and best practices to follow are as follows:
Optimize your profile to better showcase your brand and offers so people can see the benefit of connecting with you
Engage with people who comment on your posts or articles
Capture attention with rich, media-driven video posts
Emphasize quality over quantity by personalizing each connection
Continue to engage with contacts after the initial contact
Share other people's posts and content to get noticed and build connections
Inject a bit of your personality into every post or connection
If you follow these tips and maintain a professional tone, LinkedIn users will likely enjoy engaging with you and want to learn about your brand. Check out our social media management guide for more helpful tips.
Develop Your Social Media Marketing Strategy with MARION
LinkedIn marketing can be a tricky process because it walks a fine line between the personal and professional realms, but given that many of your prospects are on social media, you need to be there too, ready to capture their attention with effective business tactics.
With MARION's social media marketing services, you can leverage performance-driven marketing strategies to increase brand awareness and achieve your business goals.
Contact MARION to get started today.