"Without a certain amount of Trust between parties, a transaction will not take place. No matter what promises are made or how good the deal sounds, no customer is going to be willing to part with their hard-earned money unless they believe you're capable of delivering what you promise."
As author Josh Kaufman points out above, trust is critical to the success of any business. This is true for both B2C and B2B organizations.
But what is the best way to build trust online? Including first party reviews on your business website is a start, but is that credible in the eyes of your potential customers?
The data shows that third-party reviews are the gold standard in building trust. With Google receiving more than 63,000 searches per second, getting reviews on your Google My Business (GMB) profile is a critical part of any digital marketing campaign.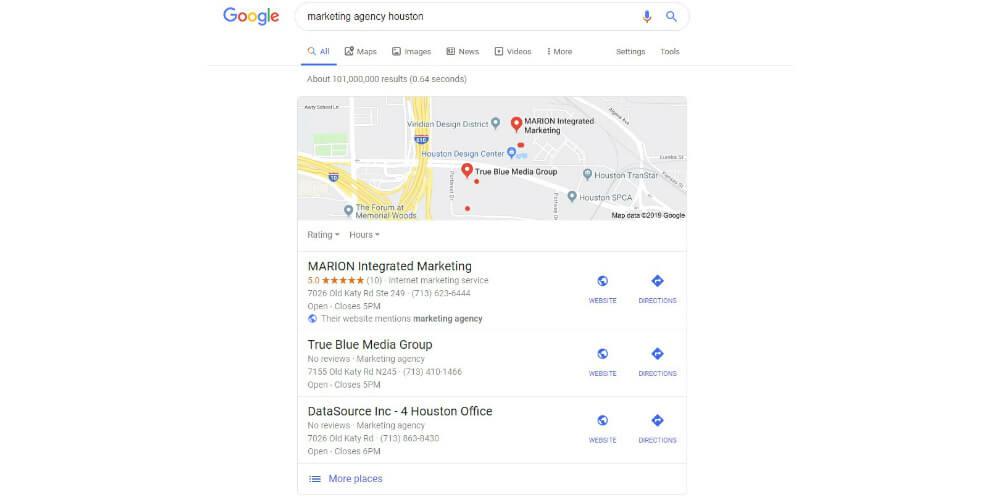 When a search engine user conducts a search with local intent, a local map pack of businesses (like the one above) will typically show up at the top of the search engine results page.
Why Are Google Reviews Important to Your Business?
It seems intuitive that being visually represented at the top of the search results can have a major positive impact on your business. Having your brand appear front and center the next time a potential customer searches for your product or services is a proven marketing strategy to increase sales. The numbers confirm this.
In a recent study by Womply, over 200,000 U.S. businesses throughout several states and industries were analyzed alongside their revenue figures. The study found that businesses with average ratings between 3.5 and 4.5 stars (out of 5) earn more revenue than any other rating, including those businesses with a perfect rating.
Having several positive third-party reviews (even if they're not perfect) can help you build trust and generate more revenue.
The following data from Moz also demonstrates the impact that GMB reviews have on your rankings.

In both Map Pack rankings and local organic rankings (think – ten blue links), review signals are among the top three ranking factors.
Bottom line – online reviews build trust and improve the visibility of your brand.
If you're wanting professional help, there's no shame in getting help from SEO companies in Austin or Houston. Contact MARION today to learn how our process can help your business grow!
How to Ask for a Google Review from a Customer
It's clear that learning how to get customer reviews on Google is an actionable way to grow your business, but what's the best approach?
Google gives several tips to help comply with their guidelines, one of which is, "Reviews are only valuable when they are honest and unbiased. (For example, business owners shouldn't offer incentives to customers in exchange for reviews.)"

Who to Ask
Ask your customers – all of them. I've seen a lot of advice from other marketers advising companies to only ask happy customers to leave GMB reviews. Unfortunately, this is in violation of Google's text review criteria that was updated as of 4/12/2018: "Don't discourage or prohibit negative reviews or selectively solicit positive reviews from customers."
More importantly, cherry-picking only your happiest customers will prevent you from acting on the findings from the study above – businesses with average ratings between 3.5 and 4.5 stars (out of 5) earn more revenue than any other rating.
Assuming you provide a quality product or service, there's a good chance your average ratings will be between 3.5 and 4.5 stars anyway. Another key finding of the study is that having more reviews has a bigger impact on revenue than your average rating.

When to Ask
Ask you customers for reviews when they are most actively engaged with your product or service. This can mean several different things depending on whether you're B2C or B2B, and your industry. Here are some examples of the best way to get Google reviews in different scenarios.
After Providing a Service
If you're providing a service that shows results in real-time, asking for a review upon completion is a no-brainer. Some good examples are lawn care companies, beauticians, or a courier. If you a provide a service with a definite and immediate benefit, ask for a review upon completion.
It can be more difficult for service providers that offer less definite or visible benefits. For example, business consulting and B2B marketing offer results with longer lead times. It may take months or years for benefits from consulting to manifest themselves.
In instances where the benefits of your service aren't immediate, you may be better off standardizing a waiting period before asking for a review. For example, you can make it standard to wait four months after beginning ongoing consulting with a client before asking for a review.
After Product Benefit Is Delivered
The benefits derived from the products you sell will almost always have a lag. Have you ever noticed that a week after purchasing something online, you get a customer service email from the seller asking for a review?
These sellers know that they need to give you a week (at minimum) to use their product before experiencing its benefit and leaving a review. Any sooner, and you'll be reviewing the delivery service and packaging instead of the actual product benefit. Any later, and you're not as engaged with the experience of your new product.
At a Tradeshow
If you've been providing products and services for years now without asking for reviews, tradeshows and related industry events provide a great way to catch up.
Another Google Maps review policy is, "Don't solicit reviews from customers in bulk." Not to worry – requesting reviews from customers individually isn't the same as a bulk request, even in succession.
One of the only cases that could be made against capturing long overdue reviews at a tradeshow is that they'll all come flowing in at once. If you have an influx of reviews during an event in January but you're silent for the rest of the year, your online presence will appear to be thin. In fact, businesses that have more than 9 recent reviews earn an average of 52% more revenue than not.

How to Ask
Learning how to ask customers for Google reviews isn't as intimidating once you've narrowed down the "who," and "when." First, let's establish the last of Google's ground rules.
Never offer money for reviews
Don't ask for reviews in bulk
Don't screen your reviews
This also means no discounts or giveaways in exchange for reviews. This means no widespread emails to your entire database of contacts asking for a review. And lastly, this means not gauging customer happiness, and then only asking your positive customers to leave a review.
Why follow Google's guidelines? After all, it's tough for them to identify whether you break these rules. Simply put, based on the Womply study that we reference above, having more reviews is more important than having a perfect star rating.
Automating the review process is the best way to generate fresh and consistent reviews.
Ask for a review as part of your SMS scheduling process
Ask for a review in your email quoting/invoicing system
Ask for a review in an automated follow-up email after a sale
Ask for a review during an in-store checkout
These methods of asking customers for Google reviews allow you to personalize your messaging while following all the relevant guidelines.
How to Create a Google Review Link
The following sections will provide example requests for Google reviews. Most automated systems will help you create your Google review link. In case they don't, you can follow Google's four step process (five on mobile) to create a Google review link for your business!
Google Review Email Template
The following template can help you request reviews on Google as part of your product/service follow-up.
Subject Line: How was your service with [insert your company name]?
Hi [insert customer's first name],
Thank you for letting [insert your company name] serve you! We sincerely appreciate your business and are happy to have you as a customer.
Your feedback is important to us and to our potential customers. It would mean a lot to our team if you could take a few minutes to leave us a Google review today.
Click this link to tell us about your experience: [insert Google review link]
If you have any further questions or need to speak to someone from our team, please feel free to contact us [include contact link or phone number here]!
Thanks again,
[account manager's name]
This is just one example of a potential email and can differ depending on your product or service. If you're using a scheduling system, they'll probably have some visually-appealing Google business review email templates for you to choose from that can incorporate your company's branding.
Google Review SMS Template
What if you send Google review requests through SMS instead? Many businesses that require appointments or in-home visits use an automated text messaging service to communicate with customers.
Your text messages will be a lot more concise due to the language expected in that channel. Look at the following example of how to ask customers to leave a review via SMS.
Hi [insert customer's first name], thank you for trusting [insert your company name]. We'd love to hear your feedback here: [insert Google review link]
Trust MARION to Improve Your Business's SEO Today
Looking for an ethical SEO company in Houston or Austin? MARION has been providing local SEO marketing in Houston since its inception! We've been helping businesses like yours grow for nearly 40 years.
Contact us today to schedule a free marketing consultation with one of our strategists.