Writing and content creation isn't just a department within your organization's marketing team; it's an informational bridge that emotionally connects potential patients to your practice's bottom line.

What is Content Marketing for Cosmetic Surgeons?
Content marketing is when you create an educational piece of marketing collateral for your target audience. In digital marketing for plastic surgeons, this mainly entails web pages, your blog, eBooks, whitepapers and even informational email campaigns that cover subjects relating to plastic surgery and your individual medical practice.
Leverage Plastic Surgery Content Marketing to Become a Thought Leader
Content marketing positions you and your practice as an influencer in your market. When your potential customers use search engines to investigate solutions to their cosmetic problems, your content will be there to education them. Potential clients will come to know you as an expert, and trust you to perform their procedure when they are ready to buy. This type of inbound marketing for plastic surgeons can reduce your need for back-office workers.
Publishing Content Can Lead to Higher Profit Margins
Your content marketing should leverage educational content and persuasive, emotionally stimulating insights to nurture potential patients through their customer journey. This results in quicker and more steady sales cycles, less administrative overhead, informed expectations about cosmetic surgery procedures, and more robust profits for your surgical practice.
Content Marketing Helps You Avoid Commoditization
Content creation allows you to engineer a more trusting and informed following of potential patients. When you implement the right plastic surgery marketing ideas, you can prequalify your audience, and build trust that allows your practice to charge premium prices.
High quality content lets you position your plastic surgery services as the industry-leading solution to their unique problems. This reduces commoditization of your offerings, and helps you avoid a competitive pricing race to the bottom.
Interested in learning more about content marketing services for your practice? Contact MARION today.
Your Content Marketing Converts Visitors into Patients
The content marketing on your website and related digital channels helps turn visitors into paying customers. An aesthetically pleasing website paired with compelling and influential content will keep would-be one time visitors coming back for more. Your content is a story-telling vehicle that can help customers realize that your cosmetic procedures are right for them. You then use your trust and thought leadership to motivate visitors to contacting your plastic surgery center.
The Importance of Blogging for Plastic and Cosmetic Surgeons
Blogging is an important way to tell your story, and inform readers about the advantages and disadvantages that certains procedures offer. Use top-of-funnel subjects to educate visitors about how certain procedures are performed. You can also use middle-of-funnel topics to talk about pricing comparisons, why your experience positions you as the reader's plastic surgeon of choice, and why certain techniques are safer than others while providing the same outcome.

Always Develop Unique Content
Make sure you always write or hire a professional content marketing agency to create unique plastic surgery content. Simply curating, or even copying content that has been published elsewhere in the industry can be damaging to your brand, and will not help your website's SEO.
Search engine optimization guidelines indicate that unique content that highlights your medical practice's insights is more useful than duplicate content. Create unique content that doesn't stuff your target keywords into your website, and you'll be on the right track to plastic surgery SEO and content marketing success.
Highlight Your Unique Selling Points
Content marketing for plastic surgeons should leverage unique selling points of your services. If you use a less expensive or more effective technique than your competitors, relay that information to your audience. If certain procedures have been proven not to stand the test of time, seize the opportunity to upsell your readers on a more expensive, but higher quality cosmetic operation.
Publish Your Content Regularly
Content marketing is not a one-and-done tactic. Marketing with content is a long-term strategy that requires a time investment. A regular publishing schedule will indicate to both readers and search engines that you have frequent and meaningful insights to share. This can help position your cosmetic surgery practice as an industry leader.
Content Marketing Is the Intersection of SEO, Social Media, and Patient Education
Your plastic surgery content marketing ties together strategies for search engine optimization, social media, and educational content for potential and existing patients. You can reduce the burden of frequently asked questions from your existing customer base, and attract new customers with the same set of content. You can also use your educational content assets to build loyalty and trust while promoting your brand to new audiences.
Take a look at the following stats about the effectiveness of cosmetic surgery content marketing.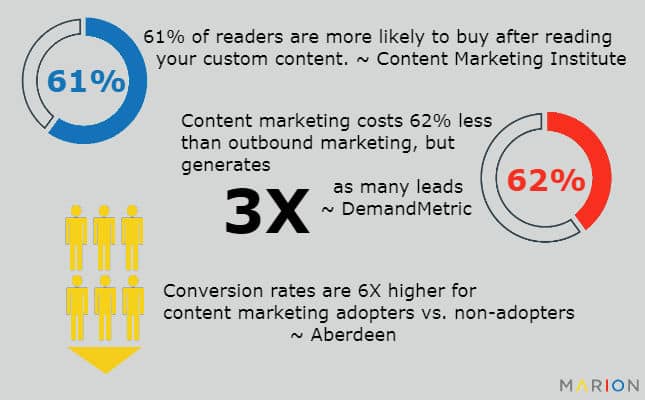 61% of potential customers are more likely to buy after reading custom-made content ~ Content Marketing Institute
Content marketing costs businesses 62% less than traditional outbound marketing, but generates 3X as many leads ~ DemandMetric
Conversion rates are 6X larger for content marketing adopters vs. content marketing non-adopters ~ Aberdeen
Plastic Surgery Patient Personas
When you're creating content for your target audience, make sure you know who you're speaking to. Create at least one, but potentially two or three personas that embody your ideal potential patient. Include some of the following characteristics to start:
Goals
Frustrations and challenges
Potential objections in the purchasing process
Probable occupation
Income range
Level of education
Creating these personas will help you pin-point who you're talking to, and better understand how to persuade them that your surgical services are exactly what they need.
Content Marketing Audit
Content marketing professionals will always start with an audit of your existing content. This could be extensive if you have a broad existing base of cosmetic surgery information on your website. If your digital presence is fairly new, the audit will be quick.
Competitive Analysis of Plastic Surgeons in Your Market
Your content creation will need to be informed by real data. After a content audit, content marketing services will determine the direction of your strategy by doing a competitive analysis. This may require analysis of competitors in your location, or within your niche (if you have one).
This data can be used to improve the SEO underpinnings of your content marketing strategy, and inform your efforts about the most in-demand topics.
Why Use Content Marketing at Your Practice?
Content marketing allows you to sell thoughts and expertise that enrich your services and command premium pricing. This is the fastest way to building trust and generating demand for your services.
How Much Will Content Marketing Cost Me?
The cost of content marketing for plastic surgeons will depend on your business goals, location, and your level of involvement. Monthly fees could range between $3,000-$6,000 per month, or less if you are assisting in the content creation process. This typically includes content for SEO on your website, as well as social media and email content creation. The price of cosmetic surgery content marketing will hinge on your unique situation.
Contact MARION marketing today for an individual quote on content marketing for your practice.
How Is Content Marketing Effectiveness Measured?
There are high-level indicators of success such as pageviews, new user count, click-through rates, and time-on-page, but these metrics only tell part of the story. At the end of the day, the effectiveness of plastic surgery content marketing is measured by return on investment.
Which leads were you able to convert, and did you acquire those leads through content marketing? That will determine the success of your content marketing efforts.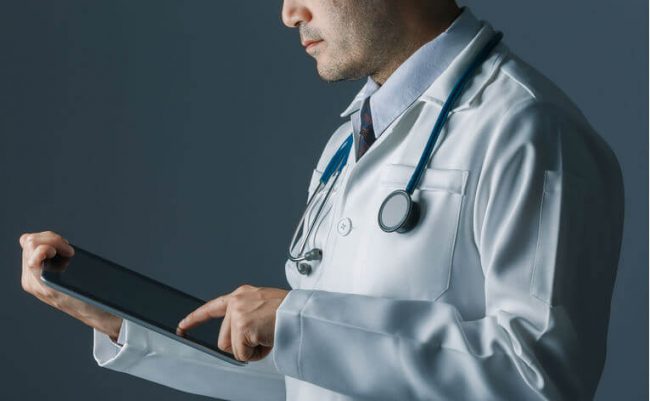 How Long Does It Take Before I See Results?
Content marketing and its SEO benefits are realized over the long term. When done properly, your content marketing strategy is tied to the operation and growth of your business in a highly meaningful way. It will take time to build content assets clustered around a surgical procedure that you offer, and then leverage that content to guide your audience to contact your practice.
Most practices that use content marketing will begin to see real improvement in their bottom line after about 9 months, but your individual content plan and budget could make this happen sooner or later.
What to Expect in the First Quarter?
During the first three months of implementing content marketing, MARION follows a monthly update pattern that will keep you in the "know," and help you keep a pulse on your content's effectiveness.
Trust the Content Marketing Experts at MARION
Our team is highly experienced in content marketing for plastic surgeons. Let us help drive your content creation, and give you the competitive edge you've been waiting for.
Contact us today to speak with one of our experts about what content marketing can do for your practice.