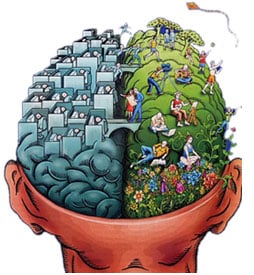 In the past, we've touched on the concept that the right and left sides of the brain are responsible for two different schools of thought. The left side of the brain is logical, objective and analytical, while the right side is creative. The creative side of the brain is where storytelling and design (or content) originate.
The right brain is spatially oriented and is able to comprehend visual imagery, which allows us to interpret the things we see. Interpreting language context and tone are other functions that the right brain handles. These are key components of effective content. Right-brain oriented people play a large role in a world where content is king.
Back in 2005, Daniel Pink wrote in his book A Whole New Mind that in the coming years that right-brain thinking will eventually win out in a business environment that is currently dominated by logical left-brain thinking. These predictions are coming true.
The rise of social media has made the creation of engaging content a prized commodity. Companies that fail to recognize the importance of social engagement will often times find themselves left behind in the race to obtain potential customers.
Engaging content is simple, visual, neutral and speaks with a human, conversational voice. Today, companies with a web presence must rely on a content supply chain that can deliver fresh material with these elements due to Google heavily favoring web sites with dynamic, rather than static, content.
While today's environment perfectly suits creative, right-brain oriented content, it's important to also utilize left brain thinking in order to properly showcase this content. You want content that will attract and engage your customers, but you need a site that has proper structure and flow in order to maintain function.
MARION marketing firm can provide a balanced approach to WordPress website design and developing your content marketing strategy. Contact us today for information on our web design services.