The contact page is extremely important because if a visitor is on this page, they're trying to speak with you or ask some critical questions. This can be a turning point for your business relationship. Make sure you direct them to the right person or department so both parties can benefit.
Content for Contact Us Page
Any effective website contact page should have the following basics:
Company name
Addresses
Phone numbers
Email addresses
Contact form
Your Contact Us page should also clarify any potentially confusing information, such as multiple locations or departments.
Contact Us Page Message
Your contact page may be the first page a potential customer clicks on after searching for you online. Therefore, it's good practice to have a short summary of your business including who you are and what you do.
Contact Information
Visitors may have different needs and preferences – generally, businesses should try to include as much contact information as possible in case one might prefer email over calling first. Of course, this may not work in your company's situation, so keep your specific priorities in mind.
When to Include Phone Numbers
It's always necessary to have a general office number displayed somewhere easy to see on your contact page. However, if you have multiple departments or specific people to contact about certain issues, you may want to include their numbers, as well.
It's also a good idea to include office or contact hours when possible if the people behind the phone numbers aren't reachable 24/7.
When to Include Map
A map isn't always necessary, but if your business is located in a confusing spot or have frequent visitors, it could be beneficial for you to provide a map to highlight where you are. There are also several tools that allow you to embed interactive maps onto your website so people can get individual directions from their specific locations.

Contact Us Form Content
Even if you've provided information like phone numbers or emails, a contact form still makes it extremely convenient for a customer to take the next step with your business. Every contact form should include boxes for website users to fill out their:
Name
Contact information
Reason for messaging your business
You can get more specific if you'd like. For example, it might make sense for you to ask them to leave their company name or get the parameters for the potential project they're inquiring about.
Contact Us Page SEO
A contact page can assist with your website's SEO, so take advantage of these smaller elements that are often overlooked.
If you're in need of SEO in Austin or Houston, contact MARION to schedule a free consultation today!
Site Navigation Element Schema
The SiteNavigationElement schema markup allows search engines to understand relevant information about your website's layout that could affect your business's search results.
According to a study by Searchmetrics, websites with schema markup rank an average of 4 positions better than websites without, but it's important to note that this may not be a direct, causal relationship.
With contact pages, Schema and an SEO-friendly web design can make it easier for visitors to directly click on the webpage from search results so they can quickly find the contact information they need.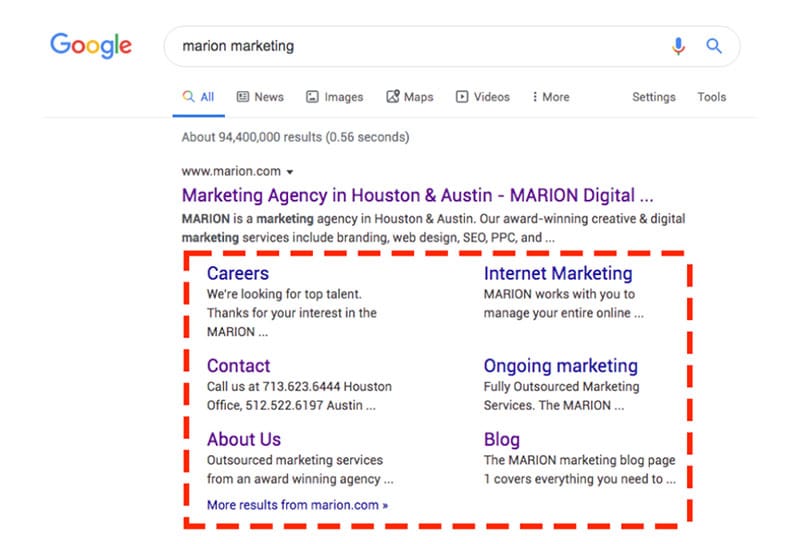 Contact Us Page Meta Description
A meta description pulls a snippet from the website, but you can also change it to your liking in your website's CMS (especially if your site uses a WordPress web design).
Try to keep the description around 160 characters and use relevant keywords so it's direct and to the point. For a contact page, it helps to have a short description letting visitors know they've found what they're looking for.

How to Write a Contact Us Page for a Website
When writing a contact page, you want to keep things direct and simple. Make sure you have all the basic information, such as phone numbers, email addresses, physical locations, etc.
For those who don't want to exit the page or call, a contact form is a great way to generate new leads. If you want to go beyond, you can write additional copy listing which city (or cities) you operate in and the services you offer so new visitors immediately see what your company does.
Contact Page Examples
Look at some of the best contact us page examples we've seen recently:
1. FreshBooks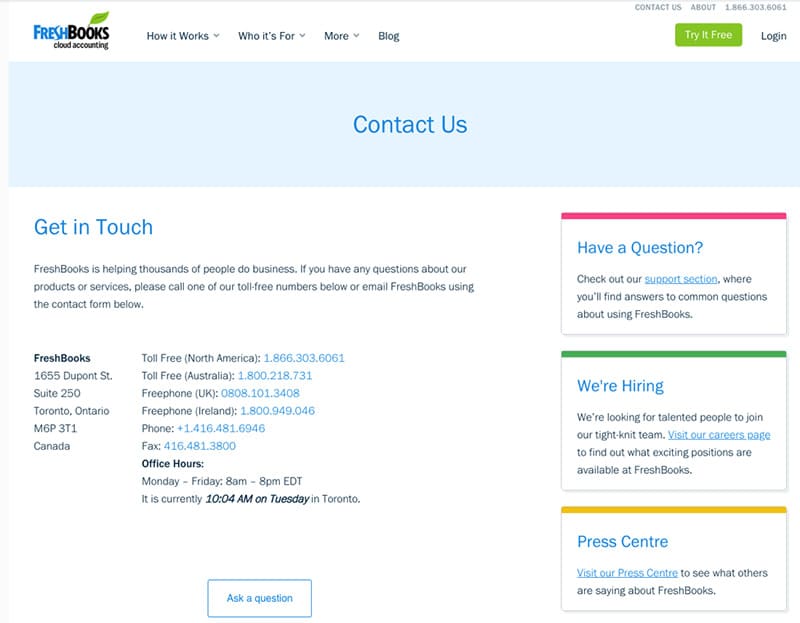 Source: FreshBooks
FreshBooks has all the basic information such as their address, phone numbers, and a contact form. Beyond that, this is a good example of a clean and simple, yet innovative contact page. All the relevant phone numbers are displayed in a simple manner so it's easy to find the correct number for your specific need.
They also list their office hours and have a handy, live notifier underneath to let you know what the current time is in their location. On the right side, they've listed other possible departments and webpages you may be looking for.
2. Protest Sportswear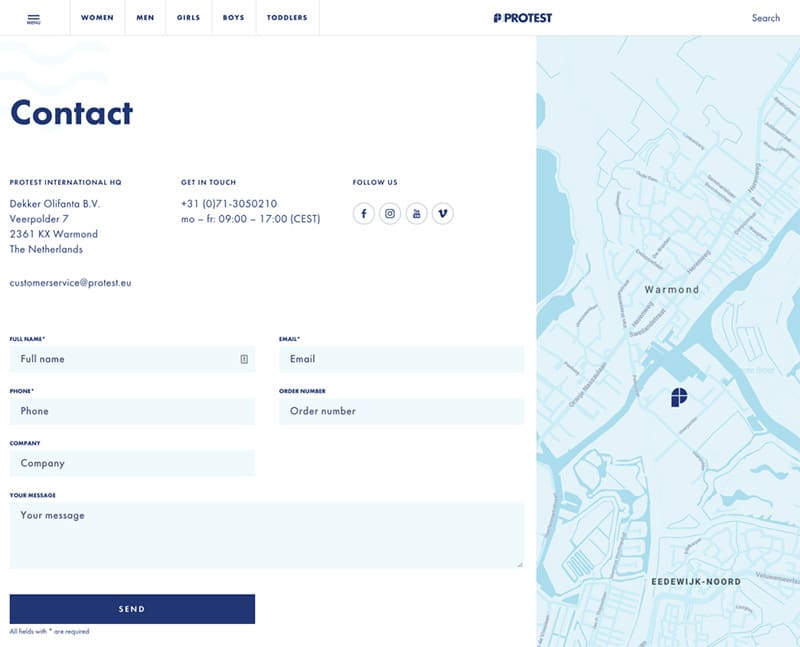 Source: Protest Sportswear
This contact page is very straightforward yet pleasing to look at. They list their address, phone number, email address, office hours, contact form, and buttons to follow their social media profiles. They've also incorporated a picture of their location on a map as part of the design of the contact page. This page is effective because it shows you everything you need to know in a clear and direct manner.
3. Wendy's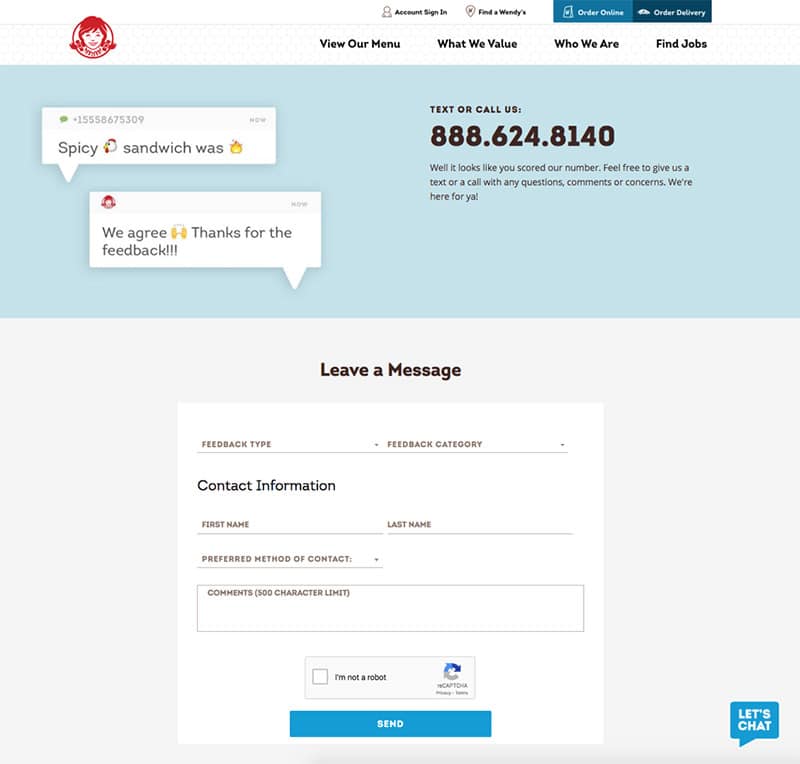 Source: Wendy's
Wendy's contact page is a good example of making sure your contact page aligns with the rest of your branding without distracting you from critical information. They have a casual message and witty copy with a blown-up phone number so you can't miss it. There's a simple contact form underneath if you prefer an electronic "paper trail" as well.
If you're looking to step up your graphic design in Houston, contact MARION today for a free design consultation.
Let MARION Enhance Your Website and Search Presence
Optimizing your contact page copy is a great way to help boost your website's SEO, but it can be difficult to know what you're doing without an experienced Houston marketing agency in your corner. If you're looking to improve your website's search presence and user experience, MARION can assist you.
Contact us online today to see how our expert team can help!