On January 13th, 2020, Google SearchLiaison on Twitter broke the news that updated Google search engine page results (SERPs) would be rolling out. A similar SERP layout was rolled out on mobile devices in 2019, and is now standard across Google.
The new Google results page (left) features URLs above page titles with icons preceding them. The old SERP layout (right) featured URLs between the page title and meta description for each listing.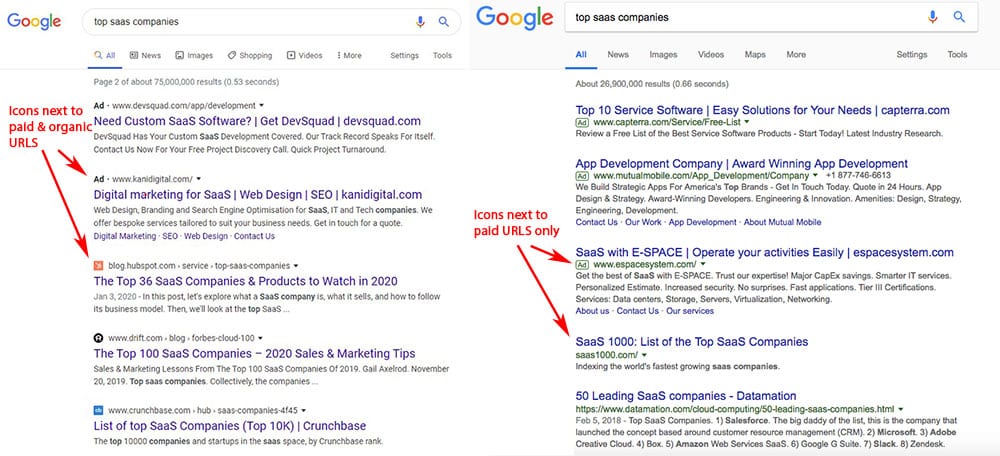 Update from Editor 1/24/2020: After significant backlash from the community about the new layout, the GoogleSearchLiaison Twitter account announced that they would continue to experiment with new icon placements on the search results.
Preceding this change, repeated accusations were made that the advertisements and organic search results were meant to look similar in order to confuse the user into clicking on the paid results more often.
The new Google results page (now on the right) still features URLs above page titles but there are no icons preceding them. The controversial SERP layout (left) that was only active for about a week featured icons for both organic and paid listings.
Paid vs. Organic Results Confusion
However, the biggest difference is that both Ads and organic results are now displaying icons before their corresponding URLs. This makes it difficult for users to recognize which results are paid vs. organic.
After being in the SEO industry for nearly five years, I even found myself accidentally clicking on a paid search result that I thought was organic.
What Does This Mean for You?
In my professional opinion, this Google SERP layout change was made to nudge users toward clicking on paid results more often. This could mean more clicks for paid advertisers, fewer clicks for organic results, and more revenue for Google. The latter is likely why this Google search results page refresh has taken place.
At this point in time, that opinion is merely speculative. However, testing these click-through rate changes would prove nearly impossible, as Google also rolled out a core algorithm update at the same time – ruling out an apples-to-apples comparison. I would venture to guess that the concurrence of these changes was not accidental.
Let MARION Grow Your Organic Traffic
Algorithm changes come and go, but MARION drives lasting results. Our SEO agency stays on top of the latest changes, and builds a time-tested strategy to grow your bottom line.
Contact us today to set up a free marketing consultation with a member of our award-winning marketing agency!