On Monday, January 13th, 2020, Google rolled out their first Core Algorithm update of the year. According to the Google SearchLiaison Twitter account, this algorithm change has been named the January 2020 Core Update.
Google Algorithm Updates
Google releases several core algorithm updates each year, but they've only begun naming and preannouncing these updates as of 2019. Though announcing changes to Google's algorithm would seem helpful at first, they offer fewer details about each update than ever before.
Their announcement for the January 2020 Core Update stated, "Our guidance about such updates remains as we've covered before. Please see this blog post for more about that: https://webmasters.googleblog.com/2019/08/core-updates.html"
How to React to This Algorithm Update
Google offers no guidance on what was changed, or concrete examples of how you can better position your pages to rank. Their main suggestion from this blog post states that, "We suggest focusing on ensuring you're offering the best content you can. That's what our algorithms seek to reward."
This screenshot from the SEMrush Sensor shows "SERP volatility," or how rapidly ranking changes are taking place on a given day.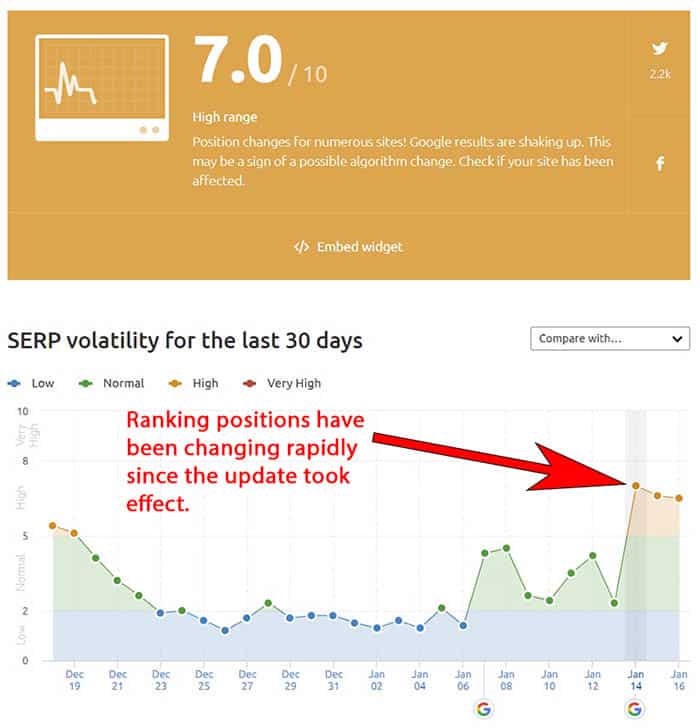 In the end, an SEO-friendly web design with content that best serves a Google searcher's intent will have the best chance of ranking. Your SEO agency will already have a good handle on SEO best practices that will help you attract relevant website visitors.
MARION Can Help with Your SEO
If you find that you need a new SEO company in Houston, Austin, or anywhere in Texas, MARION can meet your needs. Our highly-renowned digital marketing agency can take your search engine optimization to the next level.
Contact us today to schedule a free consultation!