The new Barbie movie marketing has dazzled both young hearts and nostalgic souls, proving that online success can be as magical as the world of Barbie herself. Join us as we unpack the creative marketing strategies that captured the attention of millions worldwide.
Deconstructing the Barbie Movie's Marketing Success
Lights, camera, marketing! With a projected $115+ million box office opening, the new Barbie movie serves as a testament to the power of effective marketing strategies in driving the success of a brand — but how did they do it?


Building on Brand Legacy
For decades, the Barbie brand has been an iconic symbol of fashion and imagination. Leveraging this strong brand legacy, the Barbie movie has successfully capitalized on people's emotional connection with the brand. By bringing the beloved doll to life on the big screen, the film has managed to tap into the nostalgia and affinity that consumers have for Barbie, thereby creating a strong foundation for their marketing success.


Targeted Marketing Campaigns
Understanding their target audience has been crucial to the Barbie movie's marketing success. In the past, the franchise consistently tailored its marketing campaigns to resonate with young girls and their parents. But now, through a mix of digital and traditional marketing channels, paid ads, social media campaigns, and influencer partnerships, the movie has effectively rebranded and expanded its audience.
Tapping into Nostalgia
Marketers took a delightful trip down memory lane by collaborating with brands that resonated with the Barbie-loving generation of the past. Limited-edition merchandise, Barbie-themed cafes, and throwback-inspired events created a nostalgic buzz that warmed the hearts of those who grew up with this timeless doll.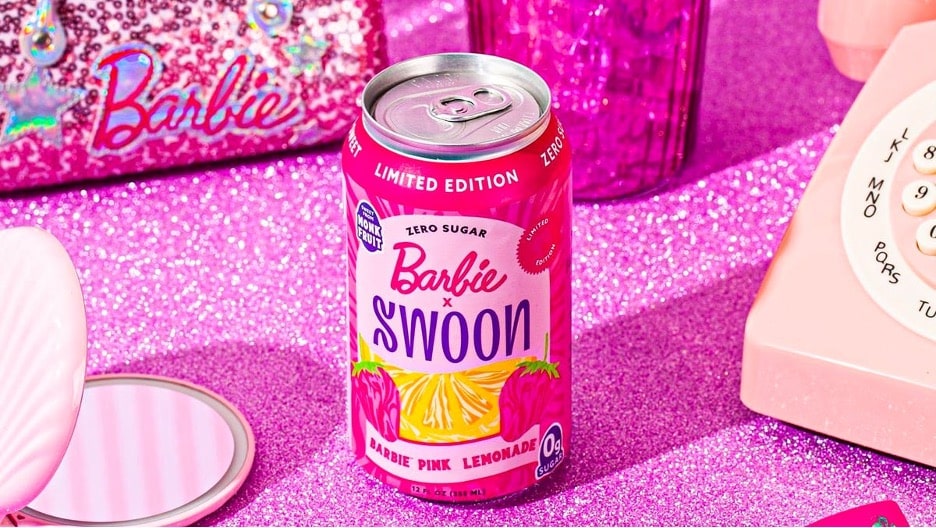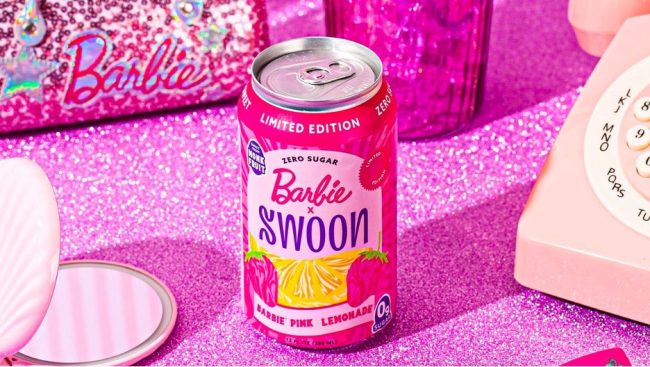 Social Media Takeover
Barbie took the internet by storm, with her own social media accounts buzzing with exciting updates, behind-the-scenes peeks, and heartwarming messages of empowerment. The social media takeover was a whirlwind of inspiration and joy!
Teasers: From the very beginning, marketers knew that tapping into Barbie's iconic fashion prowess was a must. Teasers featuring stunning outfits and jaw-dropping accessories started popping up on social media, leaving fans eagerly awaiting the movie's release. Talk about a successful word-of-mouth marketing strategy!
AR Filters: Who wouldn't want to try on Barbie's fabulous wardrobe? Snapchat and Instagram Augmented Reality (AR) filters made this possible, allowing fans to virtually try on Barbie's iconic outfits and accessories right from their phones. Barbie magic — now accessible at your fingertips!
Viral Challenges: What better way to engage audiences than with fun and creative viral challenges? For example, #BarbieNails and #Barbiecore are gaining traction on social media, inviting fans to share their Barbie-inspired content.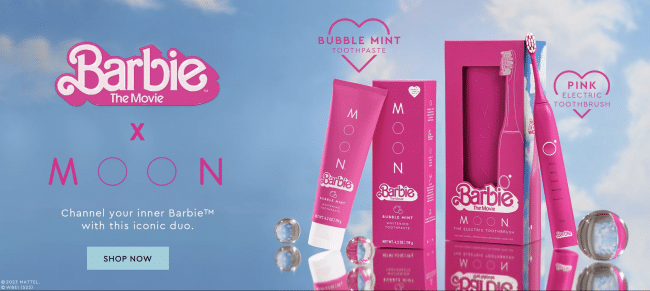 Strategic Partnerships
One of the key elements behind the Barbie movie marketing is the strategic partnerships they have formed. Collaborating with renowned production studios, such as Mattel Creations and Universal Pictures, has not only helped ensure high-quality production but also provided access to wider distribution networks. Additionally, partnering with influential celebrities and artists for appearances and soundtracks has further enhanced the movie's appeal and reach.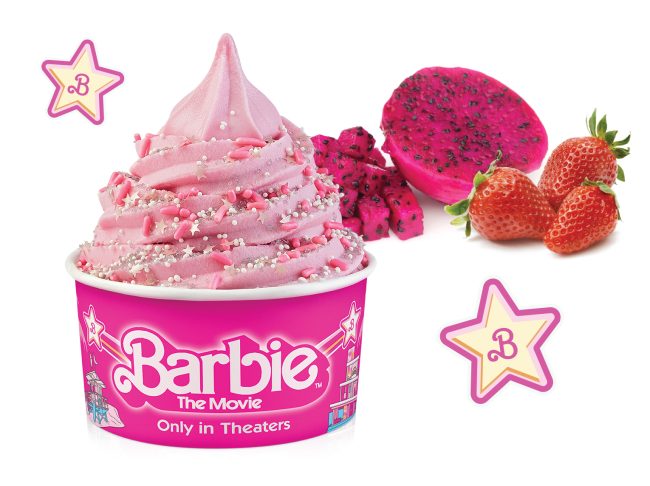 A Star-Studded Premiere
Marketers pulled out all the stops for the Barbie movie premiere in Los Angeles, turning it into a star-studded extravaganza. Celebrities, fashion influencers, and even a surprise Barbie runway show took center stage, ensuring that this movie's launch was as glamorous as the doll herself.
The Barbie marketing magic didn't stop at the premiere. Themed events sprouted up worldwide, from Barbie fashion shows to Barbie-inspired art installations, celebrating the iconic doll (and helping marketing efforts).
Barbenheimer Marketing: Barbie vs. Oppenheimer Approaches
In contrast to Barbie's maximalist approach to marketing, Oppenheimer's marketing strategy was far more low-key. Oppenheimer first sparked interest online with a live countdown announcement launching the official trailer. Longer trailers eventually followed, in addition to social media interactions by the film's cast members.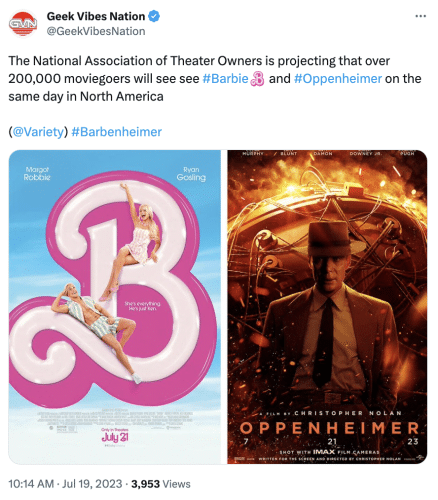 In the realm of marketing, the Barbie movie is proving to be more than just a blockbuster film — it's a celebration of dreams, fashion, and nostalgia. Through clever strategies that embraced social media challenges, brand partnerships, and creative teasers, marketers breathed life into the timeless doll and showcased her inspirational journey on the big screen. Here's to the enduring magic of Barbie and the marketers who made this enchanting movie a marketing sensation!
Create A Campaign Worth Talking About with MARION
In the quest for extraordinary marketing campaigns that leave a lasting impact, look no further than MARION. Our team of creative masterminds is dedicated to helping you create a campaign worth talking about. From concept to execution, we combine innovative strategies, captivating visuals, and compelling storytelling to ensure your brand's message resonates with your target audience. Let's create a marketing campaign that sets the world abuzz!
Contact MARION today for a free marketing consultation.