In the first quarter of 2020, Facebook reported over 1.73 billion daily active users. Whether you're employing B2C or B2B marketing strategies, Facebook can be an effective way to connect with your customers and target new audiences. Not having a Facebook Page for this community could cost you potential sales and clients.
In this blog post, we'll discuss a few examples of how to grow followers on your Facebook Business Page.
Purpose of a Facebook Business Page
Having a Facebook Page creates a space for you to communicate with current and future customers. You can use it to post information about your business and highlight sales, events, products, and much more.
As you increase the amount of Facebook followers, your business's exposure will grow and reach a massive number of engaged users. We'll share some tricks of the trade we've picked up after years of providing Austin and Houston social media marketing services.
Where to See Facebook Business Page Likes and Followers
You can view your Facebook Business Page's likes and followers under the "About" section. Wondering what the difference between "liking" and "following" a Page is? When you like a Page, you will start following updates from that page by default.
You also have the option to unfollow it so the content the Page posts won't show up on your newsfeed. This way, you can show support for a Page without having it clutter your timeline. Following a page means you would like content to show up on your newsfeed.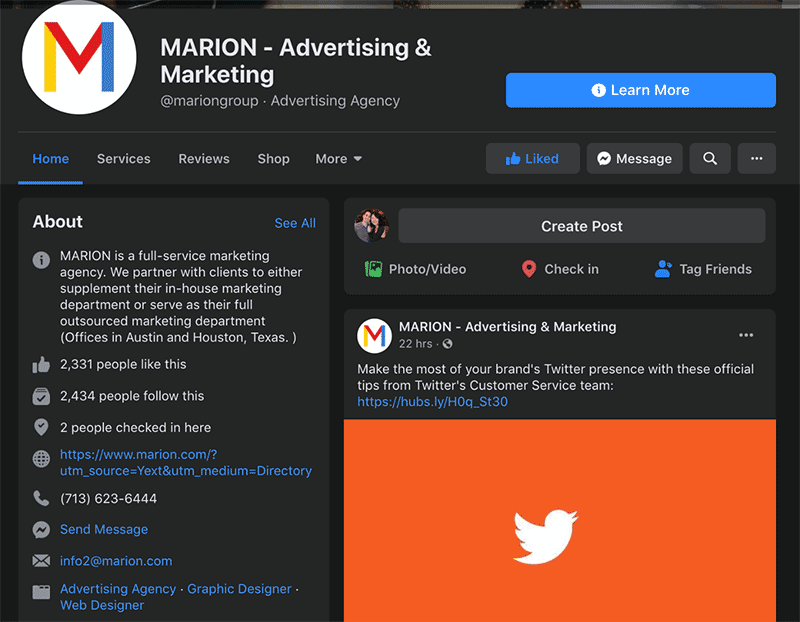 How to Get Followers on Your Facebook Business Page
There are several different methods you can try to boost the amount of Facebook followers on your page. Some approaches might work better depending on what type of business you have, but here are some tried-and-true strategies that will work for all types of Pages!
1. Fill Your Page Out Thoughtfully
People come to your Page searching for more information, so include all the details they could possibly need. This includes up-to-date links, photos, and contact information. For an extra competitive edge, include descriptive and on-brand company biographies and stories.
Your Facebook Page's content should still feel familiar to your loyal customers. This way, they'll be inclined to use your Page as a tool to keep updated on your business. Your followers might not be checking your website every day, but they're most likely scrolling through Facebook multiple times a day.
2. Display Social Buttons
An easy way to advertise your company's Facebook page and increase your followers is to display easy buttons on your website, other social profiles, and emails. Putting social buttons on your website and cross-promoting across different platforms also has an added benefit of "training" search engines into recognizing and associating your official Page with your business.
Along those same lines, if you're familiar with Organization Schema Markup, you can use the sameAs property to tell search engines with social media profiles are tied to your business. In this way, search engines can understand which social profiles you maintain and how much of an authority you are across the web.
Contact MARION today if you'd prefer that a trustworthy SEO agency handle the technical details of optimizing your digital presence.
3. Be Engaging and Responsive
When a follower comments on a post or leaves a review, a great way to get more followers on your Facebook Business Page is to reply as soon as possible. A responsive Page provides a valuable way for customers to communicate with you so they're more likely to interact with your Page. When you provide value and build relationships with your customers, your follower count will grow.
4. Run Facebook Ads
Having a Facebook Business Page makes it easy to run ads so you can boost your Page's posts and reach more users that don't follow you. You can even use their ad platform to target specific audiences and demographics, so you can tailor your search for more Facebook followers.
Advertising through social media requires a bit of investment, it is still relatively cheap and simple. This is possibly the most effective way to increase Facebook followers for your Business Page.
5. Create a Posting Schedule

Posting quality content consistently on your Page is a requirement for a successful social media presence. Posting too infrequently is detrimental because your business will be easily forgotten or dismissed. However, this doesn't mean you should post several times at 11 PM when you remember– you don't want to spam or annoy your followers.
The best solution is to schedule your posts ahead of time, so they regularly go out at optimal intervals and times. There may be an ideal time for your customers to view your posts based on your industry.
For example, a non-profit might perform better posting on weekdays during work hours, while a retail company might perform better posting on afternoons on the weekend.
Do some research and determine what makes the most sense for your business and watch your follower count rise! Once you have a winning strategy in place, scale it out by creating a content marketing calendar for social media.
MARION Provides B2C and B2B Social Media Marketing Services
If you need guidance on how to increase Facebook followers for business or are too busy with other tasks to manage your social presence, MARION Integrated Marketing has the tools and expertise to help you reach your goals. Our social media team works closely with you to determine the best strategies for your business.
Contact us to schedule a free consultation today and learn more about our social media marketing in Austin, Houston, and DFW!