I get it. Email isn't as sexy as social media marketing. It's not as cool as SEO. It's not as easy as pay per click (truth be told: good PPC isn't nearly as easy as it looks).
Email marketing has one big advantage over almost every other digital marketing platform on the market today ­— for a quick moment in time, you have your prospects' undivided attention.
What you choose to do with this highly valuable time can make or break a good email campaign. Your choices either pull prospects through the sales funnel or cause them to unsubscribe. We want you to nurture your leads and make more sales.
At the end of the article, I'll share with you a sequence MARION created for a product launch for one of our clients.
But first, here's three top reasons people unsubscribe from your email lists
They don't know you – You bought a list and don't have permission to be in their inbox. Don't do that. Create compelling offers on your website and ask for their emails first. If your product/service/offer is good enough, then you get an email.
Your subject line is misleading – This is only slightly worse than having a subject line that is boring and ignored. Be obvious and compelling with your offer. Don't trick people because people don't like being tricked.
Your email is selfish – People inherently understand why you are emailing them. You're trying to sell something, so you'd better be solid with your offer, and it needs to be focused on your customer, not on your business.
So, what should your email campaigns look like in order to increase sales and conversions?
Top 3 Things Your Email Marketing Campaign Needs
Here are the biggest things you can do to ensure you have an email marketing strategy that is working for your business.
Use Marketing Automation Software – Sending out one-off emails to a list doesn't cut it anymore. To maximize your ROI on email marketing, it's crucial to connect your marketing to your sales, and this is best done using marketing automation software that connects to your CRM. There are many options for this, but we recommend using HubSpot.
Have an Email Marketing Strategy – For some, this is as simple as creating a simple marketing calendar in a spreadsheet and listing out important dates such as launches, holidays, etc. When you fail to have a plan, it's easy to look up from the day-to-day and realize that you haven't sent an email to your customer base in months. Yikes!
Segment Your Email Messaging – For most businesses, it really isn't okay to send every message to everyone in your email lists. Some people are current customers, some are vendors, some are prospects at different stages of buying decisions. Personalize your messaging and educate your prospects.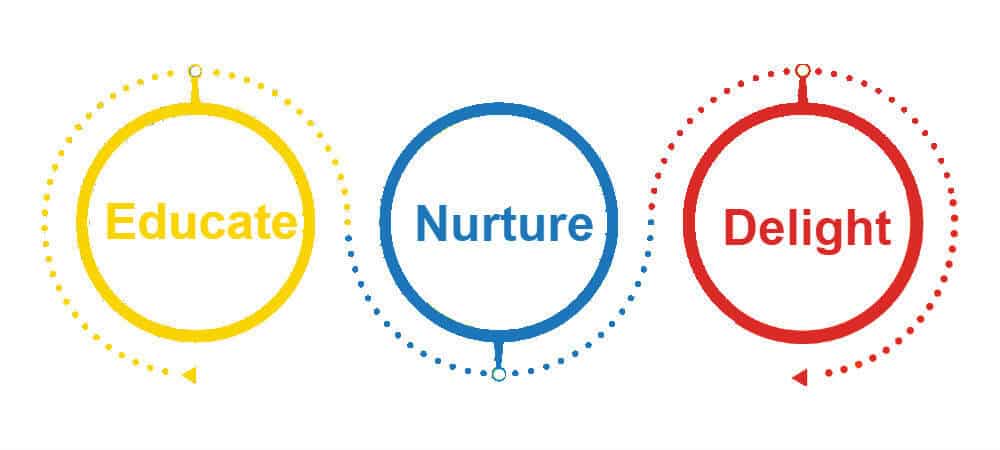 Use an Email Marketing Workflow Instead of Sending Out a Single Email Blast
At MARION, we customize our email marketing campaign strategies for our clients to ensure we're maximizing marketing ROI. Some email workflows are simple. Some are more complex.
A simple example would be where a prospect has downloaded an eBook and is sent a series of educational emails to move them further down the buying decision phases. By tracking these prospects throughout the sales process, our clients are able to see which prospects are engaged with their brand, and sales can then reach out appropriately.
Sometimes, it's a bit more complex. Here's a slightly more complex workflow for a product launch email workflow.
Learn how to run an online marketing campaign with this free eBook from MARION!
This campaign goes out to their current and past clients introducing a new product. They already know, like, and trust our client.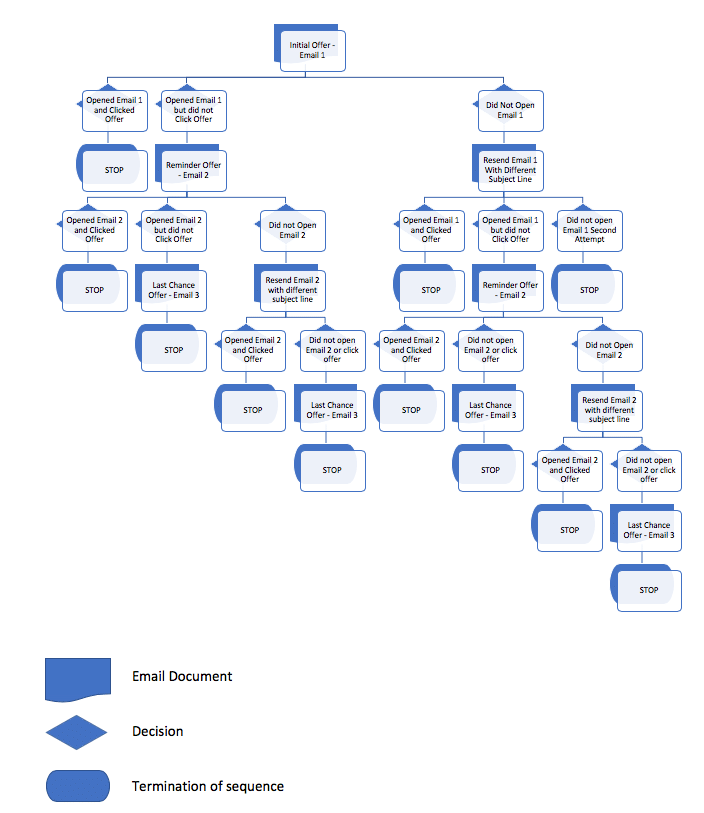 There are additional steps in this sequence that can be added later after reviewing data as it flows through the pipeline. Optimization of the above sequence would take effect based on open rates, click through rates, and of course, we're tracking sales along the way.
This kind of sequence can be used for both B2C and B2B marketing strategies. Remember, at the end of the day, people are buying from people.
Email marketing doesn't have to be hard. With the right technology and the right planning, you can have your prospects' undivided attention.
Educate your prospects.
Nurture your leads.
Delight your current customers.