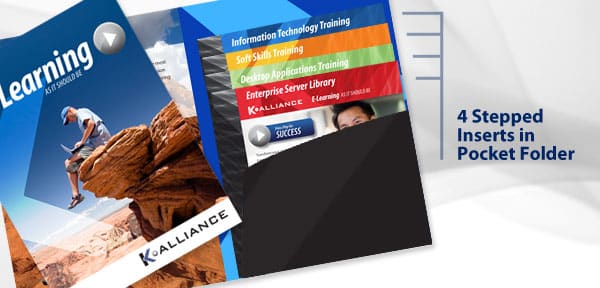 Recently, MARION developed an impressive, custom designed capabilities pocket brochure for K Alliance, an e-learning company. MARION worked with the company to develop the content and our design team did a tremendous job on the layout and graphics.  The brochure has four pages plus a cover measuring 9"x12" and included four stair-stepped inserts in the back pocket. The inserts provided information on four of K Alliance's most prominent product and service offerings, such as information technology training, soft skill training, desktop applications training, and the enterprise server library. K Alliance ordered 1500 copies of the brochure design for their sales team and to be mailed as part of a larger mail campaign to prospective clients.
K Alliance is an e-learning corporation, specializing in the most comprehensive educational solutions available on the market. Their mission is to continually provide a superior level of creating and delivering high quality, instructional, educational content.
For more information on our Houston brochure design services and how we can help create them for your company, please contact us.