Within the past decade, social media has become the go-to place for people to socialize, find local entertainment, and discover new products to buy. Consider that the average user now spends nearly two and a half hours on various social media sites every day, and a lot of that time is spent shopping.
As social media has grown, so has social shopping. This means that businesses in every niche and of every size must now use social media to target an audience, drive interest in products and services, and convert them into customers.
While countless creative marketing strategies can help optimize your web presence, the social media marketing funnel should be at the top of your list.
This strategy is the one that can take your customer from the beginning of their social media journey to the end, with the goal of converting them into repeat customers and becoming advocates of your brand.
What Is a Social Media Marketing Funnel and Why Is It Important?
Before diving into a detailed social media funnel strategy, you should first understand what makes up the social media funnel.
What Is a Social Media Marketing Funnel?
A social media funnel is a specific path your followers travel from the time they discover your brand on a social media platform to the time that they ultimately become fans and/or customers.
There are five stages in the social funnel system:
Creating content that targets each stage is vital, as this is how you gain customer conversions and build brand loyalty.
How Is a Social Media Marketing Funnel Important in a Business' Social Media Presence?
Social media can be a powerful tool for reaching your target audience, building brand awareness, and driving paid conversions. But if your social media strategy mostly consists of posting random content without a defined strategy, you won't get the results you're looking for.
That's why the social media marketing funnel is key. In fact, a social media sales funnel is perhaps the single most important part of optimizing the social media presence of your business.
By using this digital content strategy, you'll be able to tailor your content to meet the exact current needs of your audience while drastically increasing the likelihood of conversions. Not only does this create revenue and increase your ROI, but it also helps you build lasting relationships with your online customers.
What Are the 5 Stages of the Social Media Funnel?
Now that you understand why creating your marketing funnel is so important, it's time to learn the specific stages and what you need to do within them.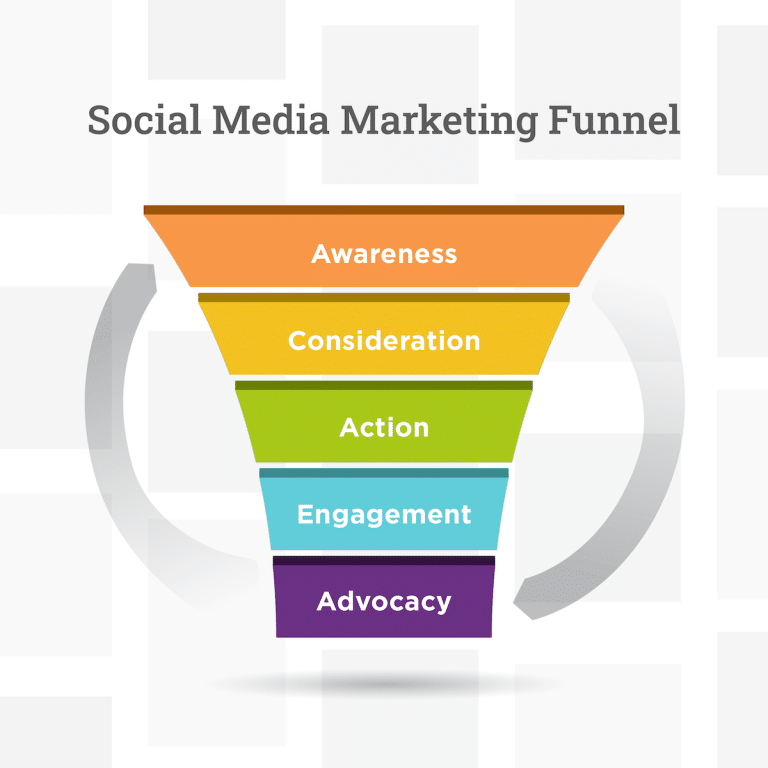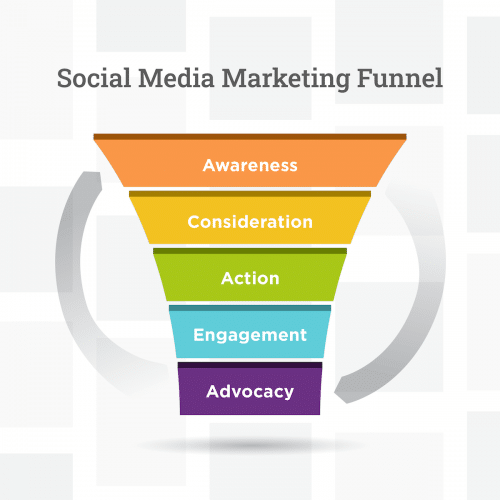 1. Awareness
During this stage, social media users will have the opportunity to learn about your brand, your values, and your products. The awareness stage is when potential buyers evaluate your business to determine whether it aligns with their wants and needs.
This is not the point in the funnel to start pitching your products, however. Start with things that are more simple and offer users plenty of value to ensure that your brand sticks in their minds, and they'll return later to learn more.
To do this, your content needs to be engaging and eye-catching. Regardless of the specific platform you're using, begin by creating dazzling visuals. This is important because studies show that over 65% of people are predominantly visual learners.
Remember, visuals need to be more than just images — think photos, carousel posts, GIFs, illustrations, infographics, animations, memes, and videos. According to statistics, social media users will retain 95% of a message watched on video as opposed to only 10% when reading it in text.
2. Consideration
In this stage, leads should see your brand as a good fit for their needs. But it's important to ensure that your brand stands out from similar businesses so leads remember you.
After reaching the right people in the awareness stage, you can interact with users who are now more likely to purchase from you.
During the consideration stage, users look for specific product information to decide whether your brand is a good fit for them. This stage also includes researching why your product is better than your competition's.
To begin generating more leads, you want to provide details about what you're selling. For best results, make it a point to share:
Explainer videos
Case studies
Guides
Product reviews
Influencer endorsements
Testimonials from happy customers

3. Action
This is where you want to get your social media audience to take action and become paying customers. When a user reaches this conversion stage, they already have a clear intent to purchase from you. And many will now transition from fans into customers if you direct them correctly.
One of the best social media funnel strategies in the action stage is to optimize each of your profiles with social shopping. By doing this, you make it possible for users to purchase from you without exiting the app.
Turn all your profiles into virtual storefronts, then make it easy for people to purchase your goods within the social media app. Start by:
Creating catalogs of your products
Including clickable links
Adding product stickers
Giving your followers exclusive promo codes and discounts
While you may be tempted to skip over the nurturing that needs to be done in the awareness and consideration stages, it will often result in a failure to convert your audience. It's important to make your audience feel engaged with you before attempting to persuade them to buy.
Avoid jumping to the action stage without first building trust and awareness. Failure to do so will likely cause you to waste valuable time and money.
4. Engagement
The engagement stage is all about building long-term loyalty with customers after they've made a purchase from you through your social media sales funnel strategy.
This stage is essential for one simple reason: finding new customers will cost your business five times more than retaining existing ones. Because of this, you should never forget about your existing audience after they've made a purchase. Continue to nurture them and provide value in your content to make sure they won't forget you.
It's important to understand that your customer's journey through the sales funnel isn't linear. When you employ a solid social media funnel strategy, it's more of a circular journey that they continue to travel with you.
One powerful strategy during the engagement stage is to provide customers with lead magnets. An example of a lead magnet would be offering an informative e-book to your social media customers in return for their email addresses.
5. Advocacy
Once you've gained a loyal following, you'll certainly begin getting repeat buyers. But you should also encourage your customers to share positive recommendations about your brand with their friends, family, and social media followers.
It's well-known that people trust word-of-mouth recommendations far more than marketing messages. That kind of enthusiasm is exactly what you need to engender during the advocacy stage.
To encourage advocacy, the first thing to do is give your buyers excellent customer service. Always focus on creating a positive experience for your customers that exceeds their expectations.
It's also smart to incentivize advocacy by offering referral programs to customers who promote your brand to their social media followers.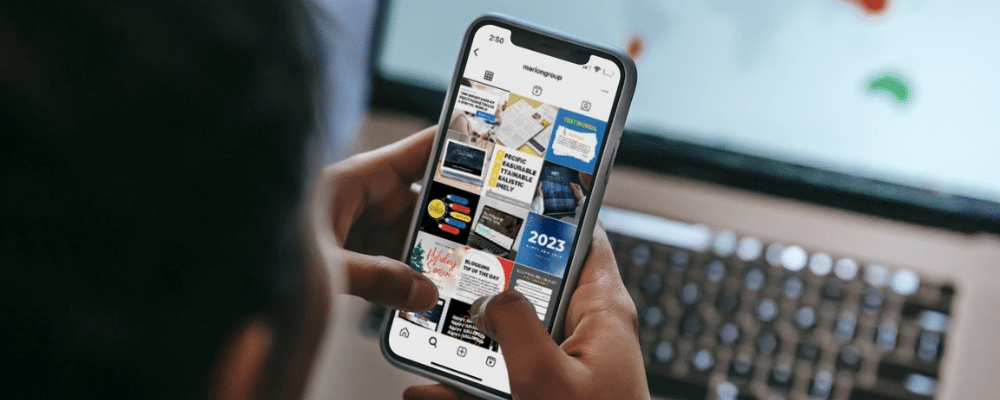 Perfecting Your Social Funnel System
To increase brand awareness, drive engagement, and turn interested consumers into repeat customers, it's critically important that you focus on each of the five steps of the social media funnel.
For best results, invest in each step equally rather than putting most of your time, effort, and money into only one or two areas. For example, you wouldn't want to apply all your resources to the action stage. Your audience is smart enough to know when you're trying to sell them something rather than offering a solution to their problem.
If your time and resources are limited, start at the beginning of the funnel and invest there to optimize your customers' entire social media journey.
Start Building Innovative Social Media Campaigns with MARION Today!
So, you're interested in building innovative and successful social media campaigns for your business — but where do you start?
MARION is a digital marketing agency that offers social media marketing in Houston and Austin, Texas. From creating compelling visuals to writing captivating copy, our experts can help you build campaigns that will engage your followers and grow your business.
Contact MARION today to schedule a free consultation!