Running your business is a time-consuming endeavor.  You may not have time to post, tweet, like, or share your days away on social media.  It's true for a lot of business owners and executives.
In fact, not a single Fortune 500 CEO maintains a presence on all six major social networks, and less than half of Fortune 500 CEOs are active on a major social network.  Their absence does not, however, reflect a move away from social media for businesses.
Quite the opposite.  The number of businesses that use social media for marketing is growing by the day.
About 88 percent of companies in the U.S. use social media for marketing purposes, and that percentage tends to grow a little every year. If you have yet to count yourself among these social media savvy business owners, now is the time to reconsider your stance on this increasingly popular marketing tool.
In this post, we'll cover six compelling reasons to use social media to market your business.
1. Your Target Audience Spends Time on Social Media
Not all of us are the CEO of a Fortune 500 company, and most of us have an account on one of the many social networks, such as Facebook, Instagram or Twitter. If your audience is somewhere between the ages of 12 and 100, they're most likely on social media, since about 81 percent of adults have a social media account.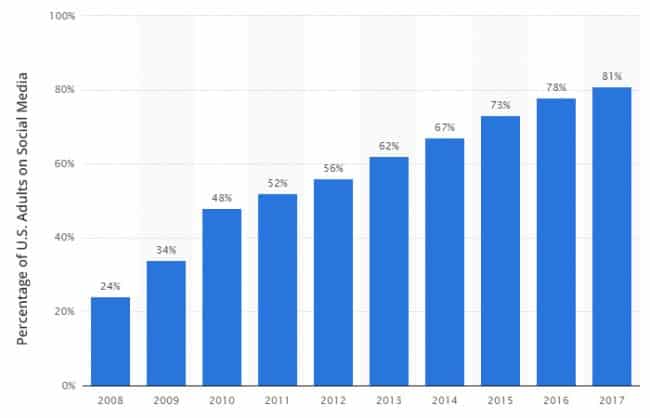 These statistics mean social media marketing is a smart, effective way to reach your target audience – you can use this tool to ask and answer questions easily, advertise sales and provide digital customer service.
2. Social Media Marketing Increases Brand Awareness
If you want a quick, simple way to tell people what your brand is all about, create a business page on a social network.  When you do, you'll find yourself in good company.
In fact, the number one goal of small to mid-sized businesses in their social media marketing is creating more brand awareness (74%), with website traffic (54%) and lead generation (41%) closing in considerably behind brand awareness.
Every time you post a status update or change your profile picture, anyone who has liked or followed your page has the potential to see it, which means your brand stays top of mind. And, if any of those people share or comment on your status updates, there's a good chance their friends will see your page and be introduced to your brand as well.
3. Social Media Influences Purchasing Decisions
There's no denying that social media has an effect on purchasing decisions. Studies show that 71 percent of consumers are more likely to buy an item when they see social media referrals for it, and 78 percent said that simply seeing a company's social media posts impacted their buying decisions.
So it's helpful to use social media to post links and pictures of products, encourage reviews and let your audience know about discounts on your products or services.
4. Content Distribution Is Key for Digital Marketing
If you've got great content, you need to get it in front of your audience, and social media makes that possible.
Whether you have blog posts to share or infographics to show off, social media is the perfect place to post them. And, when you post something really interesting, there's a good chance your readers will share it on social media and grow your audience for you.
5. Employing Social Media for Business Bumps Up Your Website's SEO
Search engine optimization is a very complicated subject.  And when it comes to how your social media affects your SEO it's no different.  There are a number of activities that you can engage in on social media that can affect where your business shows up in search engines.
This video from the SEO masterminds at MOZ is a great walk through, if a bit technical, walk through of the ways you can go about using social media to help your SEO.
Here's a breakdown of what they suggest:
Link directly back to your site from your
Branded search domination – essentially having your social accounts show up when someone searches for a branded term, not just your website.
Drive traffic to your site from your social media accounts.
Use social sites to generate content for your website.
6. Social Media Marketing Is Cost-effective
You can start marketing on social media for free if you have the time to generate the quantity and quality of content that you need to be successful. Of course, most business owners find that it's hard to come up with the time to post on a consistent basis, so they either hire a social media marketing manager or appoint a few employees to make posts.
Either way, it's still inexpensive, especially compared to the amount of exposure your business gets from social media. That's probably why the majority of businesses already use social media marketing as part of their strategy.
The Take-Away
The facts are pretty simple.  Your target audience is on social media.  Social media is a great brand awareness tool for small to mid-sized businesses.  Social media influences decision makers.  Social media is helpful for both your content marketing and your search engine optimization strategies.  And marketing on social media is cost-effective.
If you are still on the fence about whether your business should be using social media for your marketing efforts, consult a professional and let them show you how hands-off, cost-effective, and engaging for your target audience social media marketing can be.
If you're interested in getting started with social media marketing in Houston and Austin, contact MARION to find out how we can help!