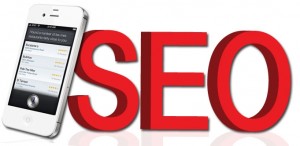 By now most tech-savvy folks have heard of Siri, an intelligent personal assistant and knowledge navigator which works as an application for Apple's iOS. The application uses a natural language user interface to perform tasks such as updating your calendar, checking the weather, setting reminders, sending emails and texts, etc.  by delegating requests to a set of Web services. Siri is now an integral part of iOS 6, and it is a real game changer for SEO strategies.
Consider the following: Siri chooses the app, service, or site that will best handle the task users want to complete. The result is a ripple effect where Siri will increasingly replace the user's utilization of apps and tools—including the likelihood that the user will open a browser window and search using Google,  Yahoo or Bing.
Ask Siri to "find the nearest Tex-Mex restaurant" and the result is based on your current location and data from Yelp, so clawing your SEO way to the top spot on Google for "Houston Tex-Mex restaurant" won't matter. Also, Siri places added emphasis on local, meaning savvy small businesses should spend even more time optimizing their listings on Foursquare, Yelp, Facebook Places, etc. For example, Yelp recommendations are currently embedded in Siri responses, so Yelp optimization matters more than traditional SEO.
Of course, no one is recommending that businesses abandon their SEO efforts altogether. Rather, your business should adapt its marketing strategy in Houston, TX: keep working to improve SEO results on major search engines, but also focus on optimizing listings on Google Places, Yelp, Foursquare, Epinions and other local directories. The introduction of Siri means an important portion of your customers may not be hanging out on search engines. Google claims that 61% of smartphone users call a business after searching for it. This makes optimizing your listing for Siri even more important.
Is your business ready for the Siri revolution? Find out! MARION's Houston digital marketing agency will work with your team to achieve your internet marketing goals with creative local search by leveraging services from a Houston SEO company.