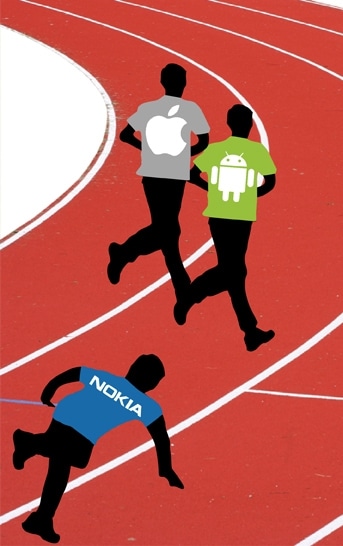 Remember when Nokia was "king of the cell phone?" A cell phone, of course, can send and receive calls and texts, but that's typically the end of its capabilities. Then Apple came along and took the cell phone community by storm when the company decided to put a computer inside the cell phone, and thus the Smartphone was born.
The biggest surprise from the iPhone was how successful it was. And why not? It provides GPS technology, Email service, Internet access, Gaming, and the list goes on. And don't forget the Apps! Unfortunately for companies like Nokia, this provided Apple with a major head start in the Smartphone race that it seems there's no catching up to.
The Finnish company has tried to keep up with the Smartphone giant, Apple, with their own Smartphone. Then they announced in February 2011 an alliance with Microsoft to create the Nokia Lumia, a Smartphone that runs the Windows operating system.
Unfortunately for Nokia, as reported by the New York Times, sales have fallen dramatically since then on their Symbian line of Smartphones with people asking for discounts and avoiding them entirely. Nobody wanted to buy a Smartphone they knew would be updated in the near future, causing Nokia to lose over $1 billion. As a result, Nokia announced on Thursday its plans to cut 10,000 jobs and close three facilities.
At MARION, we can see why Nokia is eager to keep up in the Smartphone race. Our recent in-house study shows a spike in mobile devices, iPhones and iPads among them, accessing our clients' websites. The Smartphone is a powerful tool and has all but replaced the cell phone for business use.
The lesson to be learned from Nokia is that if you are not constantly innovating your business, your competitors are innovating theirs. Don't let your website be left behind. MARION's marketing agency offers mobile web site design services including creating mobile friendly websites for Smartphones (iPhone, Droid, Galaxy, etc.), Tablets (iPad, Droid, etc.) and Mobile App development services.