Each year, as Halloween approaches, Home Depot unveils its new line of seasonal decorations. At the center of this retail Halloween extravaganza is the legendary Skelly the Skeleton, an icon that has become synonymous with Home Depot's Halloween marketing success.
Meet Skelly, Home Depot's Viral 12-foot Giant Skeleton
A towering 12-foot skeleton known as Skelly became a viral sensation from the moment it was first released in the summer of 2020.
Home Depot (where Skelly is exclusively sold) leveraged social media platforms like Instagram, TikTok, and Twitter to showcase Skelly in various humorous and creative scenarios.
Customers and influencers across the country enthusiastically embraced the trend, sharing their own humorous takes on Skelly's escapades (free advertising!). The larger-than-life skeleton became an internet sensation, creating buzz and fueling its rapid popularity as it went viral year after year.
This viral success demonstrated how inventive marketing and user-generated content can turn a simple Halloween decoration into a cultural phenomenon.
The Secret Behind Home Depot's Halloween Marketing Success
In a nutshell, here's why this colossal skeleton is a standout success:
Scale and Impression
The sheer size of a 12-foot-tall skeleton is impressionable, to say the least. It grabs attention and is rarely forgotten (talk about a killer word-of-mouth marketing strategy!). In a world of ordinary, normal-sized Halloween decorations, this giant skeleton stands out as a bold and unique choice.
Memorable Iconography
The 12-foot-tall skeleton represents an iconic figure of Halloween, elevated to a grand scale. This creates an association between Home Depot and the Halloween spirit, making it a go-to destination for holiday decorating.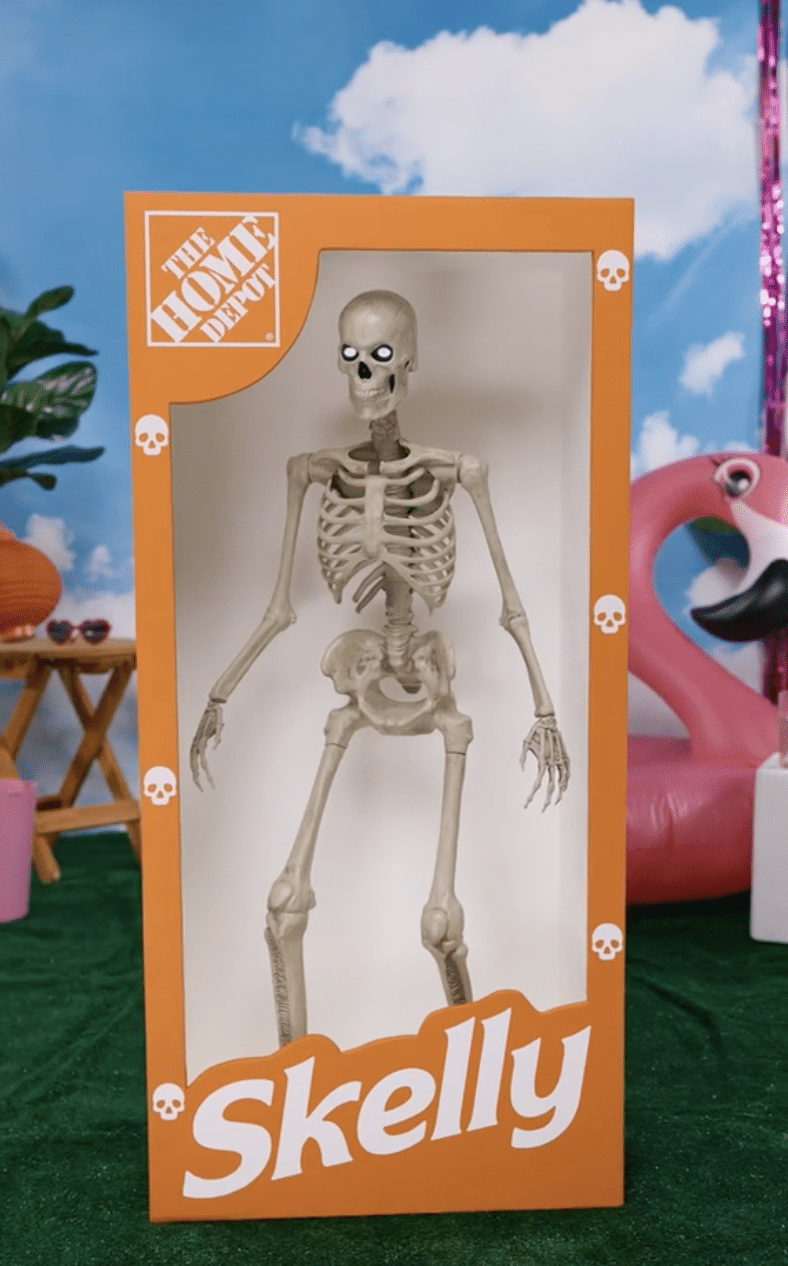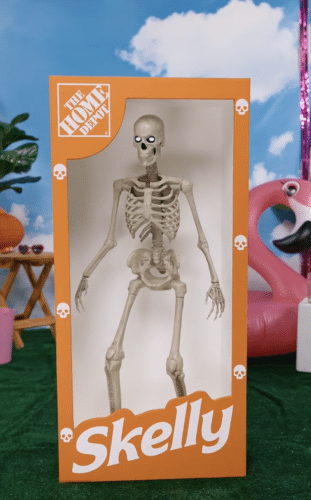 Limited Availability
The product's initial scarcity added an element of exclusivity. When people heard that Skelly was selling out quickly, it created a sense of urgency and desire. This further fueled the demand.
Social Media Buzz
The massive skeleton quickly became a viral sensation on social media. Homeowners and Halloween enthusiasts across the country showcased their creativity by incorporating it into their decor. Home Depot's social media team even tapped into a little Barbie movie marketing on TikTok.
Customer Engagement
Home Depot's marketing strategy involved actively engaging with customers on social media. Responding to comments, sharing user-generated content, and joining the online fun further solidified the brand's popularity.
So, what can we learn from Home Depot's marketing strategy? Skelly the Skeleton captured the imagination of consumers and leveraged successful social media campaigns to go viral (and keep going viral every year). This marketing genius turned a giant skeleton into a cultural phenomenon and a symbol of Halloween, helping Home Depot maintain its position as a go-to destination for seasonal decorating.
Need Help with A Marketing Campaign? Contact the Pros at MARION
Ready to take your marketing campaign to the next level? Our team of marketing creatives is dedicated to helping your Texas-based business reach its full potential. We'll craft a customized strategy, design captivating campaigns, and deliver exceptional results that go beyond your expectations.
Contact MARION now and let's boost your success together!