What Are Instagram Stories?
Instagram released the Stories feature in August of 2016, where users could upload multiple photos and videos to their personal "story" separate from their feed that would disappear after 24 hours. Fortunately, this Facebook-owned tool offers BIG opportunities for marketing with Instagram stories for business.
Instead of likes and comments, the only way to measure your posts' success without using polls or other engaging stickers is through the number of views (that only you can see).
If this sounds familiar, that's because it's essentially a shameless copy of Snapchat's core design. However, since its release, Instagram Stories has rocketed in popularity and overshadowed Snapchat with twice as many active users in just under two years. As of January 2019, 500 million people are daily active users of Instagram Stories.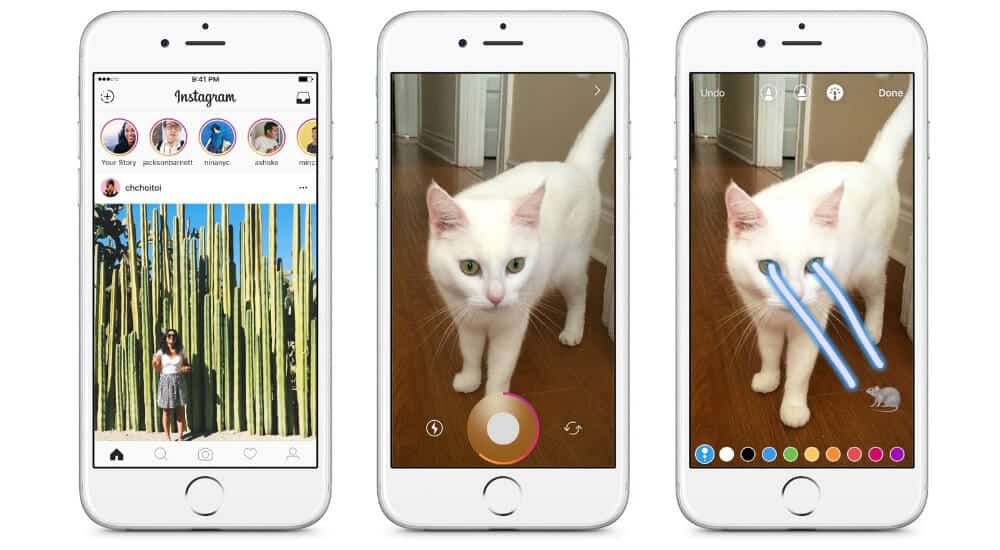 Does Instagram Stories Have Other features?
Ever since their announcement 3 years ago, Instagram has steadily rolled out fun and experimental updates. In the beginning, you could only draw over your pictures or add a filter, but now, the possibilities are quite endless.
You can add stickers, GIFs, polls, music, and much more. You can film Boomerangs, rewind videos, and rumors have been swirling about a new stop motion tool! It's always smart to keep an eye out for new updates.
Why Use Instagram Stories for Business?
Instagram has stereotypically been the home to glossy, highly-stylized photos, which doesn't speak to the growing trend of consumers valuing authenticity. According to Social Media Today, over 86% of people in a survey stated that authenticity is a factor when deciding which brands they support.
Business Instagram stories, on the other hand, are spontaneous, real, and light-hearted due to their short-lived nature. This combination is the antidote to the "unauthentic" reputation that the platform had gained.
"Ephemeral content" is the perfect solution when you want to share something but don't necessarily want it permanently on your gallery. The benefits of Stories demonstrate why your business needs social media to execute a fully rounded marketing campaign.
How to Use Instagram Stories for Business
If you're a small business, this type of intimate connection is vital since you depend on your community and the individuals in it. Social media marketing is cost-effective, so you'll stay under budget while still easily giving personalized attention to your potential customers.
Use the following Instagram stories marketing tips to make the most of this business opportunity!
1. Let the Polls Decide
You can use the "Poll" sticker to create your own prompts and receive answers in either a yes/no format, short answer, or a reaction slider. Polls are one of the most straightforward tools for you to gauge interest in a product, sale, or a new strategy. They are a prime example of how Instagram stories help businesses.
Customers enjoy polls because they are a quick way to engage with low effort on their part. It's a very simple way to make them feel included. When the poll is finished, you can share results onto your Story.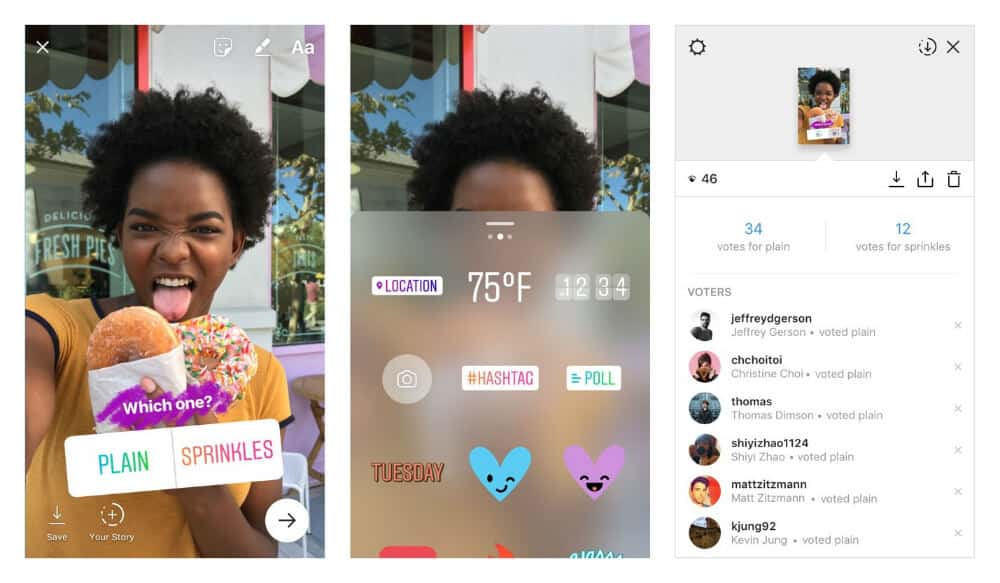 If your customers aren't interested in seeing something, you want to find out as early as possible, so you don't waste your time. Polls are a fantastic way to leverage Instagram stories for marketing because they help you gain insight into what they want and who they are as a customer. Whenever you need to gather feedback or crowdsource ideas straight from your customers, consider using a poll sticker!
2. Peek Behind the Scenes
Giving your followers an unfiltered tour of what goes on behind the scenes can instill authenticity as you show the human faces that run your company. You can do this by showcasing what it's like to work there or how you do or make things – really anything that will help develop your brand and relationship with customers.
Some businesses will take a tour of their office, factory, or use employee takeovers to bring their followers into the daily process behind the products or services they offer. This use of Instagram stories for brands will lead many customers to have an appreciation for the work and effort you put into them.
3. Go Live
Going live is an excellent way to get instant feedback from followers. Instagram allows creators to start a live stream where people can react in real time and then share the video on your story for 24 hours for those that missed it. When you watch the broadcast after it ends, you can skip forward or backward in 15-second increments by tapping on the left or right of your screen.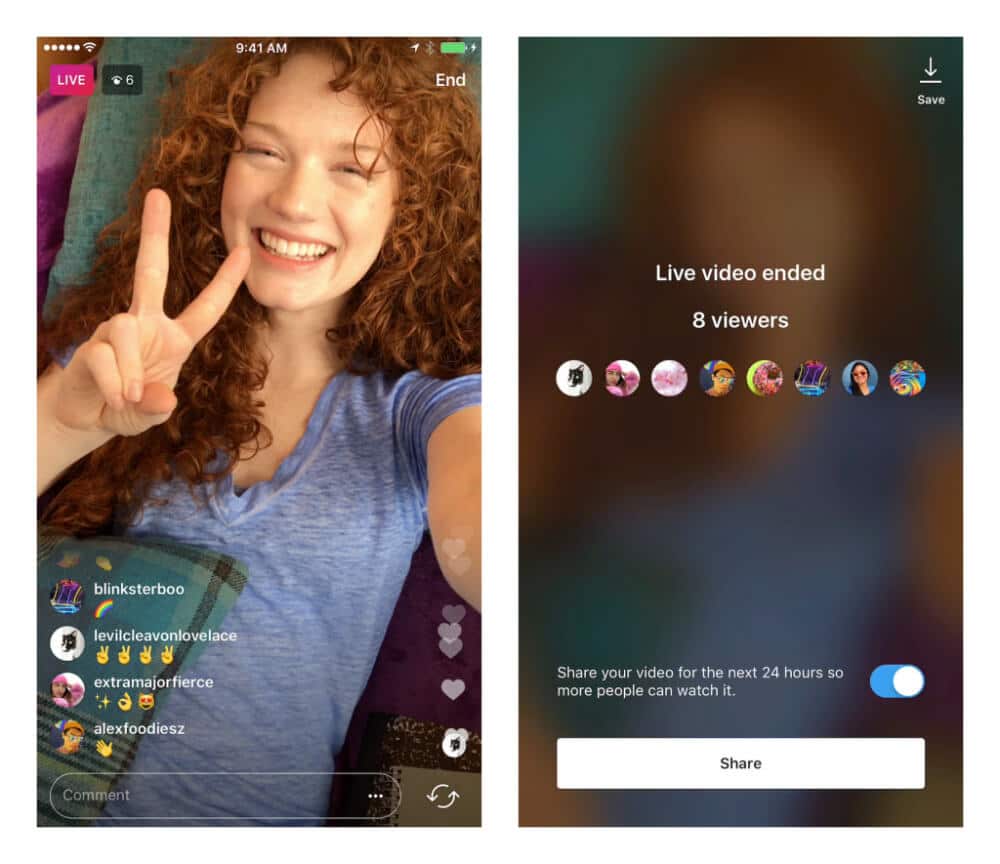 Live Instagram stories for business accounts can be used to announce new products or launch promotions. One of the best ways to use this feature is to hold a Q&A session, where you can show customers how to use a product or answer frequently asked questions. As you walk them through a product, you can answer questions that followers ask right away, giving them instant access to information with your live sessions.
4. Showcase Customer Reviews & UGC
Posting on social media consistently can be a drain on creativity. Luckily, there is another channel of content you can harness!
Many businesses don't take advantage of user-created content (UGC), which means any content that has been posted without being paid for by the brand. This is the pinnacle of authentic marketing because your business did not push any customers to create a review or promote your products.
Highlighting your fans' testimonials on your Instagram Story can make them feel included and is an easy way to thank them for being part of the journey. When users tag your business, you can share that Story post onto your own.
For example, you can see Ariana Grande (a pop superstar and brand/business in her own right) utilize her Story to make fans feel seen and appreciated for supporting her.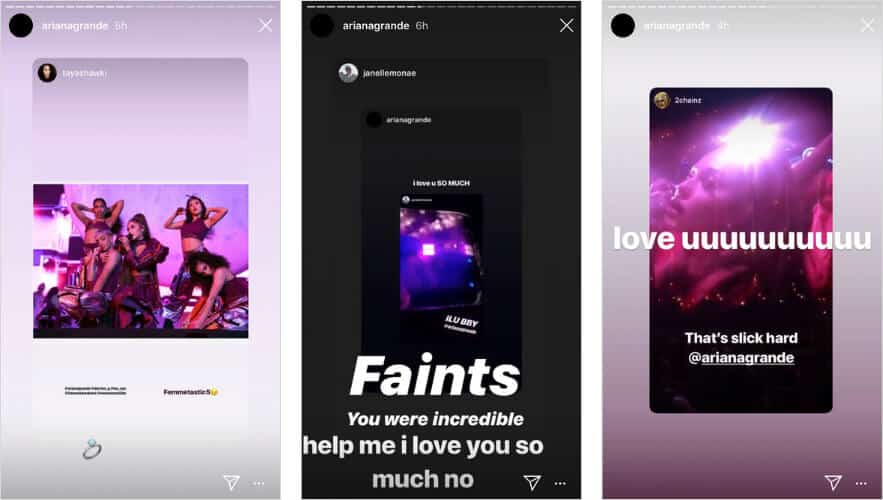 5. Make Smart Use of Highlights
One of the biggest advantages that Instagram Stories has over Snapchat is the ability to create "Story Highlights," where you can add selected stories to categories you create that stays under your profile.
You can name these highlights and choose a cover of your choice from posts that you've added to the album. This way, you don't have to lose your hard work from the other 4 methods we talked about!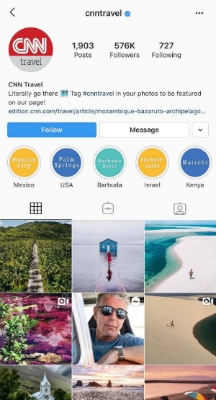 Using highlight albums with your Instagram business account stories is a clever way to categorize things, such as demos, tutorials, different product collections, insights, and more. When visitors first visit your page, they can flip through your albums in the way that you organized them and get a taste of your brand.
It also doesn't sacrifice the aesthetic or strategy of your normal gallery feed, since they're tucked away at the top of your profile.
Let MARION Help Level Up Your Social Media Marketing
Social media has so many dimensions to it that you can easily become overwhelmed. Let the experts at MARION help with your social media marketing in Austin and Houston. Our strategists have the B2B and B2C experience needed to grow your business!
Contact us online today to schedule a free consultation, and let's grow together!