Learn how this new tool is helping marketers build better campaigns.
Last month, LinkedIn announced the release of new advertising tools designed to help marketers better target their paid campaigns. Among them is a feature that allows for much more robust audience forecasting. Read on to learn how LinkedIn has improved its Audience Forecasting tool with the introduction of the new "Segment Breakdown" feature.
Forecasted Results Window in Campaign Manager
The Forecasted Results window appears on the ride side of the page when you are creating a new campaign in LinkedIn Campaign Manager. Previously, this window would only report on forecasted audience size, campaign spend, and campaign results. Thanks to LinkedIn's recent "Segment Breakdown" addition, this panel now provides insights about your target audience including: Job Function, Job Seniority, Years of Experience, Company Size, Company Industries, and Interests.
Previous Forecasted Results Window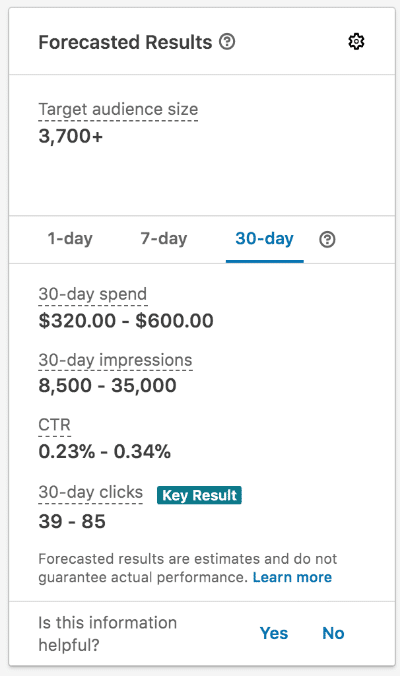 New Forecasted Results Window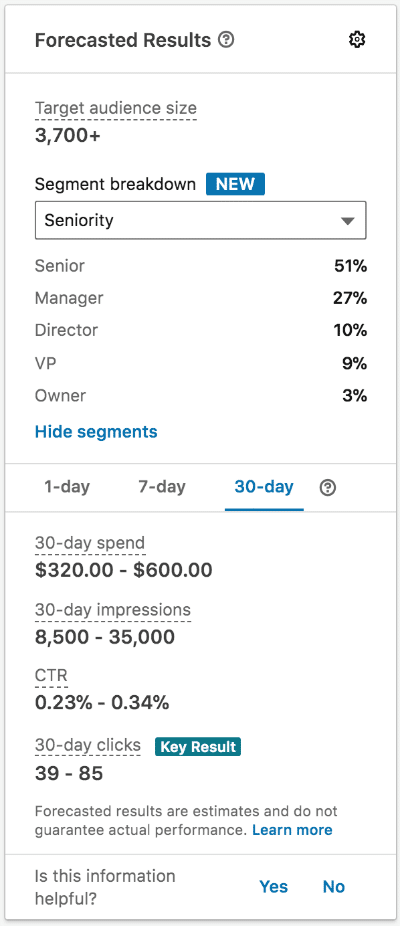 Build Better Target Audiences with the New Forecasted Results
This feature is such a great addition to LinkedIn Campaign Manager because it helps marketers improve their LinkedIn ad targeting and  increase their likelihood of reaching ideal prospects.
With better knowledge of the makeup of a forecasted audience, marketers are able to make strategic changes to audience targeting and see the effect it will have on the audience that will be reached in real time. Better initial audience forecasting means less time and money spent on A/B testing!
In addition, when a campaign is using a lookalike or matched audience, this feature will allow marketers to gain better insight into the types of people they are targeting. This insight will allow for the creation of social media marketing creative assets and messaging that will resonate best with the forecasted audience.
How to See the New LinkedIn Forecasted Results
If you go into your campaign manager and you are not seeing the audience breakdown view, make sure you have selected a location, language, and added at least one targeting segment or matched audience segment (as it will not show until these things are included).
If you still are not seeing this feature, you may need to click the text under "Target Audience Size" that says "show segments" to expend the segments tool.
Contact MARION for Help with Social Media Advertising
Struggling to hit the mark with your social media advertising? MARION's social media marketing agency in Houston and Austin can help you streamline your efforts.
Our social media strategists can help you learn how to advertise your business on social media in a way that attracts the right people at the right time.