In the digital age, it can be easy to forget about traditional marketing tactics such as print. However, print marketing remains an essential tool for businesses of all sizes. Print materials like flyers, brochures, and posters are still effective in communicating a company's message to its target audience. So, if you want your business to stand out from the competition and reach more customers, don't turn your back on print marketing!
Print Marketing Helps You Stand Out in the Digital Age
Is print media still useful? In an increasingly digital world, it is becoming more and more difficult to stand out from the competition. But print marketing services can be a powerful tool to help you do just that. By utilizing print materials such as business cards, brochures, flyers, postcards, and other physical media, you can reach potential customers in a way that digital marketing simply cannot.
Our Houston graphic design firm will work with you to create unique and effective print campaigns that will help you reach your target audience. Contact MARION today!
What Are the Benefits of Print Marketing?
Printed ads are often more trusted than digital ads. With an increased volume of scams on the internet, print media marketing creates a sense of trust and credibility that digital marketing alone cannot provide.
Reading print works better for retention. Studies show that people read slower when reading text on paper instead of on a screen. This achieves higher retention rates compared to digital.
Print materials are tangible and memorable. In a world of endless scrolling and pop-up ads, print collateral makes it easier for people to remember and recall when making purchasing decisions.
How Print Media Can Complement Your Digital Marketing Strategy
There's no question that digital marketing campaigns are key to growing your business, but print still plays an important role in any successful digital content strategy. Print advertising can be used to supplement your digital campaigns, providing a tangible reminder of your message and helping to build brand recognition. By combining the power of print and digital marketing, you can create an effective campaign that reaches a wider audience and generates more leads.
Below are some examples of digital content you can feature on your printed materials.
Specific calls-to-action prompting readers to visit your website or social media profiles
Positive customer reviews from social media or Google
QR codes and personalized tracking URLs to help you connect online and offline activity
Calls-to-action to share campaign hashtags on social media
By using print to complement your digital marketing strategy, you can ensure that your message is seen by both online and offline audiences.

Types of Printed Marketing Materials
Custom printed marketing materials are an essential part of any business's marketing strategy. It can be used to promote your website or other digital content while also reinforcing your brand identity.
Brochures
Business cards
Direct mail
Catalogs
Letterhead & envelopes

Presentation folders
Promotional products
Banners
Wall decals
Posters

Logos
Newsletters
Postcards
Tradeshow displays
Thank you cards
With the right strategy and creative execution, print marketing collateral can help you stand out in today's digital world. Whether you need Houston logo design, print finishing services, or award-winning brochure design, MARION can help you reach out to potential customers and build brand awareness.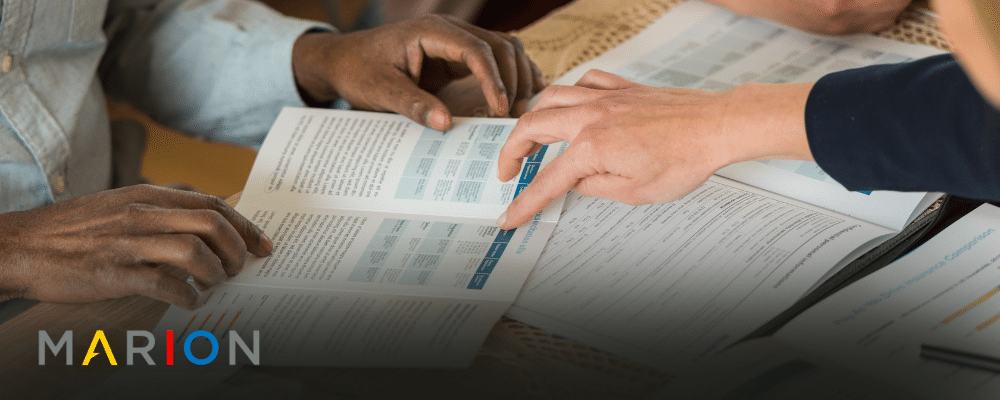 Partnering with the Best Print Marketing Agency in Houston, TX
Are you looking to partner with the best print marketing agency in Houston, TX? Look no further! MARION offers comprehensive printing solutions tailored to your specific marketing objectives and goals.
With our extensive knowledge of the industry, we can help you create campaigns that are both visually appealing and effective in reaching your desired results. We understand the importance of creating a solid brand identity and strive to provide our clients with the highest quality marketing materials and services. Partnering with MARION is a great way to ensure success for your business!
Contact us today to learn more about our print and digital marketing services.