What marketers can learn from the drink's massive success
It's that time of year again — soon, there will be a fresh crisp in the air and the leaves will begin to turn bright orange. It's time to pull out your sweaters and scarves and RUN to your nearest Starbucks. The Pumpkin Spice Latte is back, everyone!
Starbucks started selling the Pumpkin Spice Latte on August 27th this year, the earliest launch date ever. The Pumpkin Spice Latte (lovingly known as PSL) celebrates its 16th birthday this year, and consumers are more obsessed than ever.
The latte's unrivaled success over the years has led many companies to jump on the pumpkin spice bandwagon. Today, we have Pumpkin Spice Oreos, Cheerios, cough drops. There's even pumpkin spice toothpaste and newly-released Pumpkin Spice SPAM.
Since its inception, over 350 million Pumpkin Spice Lattes have been sold, and the PSL is now the most popular seasonal drink of all time. So just what can the beloved PSL teach marketers?
Today, we'll explore some of the drink's spicy tactics on its journey to become everyone's favorite fall beverage.
The power of customer engagement
The PSL has shown marketers the importance of customer interaction. Starbucks has done an unparalleled job engaging an online community of people who just can't get enough pumpkin spice.
The PSL is possibly Starbucks' most viral drink, with other Starbucks offerings, such as the unicorn frap, trying unsuccessfully to unseat it. In fact, in 2016, pictures of the specific PSL drink on Instagram shortly after launch received 493 percent more likes than photos tagged with just #Starbucks alone!
This year for the PSL launch, Starbucks generated hype on social media by creating an event for a Facebook Live session it called "First Day of Fall." The company used this 2-hour long live video to announce the arrival of the PSL, and therefore, fall! Talk about successful social media campaigns.
For more tips about how to generate seasonal buzz with your Austin or Houston social media marketing, schedule a consultation with MARION today!
In fact, Starbucks' whole campaign is centered around the idea that fall starts with the release of the PSL. It may seem like a bold move (especially since the drink was released almost 4 weeks before the real first day of fall) but that's just how iconic the drink is. When Starbucks says it's pumpkin spice season, it's pumpkin spice season people!
Look at some of the social media hype they created below through live sessions, videos, and Instagram stickers. Starbucks even created a series of special PSL eGift Cards, telling users they could "give the gift of pumpkin spice."
But social engagement doesn't just stop there. In the comments section, Starbucks interacts with users bringing personality to the brand and continuing to nurture and communicate with their die-hard fan base.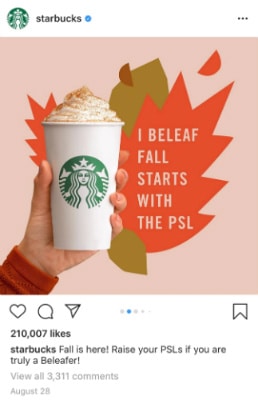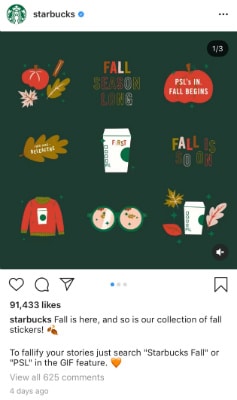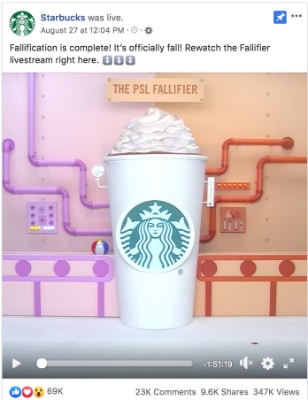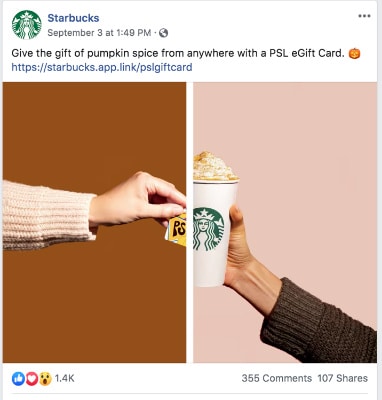 The power of exclusivity
PSL's success over the past 16 years is a strong example of just how powerful marketing exclusivity can be. One of the biggest catches of the Starbucks pumpkin spice hoopla is that it's only offered once a year for a few precious months, and this limited-time window has contributed greatly to the drink's fandom.
With the worry that the fall classic will soon be gone, millions of consumers flock to get their fix of PSL before it's too late, or before Starbucks runs out of pumpkin spice (there was a huge fiasco in 2012 where they almost did!). The fear of missing out (FOMO) for PSL is so high that there's even a website whose only purpose is to let people know when the drink becomes available. As PSL has clearly shown, exclusivity sells!
The power of providing an experience for your customers
When people drink a PSL, it's not just another cup of coffee — it's so much more. One sip sends back a rush of memories of autumns past. The feeling of fall takes over, as notes of cinnamon and nutmeg remind one of watching leaves change color, carving pumpkins and enjoying Thanksgiving dinner with family and friends. Heck, I want to throw on a flannel and go grab one right now just talking about it!
Starbucks fully knows the sentimentality the drink holds, and it markets to that. Starbucks is selling more than just a drink — it's selling the entire fall experience, and it sells it well.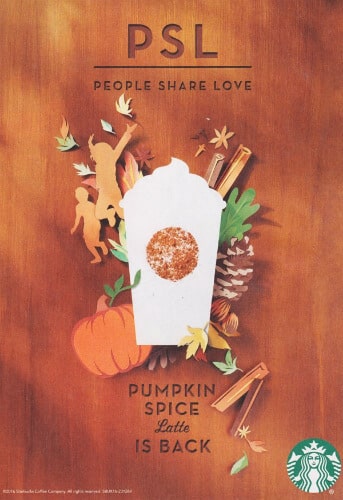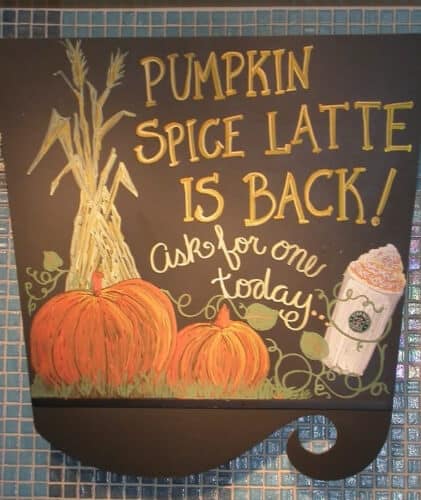 Image Source: https://bit.ly/2lTjcUU
Image Source: https://bit.ly/2meelO2
Every autumn, Starbucks not only stirs up all the aromas and flavors of pumpkin and spice in a tall, grande or venti cup, but it also reinforces them through its visual advertising as well, as shown in the images above. The company places its PSL cup within classic images of pumpkins, leaves and nostalgic autumn scenes to help announce that everyone's favorite fall drink is back.
In many stores, the signature Starbucks chalkboards echo the colorful fall vibes the drink is famously associated with. Starbucks focuses on providing a cohesive image of the Pumpkin Spice Latte as the go-to taste of fall, and each year, consumers can't help but show their neighborhood Starbucks some PSL love with their pocketbooks.
The Pumpkin Spice Late is truly one of a kind, and it seems like its cult following is here to stay. Welcome back, Pumpkin Spice Latte! We're glad you're here (if only for a limited time).
Start the Next Social Media Trend with MARION
Improving your Houston or Austin social media marketing campaigns is possible with a mix of creative and tactical excellence. MARION brings those exact talents to the table with our creative team and marketing strategists.
Contact us today to schedule a consultation and see how we can work together to build a cohesive marketing campaign that will grow your business!