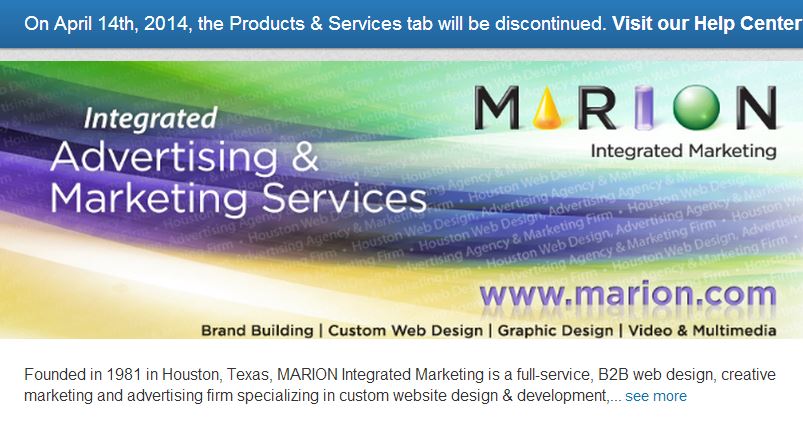 LinkedIn recently announced that they are discontinuing the Products/Services tab from Company Pages. The big switch will happen April 14, and will completely remove the tabs from Company Pages, which may come as a shock to businesses that have invested time and effort into building up their recommendations, or to small companies who use the networking site as a mini-website to showcase their services.
According to LinkedIn's official statement, and the e-mail that's been circulating to Company Page admins, the alternative option for companies looking to promote their products are Showcase Pages, which LinkedIn describes as "extensions" of Company pages, designed to allow companies to showcase particular brands or products to targeted audiences. (An example being Pepsi having a general LinkedIn page and a specific Showcase Page for Frito-Lay.)
Here's LinkedIn's official statement regarding their move:
At LinkedIn, we aim to provide a simple and efficient experience for our members. To do this, we're continuously evaluating how our current products and features are used, and seeking new ways to focus our resources on building the best products. This sometimes results in the retirement of certain features. So on April 14th, the Products & Services tab will be removed from all LinkedIn Company Pages.

What does this mean for your page?

Your Products & Services tab will be removed on April 14, 2014. Until then, you can edit existing products and services, but the ability to add new products and services will no longer be supported.

Company Page Administrators can recover Products & Services Recommendations directly from the tab by copying the information into your own document.

Where on my Company Page should I put this information now?

While Products & Services is going away, companies can get more visibility for their products and services by using Showcase Pages and Company Updates as an alternative for sharing content:

Showcase Pages allow you to extend your Company Page presence by creating a dedicated page for prominent products and services. A Showcase Page should be used for building long-term relationships with members who want to follow specific aspects of your business, and not for short-term marketing campaigns.

Company Updates are key to building relationships with your page followers. When your followers engage with your updates, it spreads your message to their networks and provides you even greater reach. Updates can be seen by your followers not just on your Company Page, but also on their newsfeed (across all devices including mobile).
Only time will tell if Showcase Pages are an adequate replacement for the Products/Services tab, but some LinkedIn members are already noting that they allow less text for descriptions and provide no opportunity for video, and perhaps put small businesses at a disadvantage to larger firms.
What do you think about LinkedIn's move away from the products/services page?
Will Showcase Pages be an adequate replacement, or is LinkedIn out-of-touch with how users actually use the site?
Do you need help navigating the confusing world of social media marketing in Houston?