A coworker of mine here at MARION recently gave me a # symbol cookie cutter. She said she saw it at the store and just had to get it for me.
11 years ago, I'd think "what am I supposed to do with a number sign cookie cutter?" But now… everything has changed.
It's not just a number sign anymore. We are in the age of the hashtag, my friends.
Through the rise of social media, this once seemingly unimportant character has become a major tool for both people and business alike to engage on social media and get their content noticed.
So how did this whole hashtag thing start anyway?
One fateful day, August 23, 2007 to be exact, the hashtag was born. Designer Chris Messina tweeted to his followers to ask how they felt about using the number sign to group conversations on the platform. And as they say, the rest was history.

Over the next few years, other social platforms began adopting the hashtag— Instagram, Facebook, Pinterest, LinkedIn. Flash forward to today and the hashtag is everywhere, even the cookie cutter aisle.
But the hashtag is so much more than just a pop culture phenomenon — it's a powerful tool to drive social success.
Hashtags are likely the most popular means of categorizing content on social media. They make your content more discoverable, allow you to find relevant content from others and engage with users based on a common theme. In fact, tweets with hashtags get two times more engagement than those without and Instagram posts get 12.6% more engagement. The stats don't lie folks!
But of course, in order to see these kinds of results, you must be using the hashtag correctly. Today, I'll share the dos and don'ts of hashtagging for businesses that you need to know.
Do: adjust your tags based on the platform
Yes, hashtags are everywhere these days, but the way they should be used still varies based on the platform.
Take these graphs for example.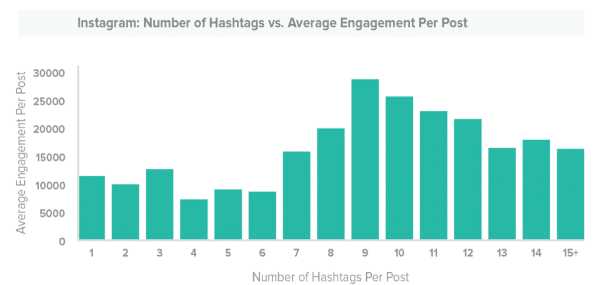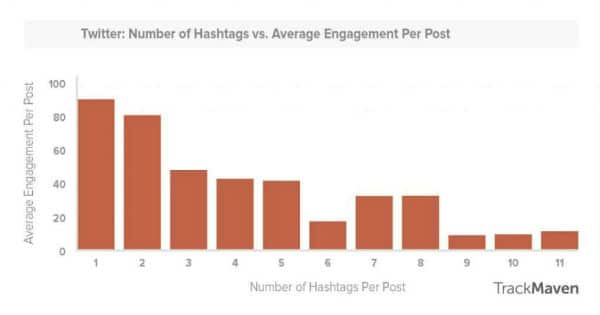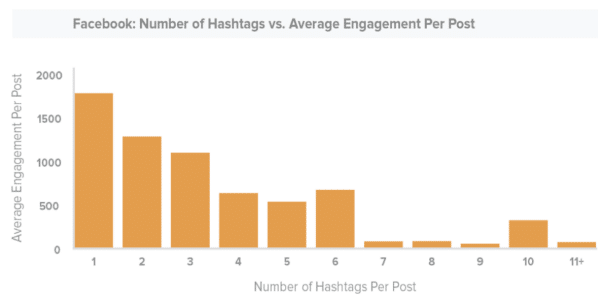 Source: https://sproutsocial.com/insights/how-to-use-hashtags/
Note how the number of hashtags used on each post performs differently based on the social platform. While adding nine hashtags on Instagram can get your post some seriously strong engagement, the same amount of tags performs horribly on Twitter and Facebook.
Different platforms also use hashtags in different ways. On Twitter, hashtags are a way to find and participate in conversations.
Instagram uses hashtags to compile all photos with the same tag into one stream, allowing your pictures to be discovered by a broad audience and giving you the chance to explore new profiles. You can even follow hashtags on Instagram to stay in the know.
Facebook is a little different. Unlike Instagram and Twitter, where people tend to keep their profiles public, Facebook users often keep their profiles private, making their hashtags undiscoverable. This is why most hashtagging on the platform is done by brands and influencers.
LinkedIn, a late adopter of hashtags, has recently given hashtags a larger presence on its site, in hopes of improving feed relevancy. It now shows posts at the top of users' feeds containing hashtags that they have followed and expressed interest in.
Do: take the time to do your research
Social media is an investment­ of your time and money. If your content is not reaching consumers, you're just posting for posting's sake — which is basically pointless.
It is well worth the time and effort to do some thorough research now to find the right hashtags for your business, so you can reap the rewards later.
To get started, look at the hashtags that influencers and your competition are using. This is a great starting place for understanding what's trending in your industry.
You'll then want to use a number of different free online tools to discover related hashtags and research the popularity of tags you are considering. I recommend checking out this great free guide from Hootsuite for more info and specific platform suggestions.
Don't: spam your audience
Just because you can put 30 hashtags in your post, doesn't mean you should.
Hashtag stuffing is not best practice. It's tacky and honestly, it just makes your brand look desperate. While it may get you some followers, they won't be the right kind, as they'll likely be spammers or people just looking to be followed back.
Always focus on being specific, and only including hashtags that truly relate to your post and the conversation.
Don't: make punctuation or capitalization errors
When using multiword hashtags, capitalize each word in the tag to make it easy to read. For example: #NationalCheeseDay (yum.)
Don't put your hashtag in all caps, unless it's an acronym. This makes it feel like your shouting, which is a no no. Also, don't try to use any punctuation in your hashtag. It breaks up the tag, making it ineffective. For example, if you tried to tag #It'sPartyTime, it would actually tag the word"#It" and "'spartytime" would be written as plain text.
Well, there you have it — how to use hashtags for your business the right way. If you don't have the bandwidth to manage your company's social media presence, feel free to contact MARION for a free consultation on social media marketing services for your business.
So, what are you waiting for? Get out there and get to #ing!