Social media for business in 2017 is just as important as having a company website. It's no longer optional, but rather essential for every business. Several years ago, many businesses were lucky enough to take advantage of social media being a form of "free organic advertising" however, those days are long gone and will never be coming back.
As we mentioned in our blog post on how to hack the Facebook algorithm, Facebook, Instagram, LinkedIn, and all social media channels are a business. Unfortunately, this means that business pages get shortchanged when it comes to organic exposure in comparison to personal social media profiles.
This is because at the end of the day, these awesome social media channels we use every day for free depend on the use of advertising dollars in order to stay running for the general public to enjoy.
Fortunately, there are solutions for overcoming these obstacles for your business' social media accounts, but they require a bit of strategy. You can surely get by on social media with just posting on your social media accounts several times a week.
However, if you really want to see measurable results generated from your social media pages, you will need these 3 major ingredients.
1. Graphic Design
Behind every great social media business page, is a great graphic designer. Having a skilled graphic designer can ensure that your social media marketing stays on brand.
Graphic designers know how to create unique branded images optimized for the use of social media. While most social media marketers usually can get by making basic styled social media graphics, having a graphic designer who works with a social media marketer will really make your content captivate your audience creatively while staying on brand.
For our client Escape Hunt Houston we create weekly riddles and puzzles related to the themes of the escape rooms which can offer a fun way to increase engagements with a social media audience while staying on brand.
In addition to working with social media marketers to create weekly content, graphic designers can also improve the "digital curb appeal" for your social media appearance. This includes the banner images and social media icons, which can be the first impression many people will have of your company.
Although it may seem simple, designers have the ability to create graphics strategically so that they won't get compressed and appear blurry when uploaded to Facebook. This issue tends to happen often when graphics aren't designed properly for each platform.  Designers have to make the file so that the sizes of the image does not exceed 100KB while staying in range of the proper Facebook cover dimensions.
Here's an example of how our graphic designers created a beautiful Facebook business page layout for our client Dr. Mark Schusterman.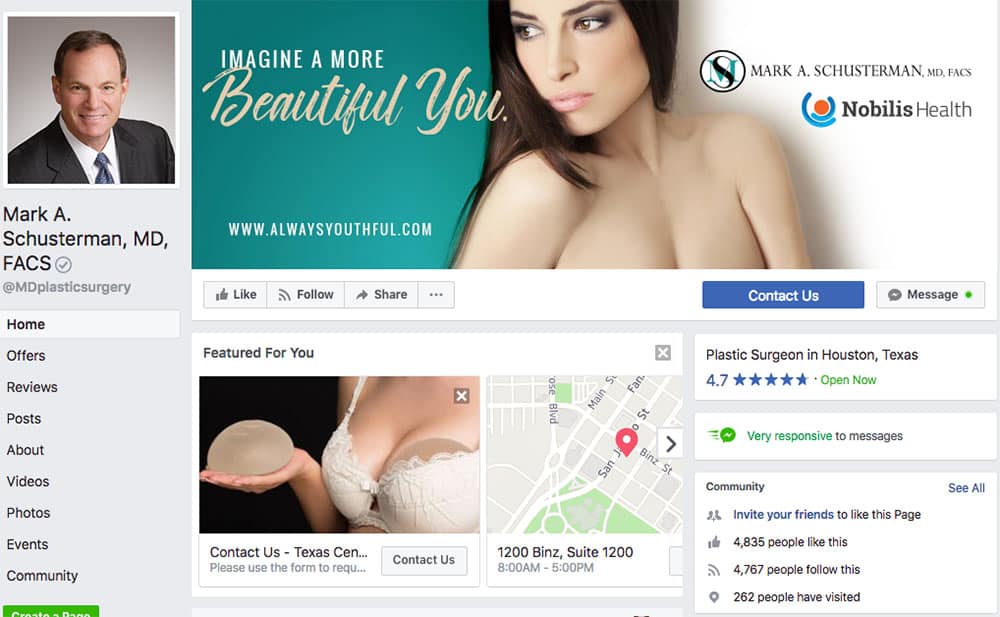 2. Blogging
Here's a fun question: How did you stumble across the very blog post that you are reading right now? Was it from a post you saw on one of our social media pages?
We're willing to bet that 75% of the people who come across this blog, found it through a form of a social media post.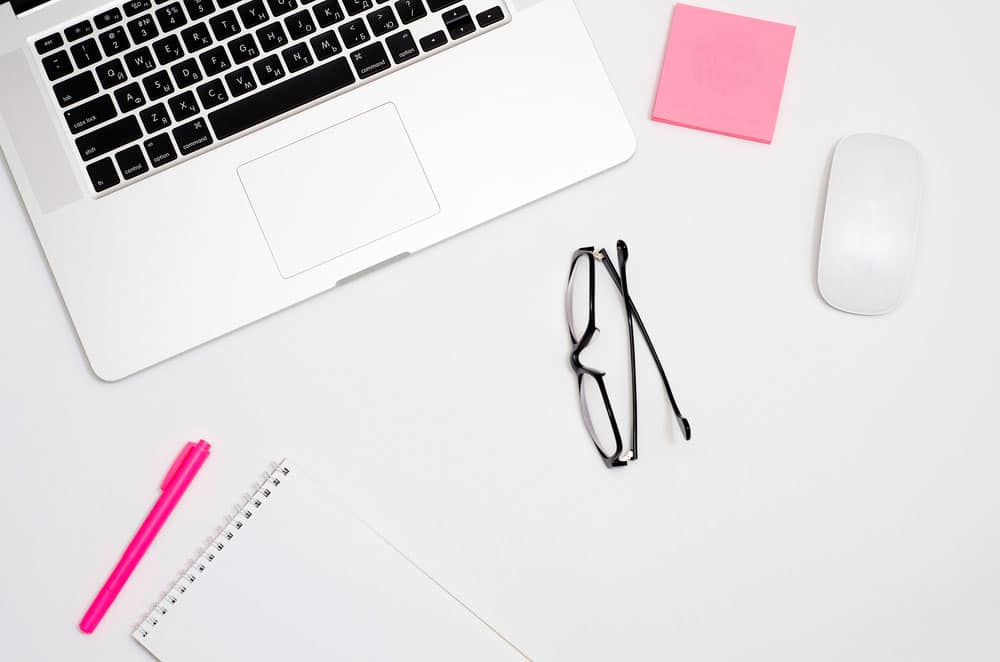 Blogging and social media should always go hand-in-hand. Social media gives blogs a place to gain exposure, while blogs can offer branded and informative content for social media posts.
In addition to generating reusable content for social media posts, the benefits of having a blog for your business include increasing your brand trust and visibility of your website, according to the 2018 SEO stats.
However, in order to cash-in on the benefits of blogging, a strategy must be put in place. This can include formatting headlines properly, capitalizing on keywords, sourcing external links, and considering the length of each blog post.
Some of the most effective blog topics on the internet today have been written in a response to commonly asked questions from Google search terms. Having a professional content writer work with your social media marketing team is essential for generating leads for your business.  In fact, this study showed the average decision maker reads 10 pieces of content online before making a final purchase decision.
Thinking about using LinkedIn to promote your business? LinkedIn is exceptionally optimized for blogging. In fact, seven out of 10 professionals describe LinkedIn as a trustworthy source of professional content.  Although no one knows exactly how the LinkedIn algorithm works, social media professionals across the world have noticed favoritism for those who regularly post long formatted content and blog posts.
When you combine these factors with an advertising budget to target people within a certain industry or job title, your results can be explosive!
3. Social Media Advertising
Writing new social media content each week is very important for your social media strategy as it will keep your current audience engaged. However, even if you have thousands of followers on your Facebook page already, only an average  6.5% of all your current followers will see your posts.
Engaging designs, and content can greatly increase this rate, but even more importantly, having a social media advertising campaign is essential for gaining even more reach.
Using social media for advertising helps users who are likely interested in your business or product discover you without having to search. An experienced social media advertiser can set up a wide range of targeting options to constantly put your content in front of all the right people.
Targeting options can include radius targeting for local businesses, demographics, buying behaviors, job titles, fans of your competitors, and hundreds of other effective combinations.
Every advertising campaign is different. While some campaigns might be focused on lead generation, others may be focused on branding or promoting a local event.  It's important that you have an experienced social media advertiser who is experienced with all forms of social media advertising campaigns to ensure you get the most exposure out of your advertising dollar.
In the example below, our designers created graphics for our client Beetnik to be used as a promoted pin on Pinterest while our social media advertiser used an advertising budget to specifically target the pins to show up when people search for gluten-free and paleo recipes.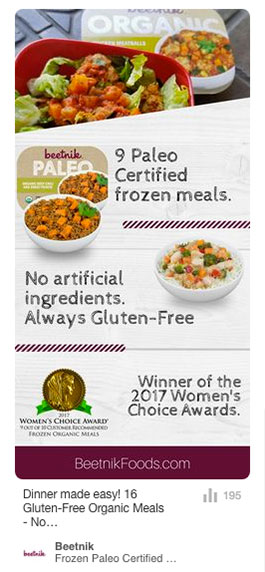 The Take-Away
For your social media marketing strategy to be effective, it needs to incorporate regular graphic design work, blogging, and advertising campaigns. Without these three ingredients, social media marketing won't be working to its full potential, potentially leaving you with many missed opportunities.
By working with a local full-service social media marketing agency you can have access to your own personal team of marketing experts who will ensure that you have a killer social media marketing strategy which will ultimately increase your bottom line!