This past March, Google rolled out another core algorithm update, which has had the SEO community buzzing about how it will impact website rankings. While the full effects of this update have likely not been observed, it is important to understand that measures can be taken to minimize the impact of Google's ongoing algorithm updates.
Understanding The Foundation of Google's Search Algorithm
With each update, Google is constantly refining its algorithms to ensure that the most relevant and authoritative content is featured prominently in search results.
Search intent and website relevance create the bedrock upon which Google's search engine lays. Google has become the largest search engine in the world because it consistently delivers relevant, high-quality search results to users. Google uses these algorithm updates to better analyze, understand, and rank website content so that it can continue providing pertinent content to users.
If you're worried that your search rankings will drop as a result of this algorithm update and other subsequent updates, fear not. There are many digital content strategies and useful tools to help you maintain and improve your rankings.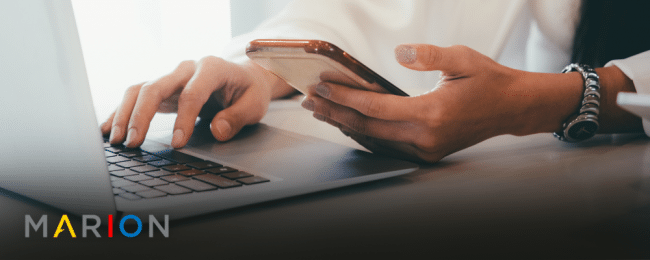 SEO Best Practices to Improve Your Google Rankings
Keeping up with Google algorithm updates is essential for any website or business that wants to stay competitive in the ever-changing digital landscape. This means that it's important for website owners and marketers to keep on top of these changes so they can adjust their strategies accordingly. Below, we offer SEO best practices and steps you can take to ensure your content remains visible and relevant.
Prioritize High-Quality Website Content
Develop a thorough understanding of what your target market is researching, and create content aimed at educating, captivating, and providing solutions for their questions.
There are plenty of tools available (like SEMrush) that can help you find appropriate keywords to base your website content around. Remember, Google Search uses keywords at the core of its algorithm, so understanding the specific language consumers use and implementing it on your website will prove most successful.
Optimize For User Experience
Having relevant content isn't enough if your website takes too long to load. Google wants users to be able to access information quickly. So ensure that page load time is fast, buttons and forms are accessible on mobile devices, and the website's layout is conducive to a strong customer experience.
Set Up Google Alerts or Follow Google Search Relay on Twitter
Constantly monitoring the hundreds of updates that occur every year isn't realistic; however, Google Alerts can notify you when a core algorithm update is scheduled to take place so that you have time to prepare and adapt. Simply go to google.com/alerts and enter keywords like "Google algorithm" to receive emails about when these alerts will take place. Another option is to follow Google Search Central on Twitter. This account regularly reports noteworthy changes occurring within the Google world.
Using Search Console, Google Analytics, and SEMrush To Regularly Monitor Rankings
Using these tools to monitor website traffic and conversions, as well as keyword rankings, can further assist you in staying ahead of Google's algorithm updates. You can use these tools to see whether there are dips or spikes in website activity, which can be indicative of an algorithm update. These SEO monitoring tools can provide you with a better understanding of whether your content is compelling and offer insights into improving your content for better performance.


How to Rank Higher on Google with MARION Integrated Marketing
Ultimately a strong SEO strategy is the only way to maintain good rankings with Google. Therefore, developing strong SEO practices is paramount to showing up on Google Search regardless of an algorithm update. For more on SEO and marketing best practices, visit the MARION blog.
Contact MARION today to learn more about keeping up with SEO algorithm updates.
Tags:
search engine optimization
,
seo
,
website performance