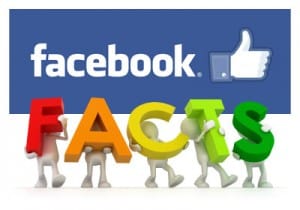 As the largest social networking platform with an estimated 845 million active users, Facebook is growing in importance for marketers and businesses. Fascinated by the current Facebook statistics, we put together a list of some interesting Facebook facts that we think you should know.
10 Interesting Facebook Facts*
Facebook accounts for 1 out of every 5 page views on the internet worldwide.
Facebook users share over 100 billion connections collectively.
Over 50% of the population in North America uses Facebook.
250 million photos are uploaded to Facebook daily.
There are 2.7 billion likes every single day on Facebook.
57% of Facebook users are female and 43% are male
The social media giant has 425 million mobile users.
The average Facebook user spends 20 minutes on the site per visit.
Facebook nearly doubled its revenue in 2011 by making over $1 billion ($600 million in 2010).
Facebook is available in more than 70 languages.
With this huge crowd of people, customers and companies, it is important for marketers and businesses to develop a well-thought out Internet Marketing Strategy that includes Social Media Marketing.
*Sources: Facebook.com and HubSpot.com.