Social media is an excellent way to bring new leads to your business and build reputation. However, it can be tricky to see exactly how social media is helping your business. Take the confusion away by learning how to measure social media effectiveness with five essential social media marketing metrics.
5 Social Media Metrics that Matter Most to Your Business
These social media success metrics measure broadcasting effectiveness, interaction effectiveness, and ROI.
1. Post Reach
Post Reach indicates how many people have seen your post since you published it.
Not only does this measure how many people have seen your post, but it also tells you which times of the day are best for publishing. Post reach helps you keep an eye on which hours your audience is most active and which posts they'd like to see most.
Social platforms like Facebook and Twitter make post reach extremely easy to view by telling you how many people each post has reached. If you pay to "boost" an organic post, you can also see which unique viewers are from your paid campaign.
Want to be a marketing hero and grow your business in a noticeable way? Download this free eBook about the 6 marketing metrics your boss actually cares about!
2. Post Impressions
Post Impressions indicates how many times your content was viewed by a person.
Post impressions also measure the spread of your content by telling you how many times your post entered a screen. This can also include paid views, which most platforms will easily differentiate on your profile's insights or analytics page.
Impressions can help you figure out what time or day is best to post on. Analyzing impressions data will show what time had the most impressions or which day had the least impressions and so on.
3. Average Engagement Rate

Average Engagement Rate measures the level of engagement or interaction that a post is receiving.
This can include likes, shares, comments, reactions, replies and more. Social media engagement metrics are the most important because they are a demonstrable measure of social media success.
A low engagement rate might mean that you are reaching your audience on the wrong platforms or pushing out content that isn't resonating with them. On the flip side, a high engagement rate means you're doing something right, so you should pinpoint what it is!
If you're trying to learn how to measure social media engagement easy, most social platforms already provide analytics. This makes data collection and analysis easy.
4. Click-Through Rate
Click-Through Rate is a ratio showing how many times people clicked on your ad after viewing it. It is calculated by dividing the number of clicks by impressions. (Clicks ÷ Impressions = CTR)
CTR is used to gauge how well ads are performing. Through testing various versions of ads, you can tweak and adjust until one campaign outperforms the other. Through this method, you can see what resonates with your audience and what types of ads they find valuable and worth their time.
CTR is one of the most important metrics to measure social media success because it measures real user actions. It's great for a social post to have a broad reach and plenty of impressions, but you'll struggle to generate a return on investment if users don't click on your content. Optimizing your CTR is especially important if you plan to advertise on social media.
5. Cost-Per-Conversion
Cost-Per-Conversion is what it costs to land a conversion.
CPC can work in tandem with other metrics such as CTR. For example, if each click costs 10¢, but it takes 10 clicks to secure one conversion, your CPC is $1.
You can use this metric to view the actual costs of valuable actions such as customer conversions, instead of more impressive but (ultimately) less valuable metrics such as impressions and engagement. They are all related, but CPC can give you a definitive avenue of measuring social media effectiveness.
As mentioned above, larger social platforms such as Facebook and Twitter have analytics or insights pages where you can compare different posts and how they performed. For example, the screenshot below of a Facebook Insights section shows a lot of information and can help you track your metrics.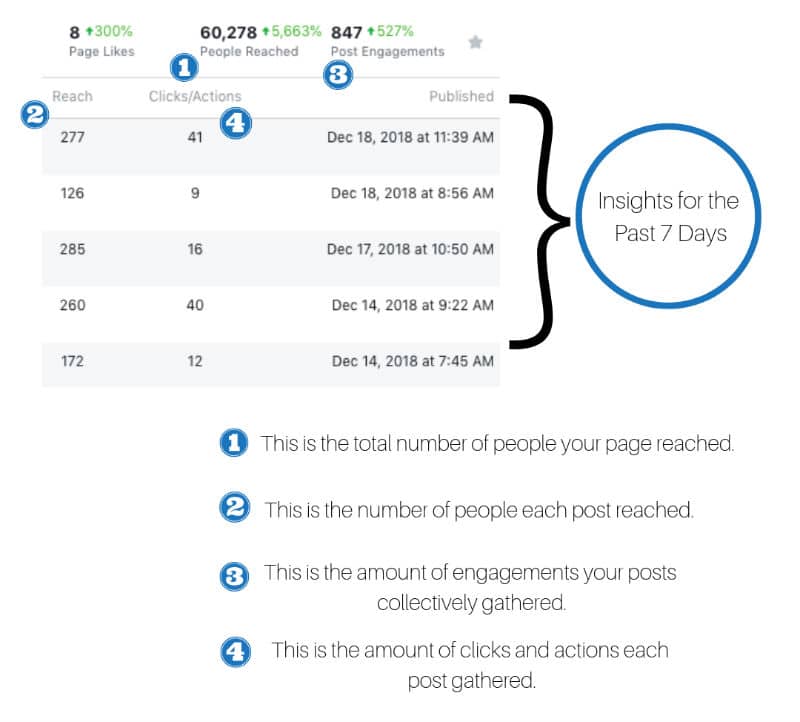 Every organization will have different goals, but these metrics are generally helpful for most businesses. However, a high rate does not necessarily mean everything is working- you must compile a group of metrics tailored to your strategy and keep an eye on them holistically.
As your social reach grows or if your company goes a different direction, there are countless more social media measurement metrics that will help you get a handle on more specific trends.
Get Social Media Marketing Help from The Experts
Social media marketing in Houston and Austin can be a huge driver for your business brand and bottom line. Don't settle on sub-par results, let the MARION marketing company help you grow your business today. Contact our team today!