In a surprising twist of fate, music sensation Taylor Swift and NFL superstar Travis Kelce have sparked a romantic connection. But their new relationship isn't just another love story; it's a marketing powerhouse waiting to be harnessed.
The Taylor Swift Effect
The "Taylor Swift Effect" refers to the significant influence that Taylor Swift, a global pop icon, has on pretty much everything. It's about how her actions, decisions, and statements can cause substantial ripples. For instance, when she endorses a product, it often sees a surge in sales. When she speaks about political or social issues, it sparks widespread discussion.
So, when it comes to her relationship with Travis Kelce, the "Taylor Swift Effect" could mean that Kelce's popularity and visibility will most definitely see a significant boost due to his association with Swift. Most recently, his jersey sales spiked nearly 400% after Swift attended a Kansas City Chiefs game to watch him play. Her presence generated significant buzz and excitement, causing a surge in sales of Kelce's jerseys.
This also drew attention to Kelce's podcast, resulting in a significant increase in views. His "New Heights" podcast received an additional 1 million views compared to the previous week, jumping to the #1 Top Podcast in the US.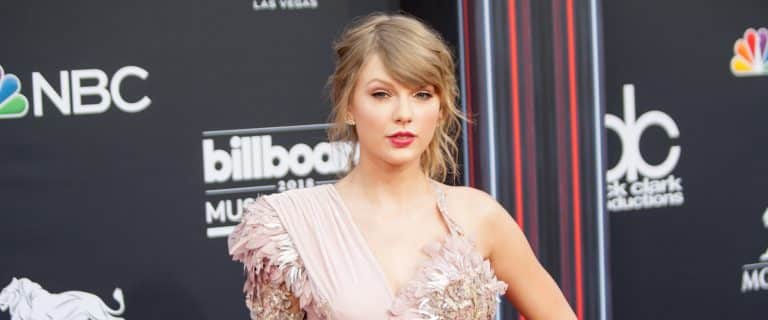 Marketing Impact of Taylor Swift's New RED Era
After attending the Chiefs' last two games, it's safe to say Taylor Swift is entering a whole new kind of RED era with Travis Kelce. From a marketing perspective, a relationship between Swift and Kelce could be a powerful tool for both personal branding and cross-promotion. Taylor Swift, a global pop icon, and Travis Kelce, a prominent NFL figure, have substantial fan bases. A relationship between the two could create a unique intersection of music and sports fans, opening up new opportunities for creative marketing and promotion.
Amplified Brand Exposure
Swift and Kelce's dating news has skyrocketed their individual visibility and created a significant buzz. For brands associated with them, this newfound attention presents a unique opportunity to reach a broader audience and increase brand exposure — one example being the NFL. Compared to the previous week's game, Chiefs' viewership earned a 63% increase with women aged 18-49 since the popstar's public appearance.
Cross-Industry Collaborations
The fusion of music and sports offers a potential goldmine for cross-industry collaborations. Brands in the entertainment, sports, and fashion sectors can leverage Swift and Kelce's relationship to create exciting joint ventures and captivating marketing campaigns that appeal to fans of both industries.
Memorable Collaborative Campaigns
The creative industry is ripe with opportunities to develop memorable marketing campaigns centered around Swift and Kelce. From product promotions to entertaining ads, brands can strike a chord with consumers by incorporating the couple's star power into their messaging.
While their relationship is a relatively new development, brands are wasting no time running new marketing campaigns. A US-based wine company, Winc, is already capitalizing on the power couple with a new email campaign promoting their products.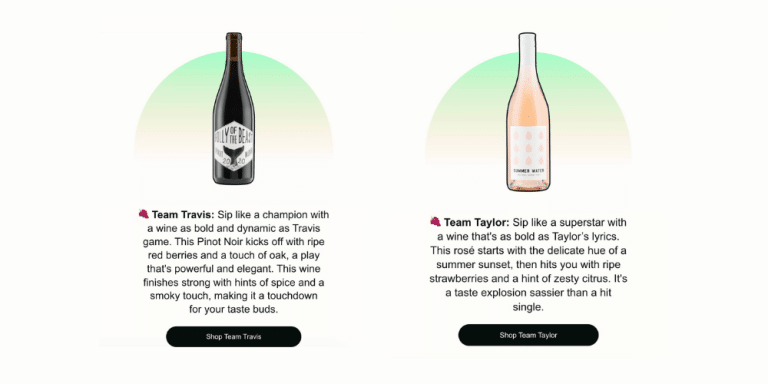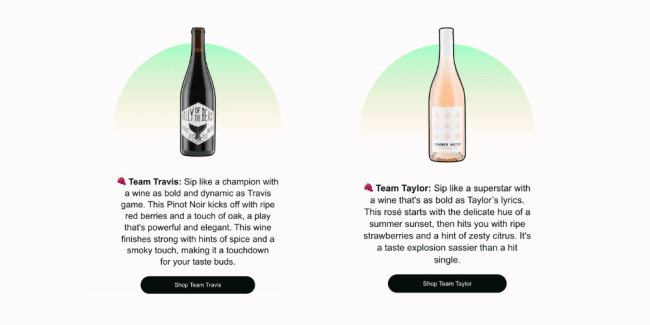 Social Media Engagement
Swift and Kelce boast massive followings on social media platforms, with Kelce actually gaining over 860,000 Instagram followers since the dating rumors first sparked. Marketers can tap into this vast online presence by engaging with fans through sponsored posts, memes, partnerships, or even launching exclusive content that resonates with their shared interests.
Enhanced Fan Loyalty
The combination of Swift's devoted Swifties and Kelce's die-hard football fans provides a unique opportunity to strengthen fan loyalty. Marketers can capitalize on this by offering joint incentives, exclusive merchandise, or VIP experiences that cater to this passionate fan base.
Influencer Marketing Potential
With their influential status, Swift and Kelce can be valuable brand ambassadors. As a couple, they can enhance their individual endorsements and amplify their impact on consumer purchasing decisions. Marketers can leverage their combined influence to promote products/services and tap into their followers' purchasing power.
What Can Marketers Learn?
What can brands learn from Travis Kelce and Taylor Swift's marketing success? By capitalizing on their combined influence, marketers can amplify brand exposure, engage fans, foster loyalty, and create memorable campaigns that leave a lasting impression. As the love story of Swift and Kelce unfolds, brands have the chance to ride this marketing wave and seize the incredible opportunities that lie ahead.
Elevate Your Texas-Based Business Through Strategic Marketing
Whether you're aiming to boost your online presence, reach new customers, or revamp your branding, MARION is your trusted partner for top-notch marketing services. Get in touch to explore how we can tailor our expertise to meet your unique marketing needs and help your business thrive.
Contact our team online or visit our blog for more marketing news and insights.