Search Engine Marketing as it relates to Google often centers around 2 different strategies – organic Search Engine Optimization (SEO) and Pay-Per-Click (PPC) Google Ads. They are distinctly different, involving different tactics and marketing KPIs.
For the inexperienced digital marketer, these two digital marketing strategies can ultimately cannibalize one another. But when implemented properly and with expert care, SEO and Google Ads can help each other and create a well-rounded digital marketing strategy.
So, what is SEO, and what are paid Google Ads? What are the differences between SEO vs. Google Ads? How does Google Ads help organic search, and in turn, how does SEO help Google Ads?
Google Ads vs. SEO
For the most part, Google Ads and SEO share one large, overarching goal – to drive as much relevant traffic to your site from search engines as possible. But when it comes to the approach and the tactics deployed and steps taken to achieve this goal, that is where paid search ads and SEO differ.
What Is SEO?

SEO, as we mentioned before, is Search Engine Optimization. It is the process of optimizing your site to make it more favorable to users so that search engines rank it higher in the search results for certain keywords. Content curation and link-building strategies are a key part of an effective SEO strategy.
Advantages of SEO
The advantage of SEO is that you do not need to pay for each click generated organically. SEO could potentially be 100% free if you choose to DIY. Alternatively, SEO outsourcing to experienced marketing agencies can provide long term ROI, and the results are typically achieved more quickly.
Disadvantages of SEO
The main disadvantage of SEO is how time-intensive it is, even for the experts. You cannot reasonably expect any significant results in the short-term. SEO is also a continuous, ever-evolving process. You may be getting some very positive results today but find yourself ranking at the bottom of the 4th page tomorrow after an algorithm update. Even when you achieved the results for which you are hoping, you must continue to optimize your site to maintain your ranking.
Another disadvantage lies in the fact that you need technical know-how to be truly effective with your SEO efforts. You could invest all of the time in the world in your SEO, but if you are focusing on the wrong topics and/or are not implementing them properly, you will not achieve the results you are hoping to achieve.
MARION offers SEO in Austin, Houston, and DFW, and our team of marketing strategists has been serving Texas for nearly 40 years. Get a free consultation today!
What Are Google Ads?

Google Search Ads (formerly called Google AdWords) are paid advertisements that show up in the search results, typically at the very top and the very bottom of each page,
Advantages of Google Ads
Whereas SEO is a time-consuming process that can take months before you start showing up on the first page, Google Ads enables you to show up at the very top of the first page almost immediately after setup. As soon as your ads are approved and your billing information has been entered, you will start generating impressions.
Disadvantages of Google Ads
The disadvantage of Google Ads is that you do need an additional budget to get visibility, as you pay every time someone clicks on your ads. If you do not have a high enough daily budget, you may not get any visibility. Another disadvantage lies in the fact that the moment you stop running ads, you will no longer have that visibility.
With SEO, on the other hand, if you have a really good foundation in place and have been steadily building on it, you will continue to have visibility even if you have decided to take a small pause.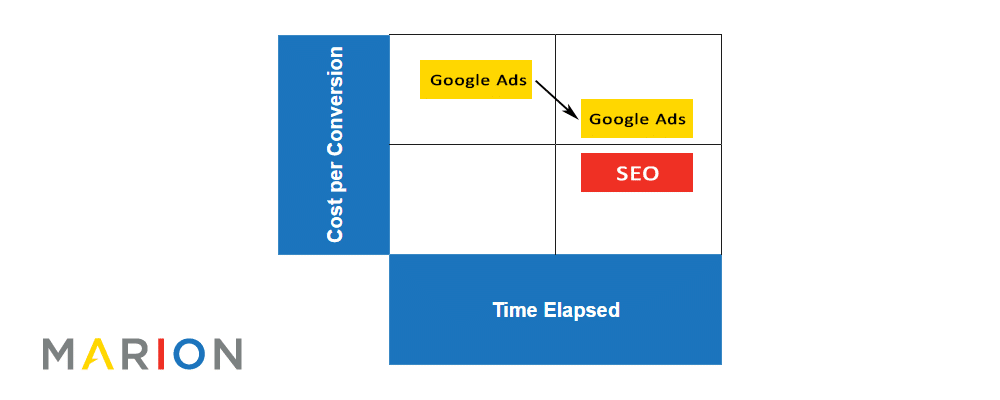 The MARION team offers pay-per-click in Houston, DFW, Austin, and anywhere between. Contact our team today to see how we can help!
Does Google Ads Help Organic Search?
There are multiple different ways in which you can use Google Ads to benefit SEO. For one, the Google Ads platform has numerous tools and reports that help you glean insights not only for your paid Google Ads but also for organic search results as well.
For example, the Keyword Planner tool used in Google Ads to come up with keywords ideas to target in the ads can also be used for SEO to find high-volume keywords to focus on organically.
You can also use Google Ads to test out different meta titles and descriptions to improve your organic clickthrough rate (CTR) and/or on-page headings.
Does SEO Improve Google Ads?
Just as Google Ads can help SEO, SEO can also help improve paid Google Ads results. A key component of SEO is content. Likewise, a key component of paid Google Ads is content. In order to have high-performance ads, you need content on the page containing the keywords that you are targeting. Through close coordination between your SEO and Paid Ads teams, you can curate content that benefits both.
Keep in mind, Google Ads and organic rankings do not have an algorithmic impact on each other. There is no explicit signal between platforms that will cause your organic or paid rankings to increase just because you're paying for ads or ranking well.
When and How to Use SEO and Google Ads
Though we may be a little biased given that we are a digital marketing agency that provides both SEO and Google Ads services, we are firm believers in the benefits of deploying both strategies simultaneously. This is especially important if you do not have a strong SEO foundation already and need immediate visibility. But there are several other scenarios in which it would be beneficial to use both.
For example, if you decide to branch out and target a new area, service, or keywords that you have not targeted before, paid ads would be beneficial. Even if you do have a very strong SEO foundation and are ranking in the #1 spot across all of your desired keywords if there are a lot of competitors bidding for those keywords through paid ads your organic result could be pushed far down the page. This is particularly true for local results where a map pack is present. In those cases, it would once again be beneficial to pursue both paid Google Ads and SEO.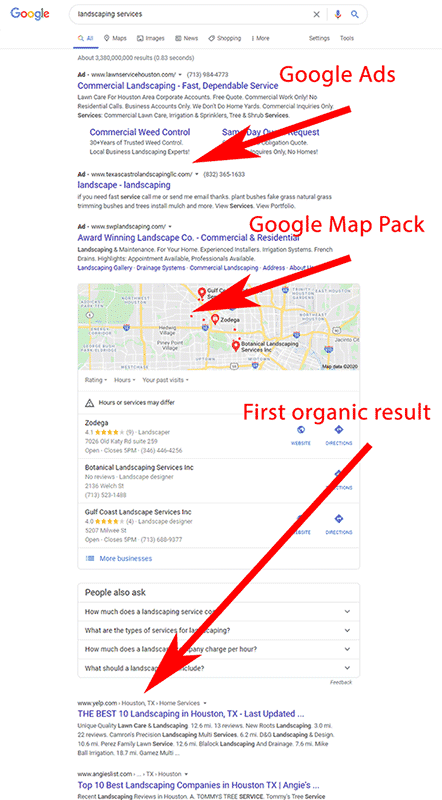 Properly implementing both strategies at once can be complex to the inexperienced digital marketer. The goal is to deploy both strategies at once while ensuring that you are not paying for clicks that you would otherwise have captured for free. The way to do that is through close collaboration between your SEO and Google Ads teams.
There needs to be a consensus between what keywords will be used for paid Google Ads vs. SEO, with high ranking organic keywords being excluded from the paid ads list if there are no competitors for those terms. Google Ads has a predefined report titled "paid & organic" that can help you coordinate the two.  In this report, you can see search terms that people used to see your ads and whether or not there was a paid and organic overlap.
MARION Can Improve Your SEO and Google Ads Results
As a highly-acclaimed digital marketing agency in Texas, MARION has the expertise to implement effective SEO and Google Ads strategies that are sure to maximize the traffic (and future customers) to your site.
Contact us today to schedule a free consultation and learn more about what we can do for you.