What Is a Mission Statement in Business?
A mission statement is a concise statement of the purpose of an organization- its goals, services, and values. This statement will show potential customers, investors, employees, and any kind of stakeholder what sort of business they are investing their time and efforts in.
A good mission statement is useful because it helps companies stay true to their goals and agenda. It acts as a guide for every decision made in the business to create a cohesive, meaningful brand.
Mission Statement vs. Vision Statement
A vision statement differs from a mission statement by solely focusing on the future and how it will get there. Most vision statements include stating a problem the company is seeking to solve, where the company is headed, and the strategic path it will take. Vision statements may mention the company's hopes and inspirations.
For example, compare Patagonia's mission and vision statements:
Mission: Build the best product, cause no unnecessary harm, use business to inspire and implement solutions to the environmental crisis.  
Vision: For us at Patagonia, a love of wild and beautiful places demands participation in the fight to save them, and to help reverse the steep decline in the overall environmental health of our planet.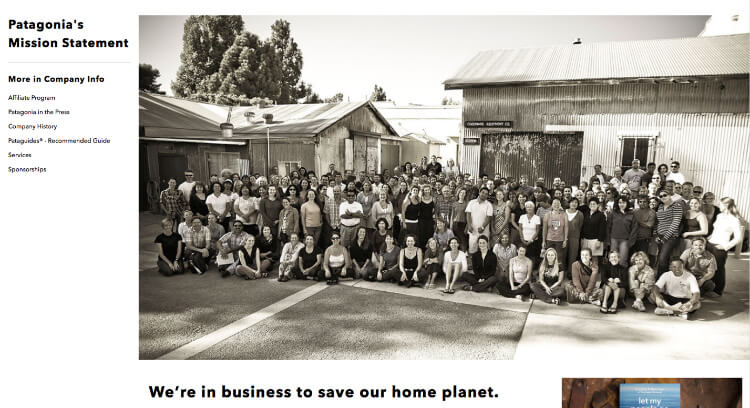 The mission statement focuses on their day-to-day goals while the vision statement is loftier about their overall ambitions (to save the planet) that are unique to their business.
How Long Should a Mission Statement Be?
An effective mission statement should fall between 1-4 sentences (ideally 2) but still be able to convey what it needs to. Anywhere between 50-100 words should be enough to clearly summarize and define your business's mission.
Writing a Mission Statement for Your Business
Most corporate mission statements miss the mark by having a generic and soulless mission statement void of passion or strong values. The best mission statements will inspire and surprise people.
When creating a mission statement for your own business, make sure you answer the following questions:
What do we do?
Who are our customers?
How do we help them?
Why does this organization exist and matter?
Answer these questions with answers that show you are holding your business to a higher standard. Keep in mind that they will essentially be a manual to how your company will operate.
If you plan to work with an outside firm, learn how to choose a branding agency before making a committment. For help from an experienced branding agency in Austin or Houston, contact us today.
Describe what you do, what customers you serve, what your business uniquely offers them, and most importantly, why your business matters. You need to show the value your company brings to the table in no vague terms.
5 Company Mission Statement Examples
Look at these sample mission statements to garner some inspiration:
1. Southwest Airlines

"The mission of Southwest Airlines is dedication to the highest quality of Customer Service delivered with a sense of warmth, friendliness, individual pride, and Company Spirit. We are committed to provide our Employees a stable work environment with equal opportunity for learning and personal growth. Creativity and innovation are encouraged for improving the effectiveness of Southwest Airlines. Above all, Employees will be provided the same concern, respect, and caring attitude within the organization that they are expected to share externally with every Southwest Customer."
Southwest Airlines gives a special shout out to their employees. More than half of their mission statement focuses on how much they value the happiness and work of their employees. This statement is effective because it passionately conveys the company's unique values and how their philosophy will translate into success. Gary Kelly, the CEO of Southwest Airlines, has stated that "our people are our single greatest strength and most enduring long-term competitive advantage."
2. Nordstrom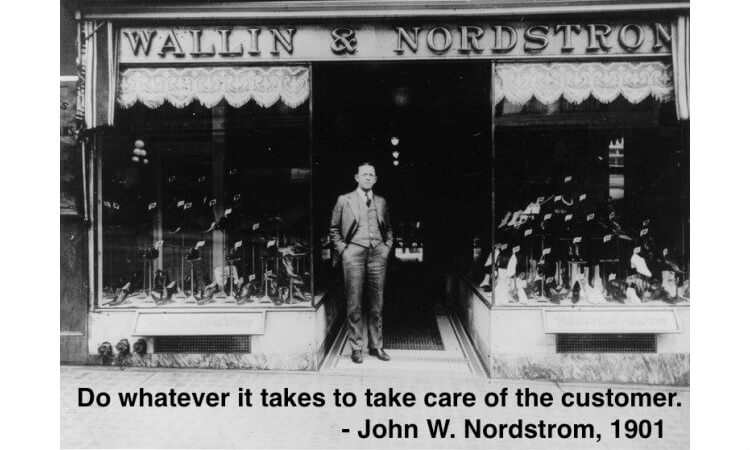 Nordstrom has a couple of possible mission statements that are both very effective.
"We believe fashion is a business of optimism and in that spirit, we continue to grow and evolve. Free shipping and free returns, mobile shopping and exciting new retail partnerships offer us continued opportunities to serve more customers in more ways with a fresh, relevant shopping experience and inspiring style. Fashion changes. Shopping changes. Our commitment to happy customers doesn't."
"In 1901, John W. Nordstrom opened a shoe store on the premise that customers deserved the best service, selection, quality and value. Over a century later, we maintain the same dedication to providing unique a range of products, exceptional customer service and great experiences."
In both statements, you can see that Nordstrom highly values their philosophy of customer service and satisfaction. Both also mention the importance of curating a high-quality catalog of products for customers to select from. The first statement explicitly states its services and values while the second touches on its history to showcase their customer service standards.
3. Uber

"We ignite opportunity by setting the world in motion. Good things happen when people can move, whether across town or toward their dreams. Opportunities appear, open up, become reality. What started as a way to tap a button to get a ride has led to billions of moments of human connection as people go all kinds of places in all kinds of ways with the help of our technology."
Uber's mission statement is exciting, inspiring, and effectively communicates the value of their product and services. It shows that you do not need to have a cookie-cutter corporate statement to come across as professional, but you do need to inject some passion to compete with other cutting-edge companies.
4. Google Search

"From the beginning, our mission has been to organize the world's information and make it universally accessible and useful. Today, people around the world turn to Search to find information, learn about topics of interest, and make important decisions. We consider it a privilege to be able to help. As technology continues to evolve, our commitment will always be the same: helping everyone find the information they need."
In their mission statement, Google Search is very focused on the value they bring to their users as a free tool and talks about the privilege and the responsibility they feel to provide information to the world. This is powerful because they believe in their product so much that they've moved on to increasing accessibility. They state it as fact that their product is high quality and a critical part of many lives around the world.
5. TED Talks

"TED is a global community, welcoming people from every discipline and culture who seek a deeper understanding of the world. We believe passionately in the power of ideas to change attitudes, lives and, ultimately, the world. We're building a clearinghouse of free knowledge from the world's most inspired thinkers — and a community of curious souls to engage with ideas and each other… In fact, everything we do is driven by this goal: How can we best spread great ideas? TED is owned by a nonprofit, nonpartisan foundation. Our agenda is to make great ideas accessible and spark conversation."
TED's main goal is to spread ideas and "spark conversations". Their mission statement focuses on connecting people and facilitating a community. They clarify their agenda by stating because they are nonprofit and nonpartisan, they essentially have none besides disseminating knowledge and ideas.
Let MARION Help You Develop a Comprehensive Brand Strategy
A mission statement is a foundational element of your brand development strategy. Get it right the first time by working with a Houston branding agency with an almost 40 year track record of developing strong brands.
MARION is a traditional and digital marketing agency with the know-how to build you a high-performing brand. Don't just take our word for it, contact us today to schedule a free consultation, and learn how we can help you grow your business.