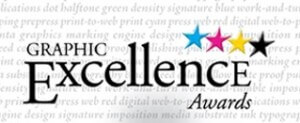 April 18th, the Printing Industries of the Gulf Coast's (PIGC) 2012 Graphic Excellence Awards (GEA) announced its winners and MARION Integrated Marketing won Best in Category 14, Division 3 for Single-Sheet Brochure 4 or more for our client Clariant Mining Solutions.
We were entered by Houston printer, SWP for our brochure design services and we are very honored and grateful to accept this award!
This annual event was at The Crystal Ballroom in the Rice Hotel hosted by Printing Industries of the Gulf Coast, the regional affiliate of Printing Industries of America and featured four galleries – the da Vinci, Rembrandt, Michelangelo, and Monet – to showcase all the outstanding pieces in this year's print and graphic design competition.
MARION Integrated Marketing agency also participated in the SWP Printers 2012 Crawfish Boil  where we ate mudbugs and had a great time, as well as partook in the raffle, in which two of our employees were lucky enough to  win televisions!   Please be sure to check out some of the pictures from the Crawfish Boil below.