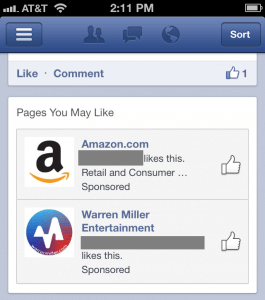 This week Facebook's "newsfeed" ads, which inject marketing messages straight into a user's content stream and are tailored for mobile devices, generated an eye-popping 41 percent of revenue last quarter, helping the company top second-quarter profit and sales estimates. With a full 25% of Americans accessing the internet exclusively through mobile devices, it's obvious that mobile advertising on Facebook can be a very powerful tool for small business owners and niche marketers.
So how does all of this work? Advertisers can buy three types of mobile ads: Sponsored Stories, Page Post Ads and Mobile App Install Ads.
Sponsored Stories often appear under the headline "Pages you May Like." These ads use social context and appear as a separate module from page or user posts.   Users can click the thumbs-up button to "Like" a page, making it a lightweight engagement for businesses looking to build their page likes.
Page Post Mobile Ads appear directly in News Feed. They do not require social context, meaning they can be targeted to users beyond fans and friends of fans. A prompt to "Like" the page is featured at the bottom of the ad. These are larger units than some of the "Pages You May Like" sponsored stories described above.
Finally, Mobile App Install Ads are similar to Sponsored Stories in that they often appear in a separate module, but instead of prompting users to "Like" a page, they lead users directly to an app download page. Like page post ads, App Install Ads do not require social context. Mobile App Install Ads are a great way to drive downloads through lightweight interaction.
Facebook allows advertisers to target broad categories (i.e. expectant parents) and/or precise interests (fans of the television series Game of Thrones.) Presently, the Facebook model seems to favor business-to-consumer rather than business-to-business advertising (though this may change in the future; we'll keep you updated.)
At MARION, we can ensure your social media marketing gives your customers the best possible user experience. We can also develop eye-catching mobile ads and apps to help spread your message.